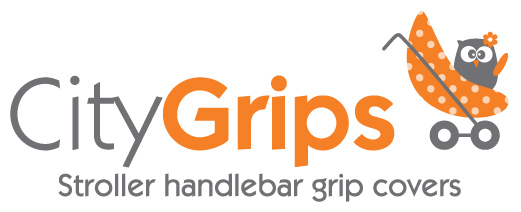 A stroller was a must have on my 'to-buy' list when I was pregnant. I knew I wanted to stay active and walk around town so I splurged and got a really nice stroller. What I didn't think about though was how the handlebar was covered a soft foamy material that is impossible to clean and tears pretty easily. Plus, the way my stroller folds, the handlebar rubs on the ground every time I fold it if I'm not extra careful. I thought to myself I didn't spend hundreds of dollars on a stroller to end up with a yucky torn handlebar after a few months, there must to be a product out there to protect my handlebar… That's how I discovered CityGrips!
CityGrips are covers specially designed to fit a stroller's handlebar. They offer 2 different styles, whether your stroller has a single handlebar like mine or a double handlebar. CityGrips come in 5 colors and there is also a black terry cloth option.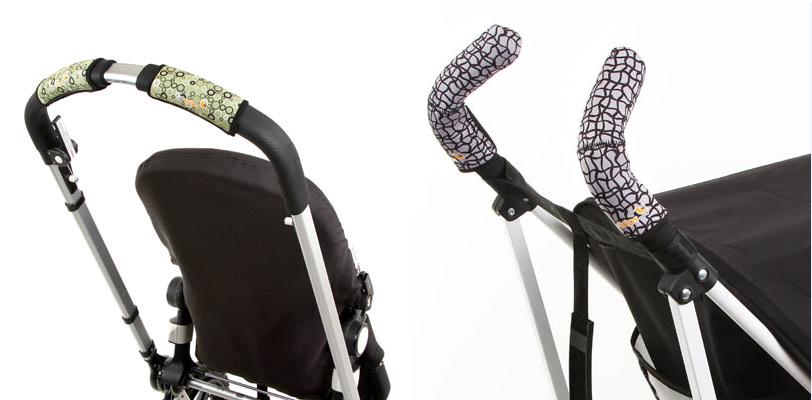 The best part is: they are machine washable! Take them off, throw them in the washer and dryer and put them back on. Can it be any easier than that? No need to worry about germs or dirt accumulating on your handlebar, nor worry about damaging it.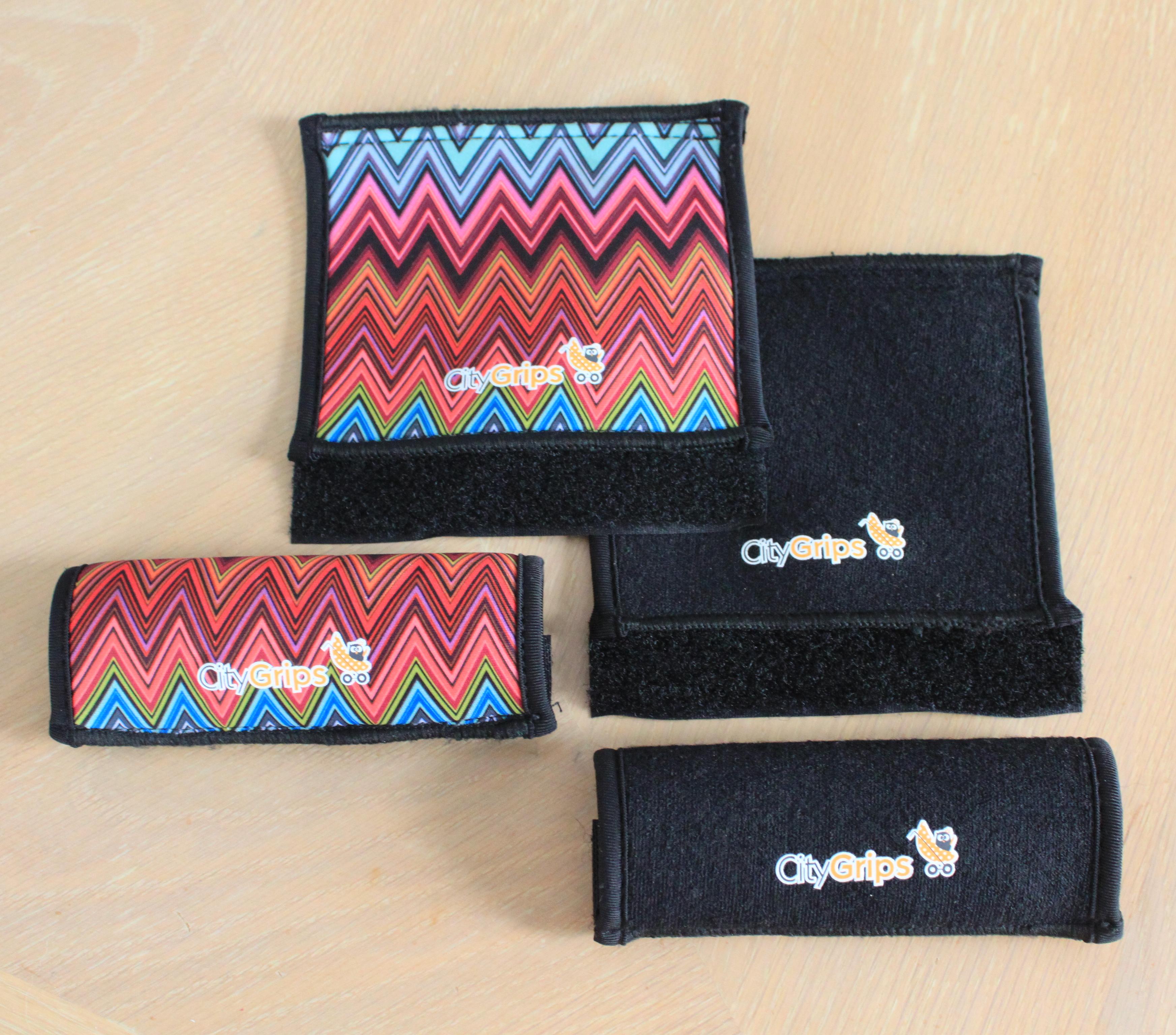 I received 2 pairs of CityGrips: one in ZigZag Color and one in Black Towel. Each cover measures approximately 5 inches by 4.3 inches (plus a 1 inch velcro strip).
CityGrips are made of a stretchy material that reminds me of the material used for wetsuits. The Black Towel is a little different because it has a layer of soft terry cloth on top. I thought that the terry cloth might not be as durable because threads could be pulled but it's a much finer fabric than I expected and you can barely see the loops so rings and other prickly objects are not likely to get caught in it.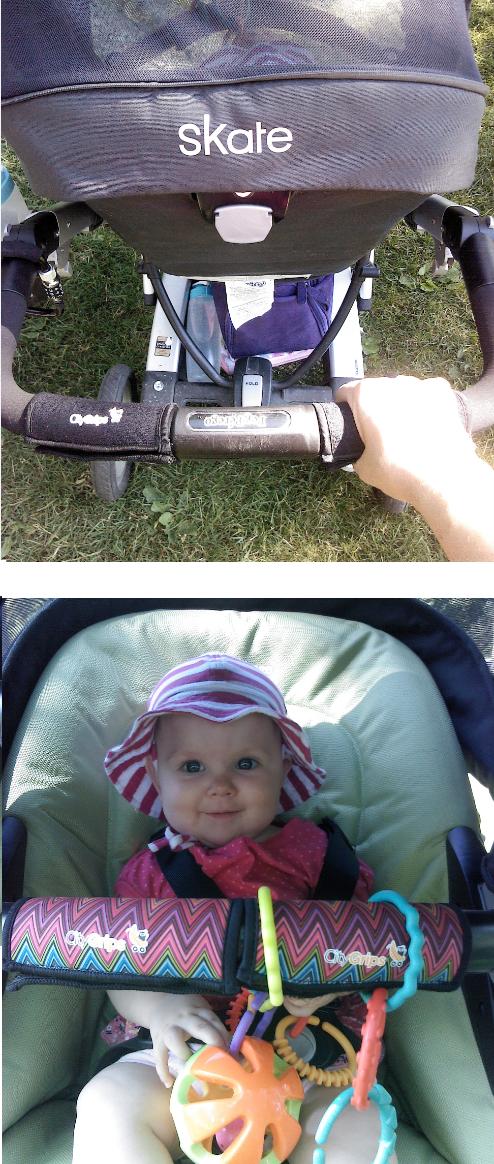 I have used the Black Towel on my stroller handlebar and I really like the feel of it. I take a Stroller Fit class with my daughter every week and let me tell you that when you exercice and jog with your baby in her stroller, it feels so much better to put your hands on the soft fabric of the CityGrips rather than on the handlebar itself. My hands didn't get all sweaty and slippery!
I opted to put the ZigZag Color on the stroller's safety bar for my daughter. She is too small to reach for it and chew on it but the covers are so nice I could not resist!
After my workout class, I just threw my covers in the wash in a lingerie bag. It's not necessary to put them in a lingerie bag but I want to keep them looking like new for as long as possible. Also, it prevents the Velcro from sticking to everything else. They came out looking like new!
The Velcro is very strong which is a good thing but it also means you have to be a careful when you put your covers on because the Velcro can get caught in the thread along the edge and pull it a little bit. If you do it carefully and leave it in place on your stroller that won't be a problem.
I soon realized the potential that these amazing little covers have! My daughter comes with me when I go shopping. She likes to sit in the cart and look around and… chew on the totally yucky and germ-covered handlebar of the shopping cart! I am not a germaphobe but any means but that makes me cringe every time.
CityGrips came to the rescue yet again! I put them on the handlebar of the shopping cart and see what happened:

As you can see, I initially had left a gap between the covers and my clever little girl when directly for that small uncovered spot. In the second and third picture, you can see that I moved them and she couldn't touch or lick the handlebar anymore. Love it!
To get your very own CityGrips, visit their website. Check them out on Facebook and Twitter too!
CityGrips has very generously offered to give their amazing covers to not one, not two, but THREE of our readers! The giveaway is open worldwide and ends July 20th.  Enter the Giveaway Tools below for your chance to win. Good luck!
Javascript must be enabled to enter this giveaway. Learn how to activate Javascript by
clicking here.

Loading Entry-Form


This post currently has 3 responses.