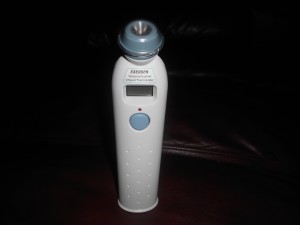 Taking  a little one's temperature can be quite difficult whether you have a baby or a toddler.  The Exergen Temporal Artery Thermometer is a non-invasive way to get an accurate temperature reading for any age ranging from baby to adult.  Some hospitals and doctor offices have transitioned to this technology including my own doctor's office.  I had not been to the doctor in a while so I was kind of shocked to see that they were using a temporal scanner to take my temp.  The last time I went to the doctor they were still taking temperatures with a mouth thermometer.  My son's doctor office however, uses an ear thermometer so not every office or hospital has transitioned.
The Exergen Temporal Artery Thermometer reads a temperature in just two seconds, which is excellent when it come to kids.  The thermometer is available at Wal-Mart, Walgreens, Costco, Babies R Us, Toys R Us and Sam's Club retailing for less then $50!  The thermometer isn't scary for any child who may be a little anxious along with not feeling well.  You simply run the thermometer across the forehead and the thermometer gauges body temperature by capturing heat from the body.
I have to say that the temporal scanner has been a great asset to my medicine cabinet.  It is so simple to use and Little C doesn't mind it all.  He hasn't technically been sick since I've had the thermometer so it is a little hard to get him to want to sit still so I can take his temp, but he does it for mommy.  The thermometer is very accurate, as I have tested it against my other thermometer.  The Exergen thermometer is so much quicker though!  I typically take Little C's temp under his arm and that typically takes a minute or so.  He doesn't like it, but he just isn't old enough to hold a thermometer under his tongue yet.  The temporal artery thermometer has been ideal for our given situation.  I have also used the thermometer and my temperature usually runs on the lower end and the readings from the Exergen thermometer have as well.
Whether you need a thermometer at home or you like to pack a thermometer when you go on vacation the Exergen Temporal Artery Thermometer would be a perfect fit.  There is nothing extra that you need to have, just the thermometer.  I absolutely love that fact!  You can view a quick video on youtube or check Exergen out on facebook and twitter.
Make sure to enter the giveaway below for your chance to win this great thermometer!
Win It: One US resident will win an Exergen Temporal Artery Thermometer!
Javascript must be enabled to enter this giveaway. Learn how to activate Javascript by
clicking here.

Loading Entry-Form

This post currently has 2 responses.