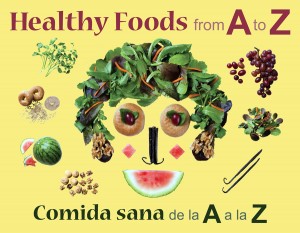 I would like to introduce the wonderful people behind Healthy Foods from A to Z.  The executive editor of Healthy Foods from A to Z is Stephanie Maze.  Stephanie has been a photographer for over 30 years and has recently become a certified teacher.  She has lived all over the world, speaks 5 different languages and currently lives in Sarasota, Florida.  The photographer from this fantastic book is Renee Comet.  Specializing in food and still photography, Renee has been the photographer for nearly 40 books over the past 25 years.  Her photographs have been featured on 5 US stamps!  I must say this team has come up with a stupendous book for kids and adults of all ages!
Healthy Foods from A to Z  is designed to inspire and encourage the young generation to eat healthy foods.  It is also a wonderful tool to help toddlers learn their alphabet.  What could be a better combination?  The pictures are absolutely fantastic.  Another plus side to the book is that it is written in both English and Spanish.  At the end of the book you will find several pages that will have your children engaged within minutes.  They can make food faces of their own, sort foods into different categories, create an edible bouquet and many other fun activities.  At the very end of the book there are fun food facts to learn as well.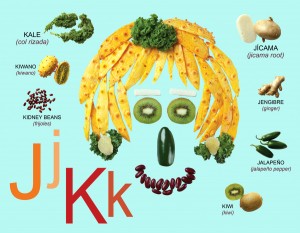 Little C has enjoyed looking at his new book.  He loves all of the faces that were created with all of the food.  He already knows his ABC's so that is a step that we can skip, however, he loves learning the names of  all of the fruits and vegetables.  He has also been excited to make faces with his food.  He does this with anything we put on his plate!  It has encouraged him to have fun and eat all of his food, which is great!
I have to say that there have been things that I have learned as well.  There are tons of food that I never knew existed and I absolutely love the artwork.  I admire those who can be so creative and then share their creativity with the world in an educational way.  Have fun reading!


This post currently has 4 responses.