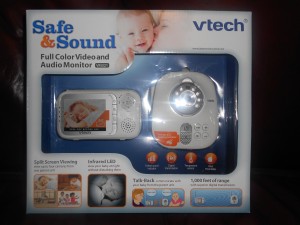 Some may laugh or say that Little C is too old to still have a monitor in his room, however, I do still have a monitor.  I have tried several times to give it up and then he would get sick and I felt like I needed it again.  Little C is my only child so this may be part of my problem, but the security of having  a monitor in his room is the best thing for me.  We live in an apartment and for some reason his room is up at the front of the apartment and the master bedroom is in the back.  Now as you can imagine my apartment isn't that big.  However, Little C's room is right next to the front door and I really don't like that.  Little C also has asthma, so when he has a flare up I know about it right away.  Sometimes I just don't know if he would come and wake me up if something was wrong.  I want to be available to him even though he doesn't sleep in my room.
With all of that said, I had been using just a plain old monitor.  We could never afford a video monitor so we always just had the audio monitor, which worked great for the years that we used it.  Now I have been introduced to the VTech Safe and Sound Full-Color Video and Audio Monitor and absolutely love it!  I now really and truly wish that we has just splurged and gotten a video monitor when Little C was a baby.  The VTech monitor has up to 1,000 foot range, infrared night-vision, two-way communication and a temperature sensor.  With the VTech baby monitor, you can have more then one camera in the room and the video parent unit will hook up to them.  The video unit will hook up to 4 different cameras, which I think is a huge plus especially if you have more then one child.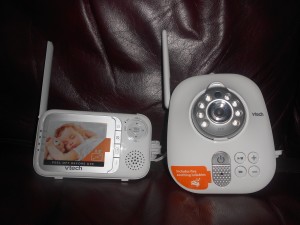 We have been using our video monitor and absolutely love it!  The camera shows a wide range of Little C's room.  I can see his entire bed, so I never have to wonder where he is.  Little C falls out of the bed sometimes, as he is a wild sleeper, but with the video monitor I can keep an eye on him at least until I go to bed.  Little C also loves the two-way communication.  Once I leave his room at night he will tell me he loves me and he always wants me to answer him through the monitor.  It is quite sweet.  He also knows that I am available if he needs to call me at any time.  Little C knows to get up out of bed if he ever needs me, but with the VTech monitor he has the assurance of knowing that if he needs me he can call me without having to get out of bed.  The screen is very clear and has great quality as well.
If you have a little one at home and you are looking for the perfect baby monitor check out the VTech Safe and Sound Full-Color Video and Audio Monitor.  I truly believe you will love it!  Make sure you keep up with them on Twitter and Facebook as well!



This post currently has 4 responses.