Richard Silverton's tale of Mr. Hookumbacker and the Yella Yella Yum Yum Tree is a fun adventure story aimed for children ages 5-8 years old. My daughter is a little younger than that, and we started reading this at bedtime, and she wasn't really interested in it, so I kept reading myself!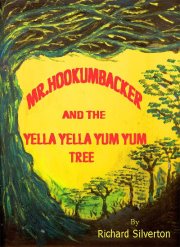 This little adventure starts off in the Cracking Stone Forest, where the forest tree master, Mr. Hookumbacker, is preparing Wiggle Twig Village for a naming ceremony of the newest bumble tum and sapling in the forest. Bumble Tums are tiny creatures that act as guides and tree keepers for the new saplings, and help maintain the general health of the forest. They are named bumble tums, because their tummy's are striped like bumble bees! The first naming ceremony we are introduced to is where a little bumble tum named Cherry Petals, and her new sapling, Holly Shallina are paired up and sent into the forest to start their lives as bumble tums and saplings.
The forest is full of excitement at night, and when the sun rises, it settles down, and rests for the day. Saplings, especially, are expected to be back within the confines of the forest before sunrise, otherwise if they are caught outside when the sun rises, they take root forever where they are. They would be exposed to the elements, and weeds, and they would not be able to run and play as they once did.
Holly Shallina is a particularly mischievous sapling, and her and her friends roam further than most saplings! They made the most of their freedom, because once their legs turn green to their ankles, they must take permanent root within the forest, One night Holly and her sapling friend, Buddy, realized their legs were almost fully green! They decided to take a trip to the Falling Waters—a dip in this mystical pool and all the green would disappear and the saplings would be free to roam for longer!
Falling Waters was in a different forest, and was a long journey, but could easily be accomplished overnight. So the two saplings and their bumble tums set out for the mystical waters. The four friends found the waters and danced in them all night, until the green on the saplings legs were no longer green, but time got away from them and they rushed home.
Just as they were closing in to the forest and shelter, Holly tripped and fell just as the sun rose and was stuck outside the forest! Oh no! Now Cherry, Buddy and Shubbie (Buddy's bumble tum keeper) are on a race with Mr. Hookumbacker, along with some new friends to find the Yella Yella Yum Yum Tree and save Holly from permanently rooting outside the safe confines of the forest before the next full moon! Their journey is frought with danger and keeps you wanting more! Even as an adult, I was intrigued enough to keep reading to find out what happened to Mr. Hookumbacker and the gang, and if Holly Shallina could be saved! They fought greedy Grubble Wigs (they steal all the nutrients from others) and found the Yella Yella Yum Yum tree. They needed branches from the mystical tree to fashion a special instrument to play a song for Holly to break the spell. Will they make it back in time to save Holly Shallina?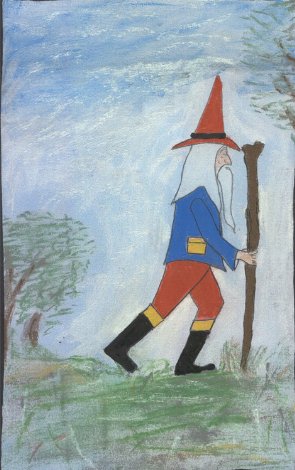 I think you and your children will be pleasantly surprised with this story. It's marketed as a environmental story about the importance of saving the forests and trees, but I didn't find it overtly in your face. It was subtly instilled that the forest as a whole needs to be in balance, both good and bad, as they are both beneficial and necessary to the existence of the forest. I really enjoyed the colorful imagery portrayed through Mr. Silverton's writing!   I know it is a children's book, and meant to inspire the imagination, but I really wish there were a few illustrations sprinkled through out, even if just at each chapter's beginning.   I can easily see how with just the right illustrator, there could be some amazing illustrations to draw you into the story even more. I can't wait to read this with my daughter when she is a little bit older.
The author, Richard Silverton, can be found on Facebook and Twitter. You can purchase the book on Amazon.
*One lucky reader will win their very own e-book copy of Mr. Hookumbacker and the Yella Yella Yum Yum Tree. Giveaway is open worldwide and ends 11/24/2012.
Loading Entry-Form…
…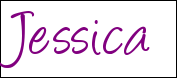 This post currently has no responses.