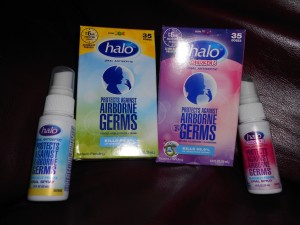 For this review I was introduced to Halo Oral Antiseptic.  I had never heard of this brand before, but thought it sounded like a good idea.  I have heard of other brands out there that work on airborne germs so the concept was not completely new to me.  I used to use certain brands when I worked in the school system.  I believe that it helped me out quite a bit.  Now that I have Little C, it was nice to see something that I can give him.  This oral antiseptic is in a small 1 fl. oz. bottle and you can just squirt it into your mouth.  There is a children's formula, which I love, as well as a formula for adults.  I am very careful about what types of medicine I give Little C so I tried out the children's formula on myself first.  The taste was decent and it didn't make me feel strange or have any side effects.  After a few days of using the spray I decided I would let Little C try it out.  He liked the taste and knew what it was for.  He likes the idea of it so it wasn't a hassle trying to get him to take it.  Little C had no side effects and actually stayed well for the most part.  He had a slight cold when he started taking it, but the cold didn't last as long as his other colds and he has been doing great ever since.
Halo Oral Antiseptic lasts for up to 6 hours at a time.  If you are looking for a kid friendly antiseptic spray that will help protect your little one from airborne germs I suggest checking into Halo Oral Antiseptic.  This is a great tool for using if your child goes to school or if you are going to be in a crowded place such as an airport.  Germs are so easily spread and it is nice that there are products out there that help take care of airborne germs. You can find more information about Halo Oral Antiseptic on Twitter and Facebook.


This post currently has 4 responses.