In just a few days, we will know if we have six more dreaded weeks of winter or if we can dry ourselves out and get ready for spring. I wonder if Punxsutawney Phil knows how many people are waiting for him to determine our mindsets. I have decided to be optimistic and say the little-feller is going to see his shadow. Now, let's get ready for spring break!
We are taking our spring break vacation a little bit early this year. We have planned a "quick" family trip cross-country to celebrate my Husband's Grandmother's 90th birthday. This will be the first big trip for both of my Daughters. They are 3.5 and 6 years old and couldn't be more excited about flying on an air plane. For Christmas my Husband's Grandmother bought both girls their own duffle bag on wheels. They will get to pull their bag through security and carry it on to the air plane. To ensure that every bag is securely marked with our contact information, I contacted the nice people at Oliver's Labels.
Oliver's Labels offer a variety of waterproof labels. Their labels can be personalized in colors, sizes, graphics, fonts, and information.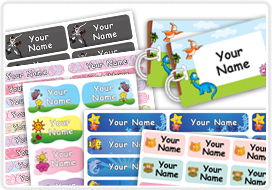 For our review, we received the Oliver's Labels Camp Package; it included 151 labels and tags-20 Original Labels, 50 Mini Labels, 14 Shoe Labels, 30 Iron-on Clothing Labels, 35 Stick-eez™ Clothing Labels, 2 Large Bag Tags.
Though Oliver's Labels can be used in a number of ways, they suggest using the original labels for water bottles, Mini Labels for toothbrushes, Shoe Labels for all your footwear, Stick-eez™ Clothing Labels for your clothing washing instruction labels, Iron-on Clothing Labels for tagless apparel and Large Bag Tags for school bags.
Another great use for Oliver's Labels is bringing attention to any allergies you may have. You can choose a label specific to your allergy and list emergency contact information.
My Daughters chose to embellish our Camp Package with the cupcake design. I decided to personalize them with last name and phone number. This was genius for our trip and school use; however, not so great for review photos…only because I don't care to share that information. Our customized labels arrived in a very short amount of time. The background colors and cupcake designs are beautiful. You can tell by feeling the labels, that they are high quality and will be very durable. I am really pleased. I think Oliver's Labels will be perfect for our spring break trip!
(I created a model set of labels with EmilyReviews.com so you could see a full example.)
Oliver's Labels are on facebook and twitter.
To help prepare your spring break adventures, Oliver's Labels is giving one of our readers their own Camp Package of Labels. This giveaway is open to the US and Canada; it will end on 02/13/13.



This post currently has 2 responses.