No matter where I go some one is talking about a person they know who has the flu or they are talking about the flu shot and whether or not it is a good idea to get it. My Daughters' schools have both sent home notices that they are taking extra precautions by having the kids wash their hands regularly and janitors are working hard to sanitizing the school. They are asking all parents to keep their children home from school if they aren't feeling well. We do the best we can at home by washing often, eating proper nutrition and getting plenty of rest. I am still fearful that we will get the flu. I was beginning to research a way for us to boost our immune systems when I was contacted by the nice people at ProDermix.
ProDermix was created by Usher Brecher. Mr. Brecher was looking for a way to improve his health. He began experimenting with oral probiotics. Probiotics are the healthy, "good", bacteria. Soon after starting a regimen of probiotics, Mr. Brecher notice that his skin had improved. His long time battle with athlete's foot was also cured. Mr. Brecher continued his work and became even more impressed with the healing powers of probiotics.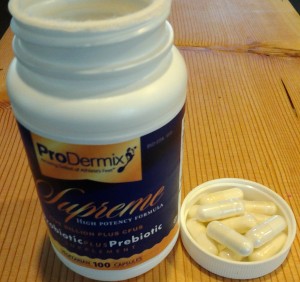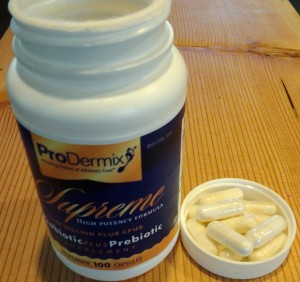 For my review, ProDermix sent me a bottle of their SUPREME formula. The Supreme formula is made up of four powerful probiotic strains- Lactobacillus rahmnosus, Lactobacillus Acidophilus, Bifidobacterium bifidum, and Bifidobacterium lactis.
Lactobacillus rahmnosus rids you of the harmful bacteria in your intestines. It aids in the production of antibodies that help your body fight the invasive bacteria that can cause diseases and infections.
Lactobacillus Acidophilus helps control oral and GI infections. The AmericanCollege of Nutrition reported it reduces serum cholesterol thus reducing chances for coronary heart disease.
Bifidobacterium bifidum protects you from dangerous bacteria such as Candida. Recent research shows that it can control diseases that were caused by allergic reactions.
Bifidobacterium lactis enhances your immune system. It can help fight tumors and control glucose levels. It can also reduce ear inflammation, respiratory diseases, allergies, colds and flu.
When I received the Supreme formula, I was really excited about a product that would help boost our immune systems and help protect us from the flu. What I wasn't really anticipating was how fast the eczema on my hands would clear up. Within just a few days of starting on Supreme, my hands were completely clear.
Supreme is free of gluten, dairy, eggs, nuts, and other common allergens.
ProDermix probiotics can treat over 55 symptoms. I am really glad I found ProDermix.



Hello, my name is Laurie. I have been married to my husband for 14 years. We have two young daughters, ages 11 and 13 years old. My family and I live in Oregon so that means we are just minutes from the beach, mountains, and desert.  We love it here and try to spend as much time outdoors playing as we can. When we aren't outside playing, I enjoy reading, gardening, refinishing furniture, and other crafts.
This post currently has no responses.