Rufflebutts is a company that makes ruffled bloomers (aka diaper covers) for babies up through toddler sizes. They also have adorable ruffled onesies, underwear, and even pajamas among other super adorable girly items. My sister is due with a baby girl in March. My family is large and we have a pretty steady stream of babies and kids all the time seems how our generations blend together. Yet, we've been on a boy streak for the last several years. I have nephews who are 8, 6.5, 4.5, 2.5 and 2. So, I've been having a lot of fun seeking out really girly items for this new baby. If it's pink, lacey, ruffled, etc I'm all over it.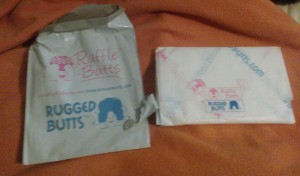 I was sent a white woven Rufflebutt in size 3-6 months to check out. Seems how she'll be 3-6 months from June-August I thought this was the best size to get for her. They arrived in a super cute Rufflebutt package and were wrapped in tissue paper that is personalized with the Rufflebutt branding as well. I thought this was so cute and made the package more exciting to open.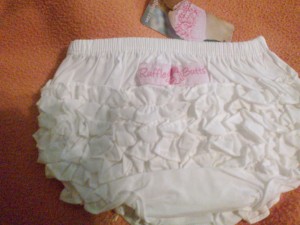 They are 100% cotton material and have an elastic waist band and elastic leg openings. These are even cuter in person than they appear online. Seems how my niece isn't here yet, I modeled them on a hippo stuffed animal. Aren't they just too cute?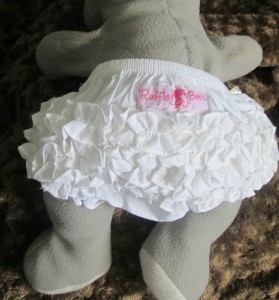 These would be great under a dress, especially for toddlers who don't have the concept of acting ladylike in a dress down. They'd also be cute with open back dresses or shirts with or without some baby legs. The woven bloomers come in 43 different colors (or color combinations in some cases), so you can find a Rufflebutt to match each outfit. Part of the reason I went with white is because they'll match a wide variety of outfits, but the other colors and color combinations (like white with pink) would be incredibly cute to accessorize with a pink and white outfit. They'd also be a really cute to wear in professional pictures.
If you have little boys, don't feel left out. Rufflebutts has a site just for boys called Ruggedbutts. They have lots of boy themed diaper covers, clothing, ties, hats and more.
Connect: You can keep up with Rufflebutts on Facebook and Twitter.


Hi there! I am Emily Evert, the owner of Emily Reviews. I am 28 and live in a small town in Michigan with my boyfriend Ryan and our two pugs. I have a large family and I adore my nieces and nephews. I love reading memoirs, and learning about child development and psychology. I love watching The Game of Thrones, Teen Mom, Sister Wives and Veep. I like listening to Jason Isbell, John Prine, and other alt-country or Americana music. I created Emily Reviews as a creative outlet to share my life and the products that I love with others.
This post currently has 5 responses.