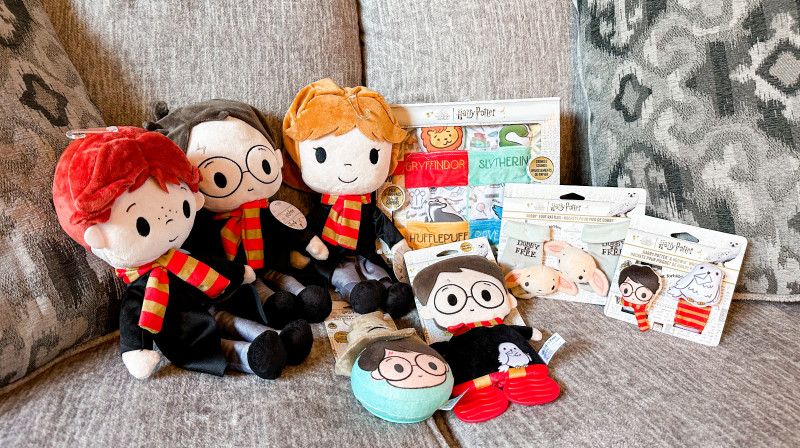 Thanks to Kids Preferred for sending me these fun Harry Potter gifts! As always, all opinions are my own. There are affiliate links in this post.
We are a HUGE Harry Potter loving family; and I don't just mean my immediate family! Of course my husband, kids, and I are fans of the whole series including the books, movies, and especially the immersive Wizarding World of Harry Potter at Universal Orlando. But not only do we love it, we come from families that love it too! I'm really hopeful that my siblings will have kids within the next few years (our kids need some cousins!) and when I heard that Kids Preferred and Warner Bros. Discovery Global Consumer Products collaborated on a line of Harry Potter items, I had to get my hands on some!
Kids Preferred and Warner Bros. Harry Potter Collection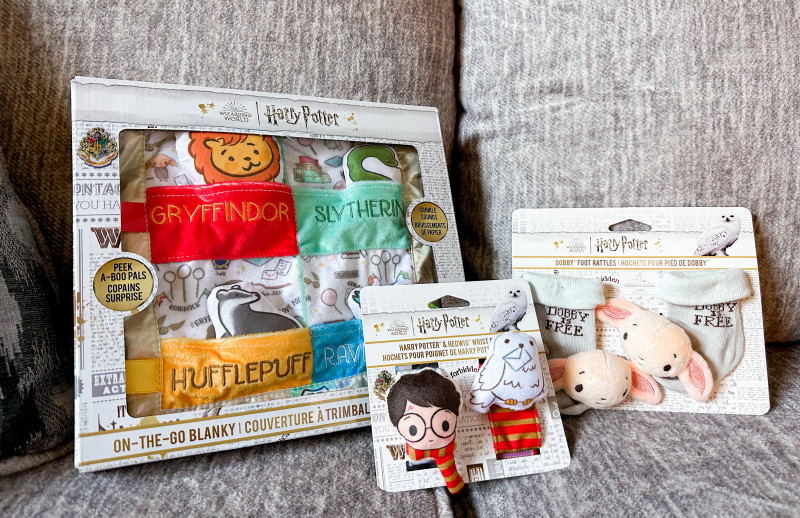 The first items in this iconic collection are for infants and I'm saving them for when either of my siblings has their first baby! I wish these had been around when my kids were babies because they are SO cute! First up is the Kids Preferred On-The-G0 Blanky featuring all four Hogwarts houses and their mascots. This blanket makes the popular crinkle noise when played with and has multiple textures, peek-a-book pockets, and Velcro straps for attaching it to a stroller or car seat!
The second item in the infant collection is the adorable Wrist Rattles featuring Harry Potter and his owl, Hedwig! Created with ultra-soft fabric that's designed for 0-12 month babies, these rattles help to provide simple entertainment as infants learn where their hands are and how to control them. These would make the perfect addition to a baby shower gift.
Lastly, we've got the iconic "Dobby is Free" Soft Baby Sock Feet Rattles! Similar to the hand rattles, these super-soft socks feature rattling attachments shaped like the beloved house elf Dobby from Harry Potter. Dobby is one of my very favorite characters so I adore these little socks! They're perfect for keeping an infant entertained during a car ride; they'll have so much fun shaking their legs and feet to hear the rattling noise.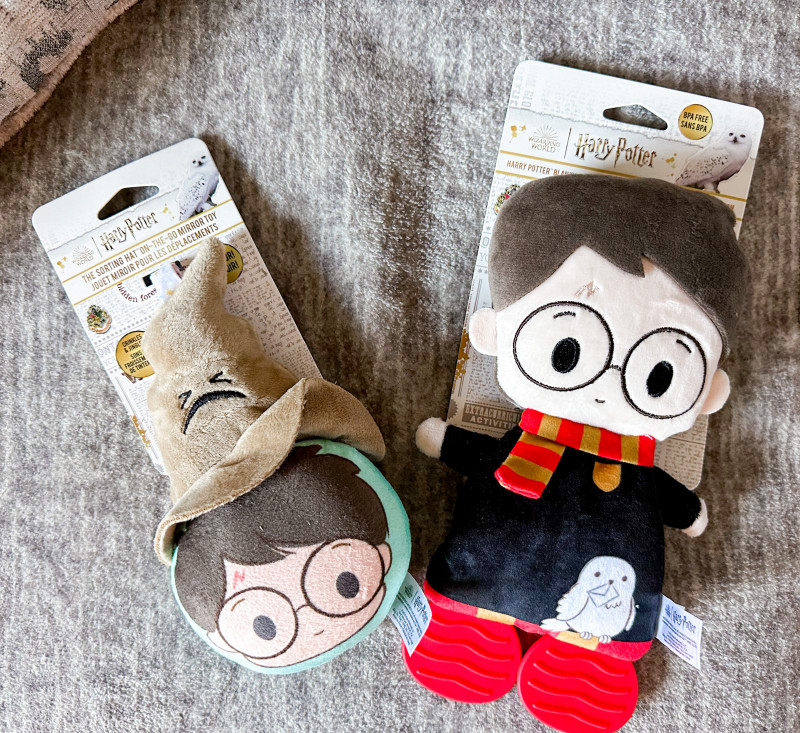 For infants who are a little older, these next two toys will be so much fun! Both feature Harry Potter himself and are absolutely adorable like the rest of the collection. First, there's The Sorting Hat On-the-Go Mirror Toy! It's the perfect size for little hands to hold and has a Velcro strap to attach it to a car seat or stroller. On the front, babies will see Harry wearing the Sorting Hat and will love the crinkly and jingle bell noises the toy makes. On the back side of Harry's head, there's an infant-safe play mirror! Babies can see themselves wearing the hat in the mirror which is such a cute design idea.
The Harry Potter Teether Plush is something I definitely would have bought for my babies! They loved having the combination plush and silicone toys to chew on when they were cutting teeth. This toy features Harry Potter in his Gryffindor colors with his owl, Hedwig. Like the other toys, he is super soft and makes crinkle noises and is also very soft plush which is perfect for snuggling. For his feet, you'll find silicone chew toys with wavy lines, perfect for sore gums to dig into. I have to say, I do NOT miss the teething stage! But I do miss my sweet babies being little and all of the fun toys!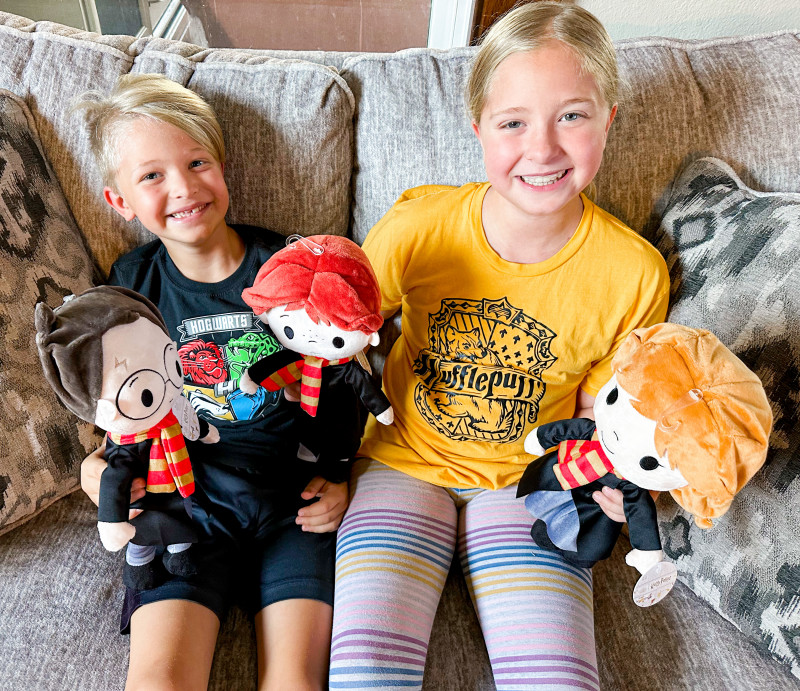 Even though my kids are big now, they still love to play with toys, and especially plush toys. While we may be saving all of the infant toys for future nieces and nephews, my seven and ten year olds begged to keep these 15″ characters! Whether your favorite character is Harry Potter, Ron Weasley, or Hermione Granger, there's a plush for you! My personal favorite is Ron Weasley and this stuffed version of him is so cute! All of the characters have so much detail, from their Gryffindor robes to Harry's scar and Ron's freckles. They're super soft and have a weighted bottom so they'll sit on a shelf (though I'm sure ours won't much!).
This whole collection is adorable and I think all of the products will make great gifts for baby showers or young children. Be sure to check out the full line up on Amazon!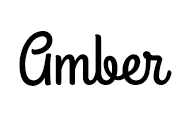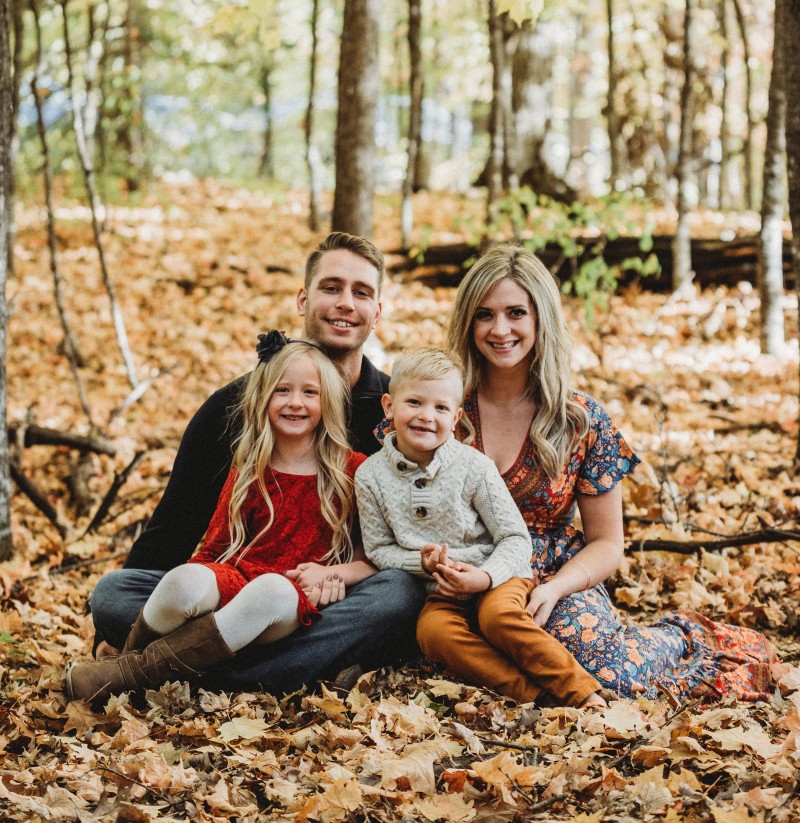 Hi there! I'm Amber, a 34 year old wife and mom of two from central Minnesota. I love to be outside with my family anywhere the weather is warm (which means I spend half the year freezing). We're a homeschooling family that loves to travel as often as possible! When I have a spare free moment, I love to read, take photos, and scrapbook. I'm interested in anything that makes life more fun; I also love socializing and sharing about my favorite products!
This post currently has 8 responses.