When my Husband and I purchased our house, we were in our early twenties and were still dating. We bought it with the intentions of it being an investment. Our plan was to live here for 5-10 years. Then we wanted to purchase land and build our dream home. When we moved in, the home was brand new. It had all beige walls and light neutral colored Berber carpeting.  It was a beautiful house but it wasn't our ideal location. As we moved in, some of the boxes went from the moving truck straight up into the attic. They were items we knew we wouldn't need for the next few years because, in our minds, this was temporary housing.
Twelve years, two kids, two dogs later, we are still here. We still have boxes in our attic, haven't done much work inside the house and still feel like we are in temporary housing. We recently realized we have never physically or mentally unpacked. Although this is a beautiful house, it has never really been our home.
We still have a dream of selling this house and building a home, but right now the real estate market isn't in our favor. Until it is, we are doing what we can to make this house work for us and feel more like our home.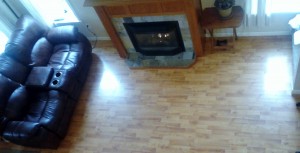 I was looking for area rugs that would give our family room a cozier and more inviting feeling. Mohawk Home had exactly what I was looking for.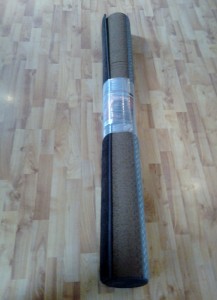 Mohawk Home is the largest US producer of area rugs, indoor and outdoor mats. They have been in production for over 125 years. Mohawk Home offers a plethora of rug sizes, colors and patterns.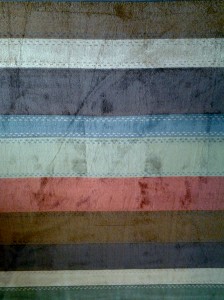 For my review, I received a Mohawk Home Albany Stripe Multi-color area rug.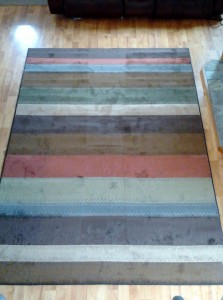 The Albany Stripe Multi-color area rug has stripes with three shades of brown, green, blue and red. It is made with 100% Olefin woven fibers. They are approximately 1 inch long. Olefin is stain and fade resistant.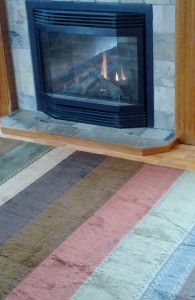 The area rug has done what I had hoped it would do for our home. It adds a nice pop of color to our room full of neutrals. It's not an obnoxious pattern or color palette.  It has given our room a more welcoming and "homey" feeling. My young Daughters enjoy playing on the area rug. They say it's soft, warm and cozy.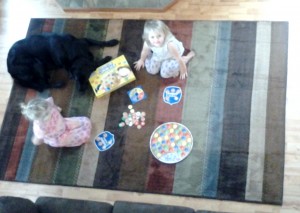 It is suggested by Mohawk Home (and me) to use a rug gripper pad with your area rug. It will provide some cushion under your area rug, prevent shifting and protect your flooring. We don't have a rug gripper pad. I have had to use tape to secure our rug to our wood floor. I will be purchasing a rug gripper pad as soon as I can.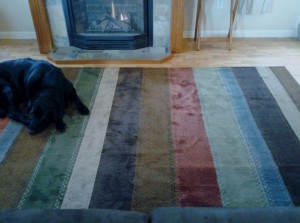 Mohawk rugs are still made in the USA! You can watch this interesting video to learn more about Mohawk Home.
Mohawk is on facebook and twitter.
One lucky winner is going to receive a Mohawk Home area rug of their choice (up to size 5×8 and under $150 valued on site.) This giveaway is open to the US and Canada. It will end on 03/13/2013.


This post currently has 8 responses.