My family has decided to put our house on the market, again. We have been trying to sell our house off and on for the last four years. When it was previously on the market, we heard wonderful comments about the house itself. What people weren't sold on was the location; we have a unique flag-lot. There is nothing I can do about the location; it is just going to take the right buyers. I have put a lot of hard work into staging our home to create an environment that potential buyers can view themselves living in. While I am preparing the house, I used essential oils to help me create a welcoming bouquet.
For my review, Plant Therapy sent me their Top 6 Synergies Sampler Set.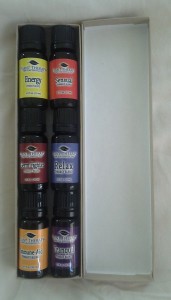 Plant Therapy offers 100% pure essential oils and accessories. The Synergies Sampler Set includes Essential Oil Blends of Sensual, Energy, Germ Fighter, Relax, Immune-aid and Tranquil.
After I removed some of our furniture, clutter and personal items; I began cleaning EVERYTHING. I created an all-purpose soft scrub with baking soda, dish soap and essential oils- immune aid, germ fighter, and energy. I used my scrub on the walls, cabinets, dining table, floors, bathrooms, kitchen, and windows. After I finished, I looked around the house; it had a rejuvenated feeling and a fresh smell. I hope our house sells but, if it doesn't, we have a re-energized house to enjoy.
I found several other uses for essential oils on the Plant Therapy blog. I am going to make some of the natural cleaners with vinegar to keep our house looking great.
Connect with Plant Therapy on their website and facebook.
Plant Therapy is generously offering our readers $10 off their purchase of $25 or more. Use coupon code: emilyreviews10 at checkout. Coupon will expire on the 3rd of June. Only one coupon per customer.
One lucky winner is going to receive a Plant Therapy Top 6 Synergies Sampler Set. This giveaway is open World Wide and it will end on 6/02/2013.

This post currently has 7 responses.