So, foot odor definitely isn't something we like to talk about, but most of us can't deny that it happens. For me, I get foot odor, and stinky shoes all the time, especially with my flats. I rarely wear socks with my flats, because it just doesn't look good, and because of that, odor accumulates in the shoes, and on my feet whenever I wear them. Previously, I'd been washing my shoes a lot, which was really hard on my shoes. I'd heard of powders you could use in the shoes, but I was always very hesitant, because I have sensitive skin, and didn't want to use those chemicals. Now I've found an alternative to washing my shoes, or using powders!
The SteriShoe is a shoe sanitizer that uses ultraviolet light to sanitize shoes. You have probably heard of using UV light to sanitize toothbrush heads, etc, but I'd never heard of using it to sanitize shoes. UV light is proven to work to kill of bacteria, and sanitize, and with the way the SteriShoe is set up, it's completely safe. After using the SteriShoe you're left with shoes that are sanitized, with no chemicals left over, and it isn't harsh on the shoes.
I received the SteriShoe to review: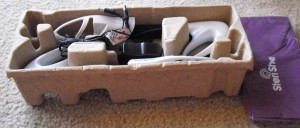 The SteriShoe comes in a pair, one for your left shoe and one for your right. It comes with the cord to plug them in (only one cord, it splits in two to plug both in, which I loved), and bags to keep the SteriShoe in while it's running. Here's another picture of the SteriShoe and the bags: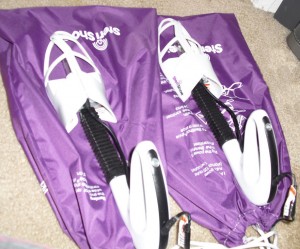 The SteriShoe came with a big instruction booklet. I was afraid it would be hard to figure out how it worked, but it really couldn't have been easier. You take the "left" SteriShoe, and put it in your left shoe. You take the "right" SteriShoe and put it in your right shoe. The SteriShoe slips right in, it's very easy. Here's the SteriShoe in my shoe: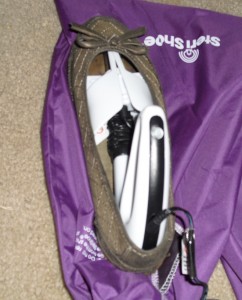 You then put each SteriShoe in the bag. This is to protect yourself, and your surroundings from the ultraviolet light. You plug in the SteriShoe with the cord that comes with it, and you press the button on the top. Here's my shoes in the bags, with the SteriShoe running: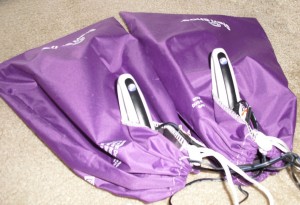 You can't tell very well from the picture, but the buttons light up blue when the SteriShoe is working. The SteriShoe has some great safety features. It will not run if it senses light. If you forget to put them in the bag for some reason, the SteriShoe will not start running. It will also stop if it senses light. My cat was very intrigued by the SteriShoe and the bags, so I loved knowing that if he somehow got into it, the SteriShoe would stop running. The SteriShoe runs for 45 minutes, and then stops. You can tell when it's complete because the blue light turns off. You can find additional instruction on the SteriShoe website.
It's very simple! And it really works! I had a pair of shoes that I'd actually stopped wearing, because I was having to wash them about every week. I put it in the SteriShoe ONE time, and the shoes didn't stink anymore! Now every time I get home, I put my shoes in the SteriShoe, and I haven't had a problem with foul smelling shoes, or feet. It's been great! I also really like knowing that my shoes are completely sanitized. The SteriShoe kills 99% of germs and bacteria. They couldn't be any cleaner!
I really liked this shoe sanitizer, and would recommend it to anyone with foot odor problems, or those that suffer from athlete's foot, or toe fungus. Or anyone that just wants to have nice, clean shoes!
Buy it: You can buy the SteriShoe at the SteriShoe Website
Connect: You can connect with SteriShoe on their Facebook and Twitter.
Win it: One lucky reader will win a SteriShoe ultraviolet shoe sanitizer. This giveaway is open to US Residents 18 and older. The giveaway ends May 18, 2013 at 11:59 PM EST.
To enter, just fill out the Giveaway Tools form below. Good luck!

This post currently has 6 responses.