I love scented products, especially candles. They set a great mood, create such nice ambient lighting, and smell great. Like most people, I really enjoy a good candle, and go through them like crazy. As most of us are now aware, paraffin wax, petroleum based wax, is not only bad for us, but isn't too great for the environment either, as it is made from a non-renewable source. Lemon Grass candle makes a line of all natural, beeswax candles, making them green, and eco-friendly. I was very excited to be able to review their candles!
I received the following candles from Lemon Grass to review: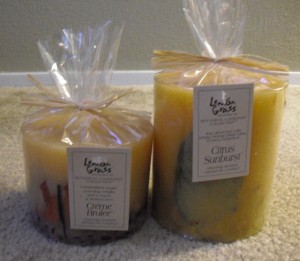 I received the Lemon Grass Citrus Sunburst and Crème Brulee scented candles.
The first thing I thought when I received the candles, is that they would make a really great gift. The candles themselves are really pretty, and look very fancy, and exquisite. They come wrapped up like a present to begin with. I really liked the presentation.
As I mentioned, the Lemon Grass candles themselves are very pretty. The candles have leaves, and other natural decorative items added to them that make the candles really unique looking.
The scents were amazing. The Crème Brulee smelled just like the dessert it's named after. It was sweet, with hints of brown sugar, vanilla, and butterscotch. It also smelled a bit caramel like to me. It made me want the dessert after lighting the candle!
I really liked the Citrus Sunburst. It's a citrus-y scent, that smells strongly of grapefruit, orange, with a hint of watermelon. I loved the scent, and I thought it was really perfect for the upcoming summer.
The beeswax blend lasted a long time. I've lit my candles a lot, and I'm not even half way through them. I also liked that these pillar candles do not come in a glass jar. Typically, those jars just go to waste. These candles can just be places on a re-usable candle holder. They also do not drip like normal paraffin wax pillar candles. My candle holders are completely free from any wax drips, as you can see here: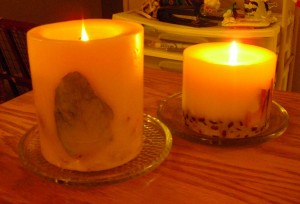 I really enjoyed these scented candles, and would recommend them to anyone who enjoys candles like I do. The Lemon Grass candles are decorative, smell great, and are all natural. It doesn't get much better than that!
Buy it: You can buy the candles seen here and other candles and products from Lemon Grass on their Website.
Connect: You can connect with Lemon Grass candles on their Facebook page.
Win it: Two lucky readers will get to win one of the Lemon Grass candles seen here, Citrus Sunburst or Creme Brulee. This giveaway is open to US residents 18 years of age and older. This giveaway ends on June 29 at 11:59 PM EST. To enter, just fill out the Giveaway Tools form below. Good luck!



This post currently has 9 responses.