Thank you Rileyroos
for providing me with products to review, free of charge
and for sponsoring this giveaway.
These are my own honest opinions.
I love shoes and since becoming a mom, my shoe addiction has transferred to cute baby shoes and toddler shoes. I love to find well designed shoes for my daughter that are fashionable. However, many trendy baby and toddler shoes aren't design to be comfortable nor to promote developmentally appropriate barefoot-like movements.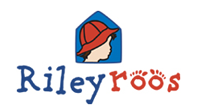 Luckily, the desire of 2 parents to provide shoes for their daughters that were developmentally appropriate, while being stylish and easy to wear lead to the creation of Rileyroos. They were determined to offer baby and toddler shoes that fit well and protect little feet.
Rileyroos shoes come in so many adorable styles and colors it is difficult to pick just a few to show you here. All their shoes are made of genuine leather. The sole is partly leather, partly rubber-padded which gives it incredible flexibility. The rubber inserts in the sole means the shoes are not slippery, an important feature for little ones who are just learning to stand on their feet and walk. The sole is designed in such a way that it curls above the toes to provide leverage when a baby starts to crawl. Because of the materials and design, Rileyroos shoes are amazingly lightweight and thin. All their shoes are made of child-safe and non-toxic materials because they understand parents' concerns about the safety of footwear.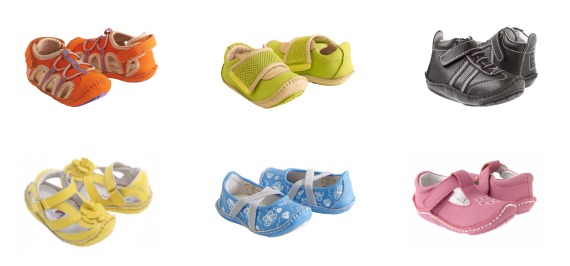 For this review, I received a beautiful pair of Charlotte shoes in Passion. First of all, purple is my favorite color so my daughter wears a lot of purple (for now she still lets me choose what she'll wear). I was thrilled to find shoes to match her outfits. Second, did you see the ruffles? What a girly touch to add on shoes. Sort of unexpected yet they totally fit. The cuteness factor is off the roof with these shoes!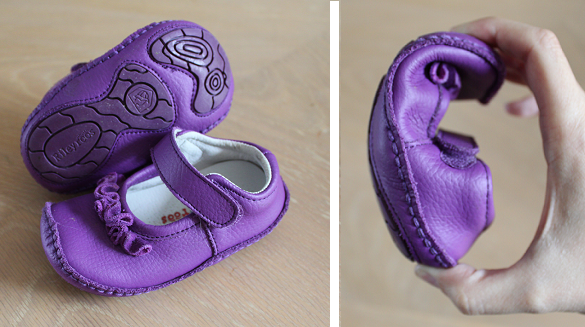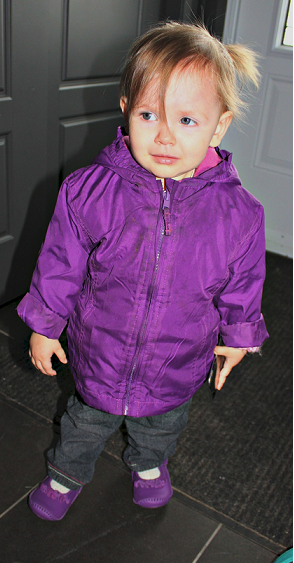 My daughter loves them (despite her grumpy face on the photo) and wants to wear them all the time. I'm waiting for the day when she'll want to sleep with them…
The velcro closure is strong and keeps the shoes in place but my daughter is still able to undo them to try and take them off if she wants to. The fit is snug but the leather is so soft it follows my daughter's movements without causing redness or blisters on her toes, heels or ankles. Speaking of fit, I strongly recommend printing their sizing chart to make sure you get the perfect size. I ended up getting a size 12-18 months even though my daughter is almost 20 months old and there is still plenty of room for her feet to grow.
Overall, I am very pleased with the beautiful leather shoes that I received for my daughter. The combination of style and comfort can't be beaten. I love that their design allows for barefoot-like movements which we know is best for little ones who are learning to balance and walk. I strongly recommend them! I just wish they made them in my size (hint, hint, Rileyroos! There might be a new market for you in women's shoes.)
Buy It: Head over to Rileyroos to see for yourself the great selection of leather baby shoes and toddler shoes they offer.
Connect: Don't forget to like them on Facebook and follow them on Twitter and Pinterest for all the latest news and promotions.
Win It: Rileyroos is generously offering one of our lucky readers a pair of the same Charlotte shoes in Passion (purple) that I reviewed. The giveaway is open to US and Canada. The giveaway will end July 14th. For your chance to win, enter the Giveaway Tools below. Good luck!


This post currently has 8 responses.