Thank you Super Duper Publications
for providing me with  a product to review, free of charge,
and for sponsoring this giveaway.
These are my own honest opinions.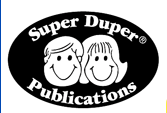 Super Duper products are great! How do I know that? Well, I've been using their products almost daily for the past 5 years. I work with children who have speech or language difficulties and Super Duper has tons of products designed to improve a child's communication skills. As a professional, it means I have access to specific resources that make my therapy more effective. But parents and, most importantly, kids also love Super Duper products. Why? Because the activities are so well designed, kids forget that they are actually working. They are really having fun which means they are motivated to learn and they retain the information better.
Super Duper started out with materials to work on specific speech and language skills but over the years, they expanded and now offer tons of apps, products that target articulation, basic concepts, bilingualism, autism, critical thinking, fine and gross motor skills, grammar and syntax, handwriting and much more. If you're not familiar with their products, I strongly recommend you visit their website to find out more. You can do a quick product search based on age or on a specific topic or look for best sellers.
Here is a small sample of the materials, games, and activities you can find on Super Duper: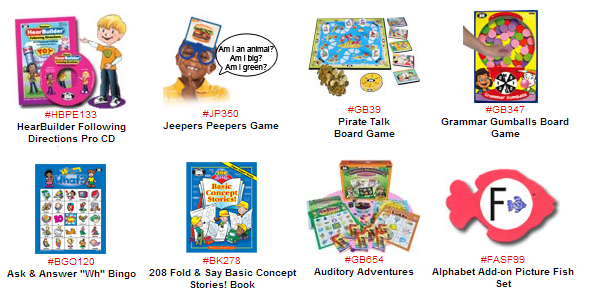 For this review, I received the Vocabulary Chipper Chat. This game is designed to develop the core vocabulary of children ages 5 and up. It focuses specifically on the national core curriculum objectives for grades K–5 so this game will actually help them be better prepared for school.
Here's what's included in this game:
12 different boards targeting different vocabulary categories such as analogies, associations, categories, functions, verbs, etc. You get 5 copies of each board so 5 people can play together. In total, you have 30 double-sided boards.
30 vocabulary cards for each of the 12 different vocabulary categories (360 cards total). Each card has specific question or task for the child.
A foam die (numbered 1 to 3)
100 magnetic chips and a magnetic wand. Kids absolutely love the magnetic wand! We use it at the end of the game to pick up our chips and I swear it's their favorite part of the whole game. I've actually used the magnetic chips and the wand to motivate children to do almost anything: for each page of a book you read, you get a chip or for each toy you put away, you get a chip. It makes virtually any boring or difficult task more motivating. Who knew!
An instruction booklet and game ideas. The book also has an answer key in the event that you have a case of the tip of the tongue phenomenon.

To play the game, you simply give each player a board from the selected vocabulary category and in turns, each player reads or listens to a question from one of the prompt cards in that category. The player answers the question, rolls the die, and places the same number chips on his/her board. The player to fill his board first wins! Then each player gets to pick up their chips with the magnetic wand. There are also a couple variations explained in the booklet so children don't get tired of playing the same way over and over.
Just like all other Super Duper products, this game is colorful and the drawings are fun. Each board has the title written in big letters to children learn what type of vocabulary categories they are working on. There are sample questions or prompts on the boards themselves to use as a reference to help children. Each prompt card has a picture on one side and words on the other. When you start introducing new vocabulary, it is recommended that you show the child the picture side as visual support. When they are more familiar with the vocabulary, you can make the task more difficult but hiding the picture from them. Older kids can also read the questions themselves, targeting their reading skills at the same time as their vocabulary.
Overall, I think the Vocabulary Chipper Chat is a great game! It builds vocabulary in a fun way and has so many different categories to choose from that your child will benefit from playing it for years. The magnetic wand and chips add an extra layer of fun and of course, you can use them to motivate your child to do all kinds of other tasks. I think this game would also be great for children who are learning English as a second language or children with learning difficulties because through play, they can learn the vocabulary that they'll need for school. Also, some of the more advanced vocabulary categories including Compare & Contrast and Figurative Language could be beneficial for verbal children with autism who often struggle with those higher level language skills.
Head over to Super Duper Publications to see for yourself the great selection of fun learning materials they offer. Don't forget to like them on Facebook, and follow them on Twitter and Pinterest for all the latest news and promotions.
Super Duper Publications is generously offering one of our lucky readers one of their award winning games. You can choose one of the following games: 
The giveaway is open to US and Canadian residents. The giveaway will end June 27th. For your chance to win, enter the Giveaway Tools below. Good luck!


This post currently has 7 responses.