*I was sent an assortment of dog toys & shampoos in exchange for this post. All opinions are my own.
For a couple of years I had considered getting a pug. I had read a lot about the breed that made me think they'd be a good fit for Ryan & I. I followed Pug forums and read blogs, but I never got around to actually getting a pug until about six weeks ago. One day I logged into a Facebook group where people buy and sell all kinds of things from clothing to couches to pets and there was a woman in my town posting that she needed to re-home her two pugs, Frank and Beans. They were 8 and 9 years old and had always been together so they didn't want to separate them. I felt like it was the right time so we went ahead and got them. We had to run out and get immediate necessities like food and water/food dishes right away but there were other things that I knew we'd need in time that I didn't get that first day – things like toys, shampoo and harnesses. After a few days when I did get looking at toys, there were SO many brands and types of toys available that it was overwhelming. I saw the Hartz brand pop up in a lot of places and I had experience with using Hartz brand puppy pee pads to line my hedgehog's cage with so I trusted the brand already. I set up a review with Hartz to check out a few of their toys and shampoos.
When I selected these items, we had only had the pugs for less than a week and we hadn't tried other toys with them. One day my EOS lip balm fell off the table and rolled a few inches across the floor and both dogs chased after it so I thought they'd enjoy balls or toys that you can fetch with so I decided to try the Hartz Duraplay Ball & Bone. Both squeak when bitten (or squeezed). My dogs didn't take to either of these, but we haven't had luck with them playing with any other ball or chew toy so it was my lack of knowledge about our dogs at the time, and not a problem with the product itself. The're actually afraid of the squeaker noise, silly dogs! I passed these on to my moms dog that loves to chase after balls and play fetch and it loves them. The ball has a unique shape that allows it to roll and bounce in a unique way that makes it more fun to chase.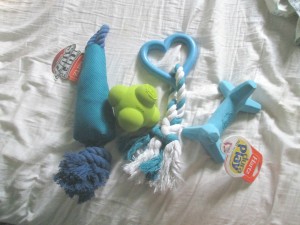 Seems how I saw Frank chew on blankets/sheets while "wrestling" with us, I thought he might like a tug of war type toy so I also went with the Hartz Tug Of Fun and  Tuff stuff retriever. The retriever has a knotted end for chewing while the owner can hold the other end to play tug of war. The middle is also designed to be chewed on and it has a squeaker inside. Again, my dogs are afraid of squeakers so this was a no-go. I think it would be best for large dogs as the knot is really quite large – roughly the size of my fist so only fairly large dogs would have a large enough mouth to bite the knot at the end, though smaller dogs could bite the fabric part to play with. We also passed this on to my moms dog and she has enjoyed it, it's well made.
The tug of fun is really cute because it has a heart shaped piece that can be chewed on or used as a handle by the owner while the dog chews on the rope portion. Frank put the rope part of this in his mouth a few times which is as much success with any toy as we have had to date. Again, we just have weird, finicky dogs – the toy itself is great. The heart portion of this toy does have a pretty strong artificial odor to it but it's already died down a lot since we first got it.
We were also sent three Hartz brand dog shampoos to test out. Our dogs are true lap-dogs, if we don't leave the house, they are within 2 feet of me 95% of the day. Most of the day, they are physically up against me. With them staying so close to me all the time, I want to keep them clean so I don't have to smell anything unpleasant.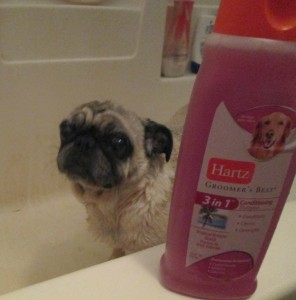 The 3-in-1 Conditioning Shampoo is nice for dogs that perhaps aren't huge fans of bath time because it combines shampoo and conditioner in one making the bathing session shorter. It is also suppose to de-tangle but my dogs don't have long enough fur to de-tangle so I can't really test that. Beans does pretty well with baths – she doesn't try to jump out of the tub but she definitely doesn't love bathing, either – she puts on her best sad face for the entire time. So, I liked being able to shampoo and condition her in just one lathering and rinse. This shampoo is labeled as tropical breeze scent. It smells nice out of the bottle but I don't find the scent very noticeable after the bath. It does a nice job of covering up the "wet dog" smell though which is mainly what i'm looking for anyway. Beans' fur was noticeably softer once she dried off which is really nice, too.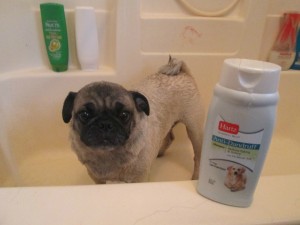 For Frank, I used the Hartz Dog Anti-dandruff shampoo that is designed to reduce itching and flaking. I haven't seen any flakes on frank but he seems itchy despite not having fleas. I'm not entirely sure if its caused by anxiety or a skin condition but I decided to give this a try to see if it helped him any. After using, Frank's fur was noticeably softer and for the next day or so, he seemed a bit calmer. Sometimes he just has high strung days and calm days, so I don't know if it was just random or not but I plan to continue using it on him whenever he needs a bath anyway – can't hurt, right? It says it has a "light fresh scent" and it seems slightly fruity and sweet but is a mild scent.
We were also sent some Oatmeal shampoo. that is designed to calm irritated skin. We've only had the dogs for about six weeks, and their previous owner bathed them right before we picked them up. I don't want to bathe too often as I know that can cause more skin issues so we've only given them one bath so far so I haven't tried the Oatmeal shampoo. However, after trying the other two shampoos and being pleased with them, I'll definitely be giving this a shot if they have irritated skin in the future. I'm sure those problems will be more likely to show up during the winter so we'll see how things go later on this year. It has a gentle buttermilk scent.
You can find Hartz products in lots of stores including Amazon, Walmart, Target, Meijer and more.
You can connect with Hartz on Facebook and Twitter.


Hi there! I am Emily Evert, the owner of Emily Reviews. I am 25 and live in a small town in Michigan with my boyfriend Ryan and our two pugs. I have a large family and I adore my nieces and nephews. I am a calorie counter who loves soda. I budget to save money so I can spend it on my dogs. I love reading memoirs, and learning about child development and psychology. I love watching The Game of Thrones, Teen Mom, Sister Wives and Veep. I like listening to Jason Isbell, John Prine, Kris Kristofferson and Blue October. I created Emily Reviews as a creative outlet to share my life and the products that I love with others.
This post currently has 4 responses.