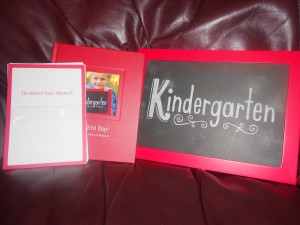 Little C started Kindergarten this year and I really wanted a way to document his school years in a cute and unique way.  Luckily Hallmark offered me their Pics 'N' Props School Days Activity Kit for review.  I was so excited because I absolutely love Hallmark and I knew that whatever they sent me would be super cute.  I definitely wasn't wrong.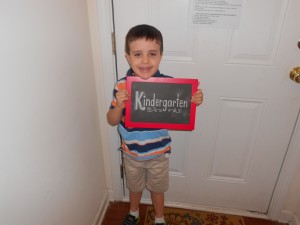 In the Pics 'N' Props School Days Activity Kit you get chalkboards with Preschool through 12th grade written on them.  There is also a super cute red frame with an actual chalkboard that you can write on if you choose.  I chose to use the pre-made Kindergarten chalkboard and inserted it into the frame because I'm not that creative.  I absolutely love the pre-made chalkboard inserts.  I was able to take a super cute picture of Little C on the first day of school that I think is awfully cute and super easy to use.  In this activity kit you also receive a My First Day! photo book with cards to document your child's teachers, friends, and favorite things.  I love taking pictures and I love the idea that I can use the frame and chalkboard for Little C's entire school career and keep the memories in a photo book.  This is the perfect set to keep the memories alive for you and your children.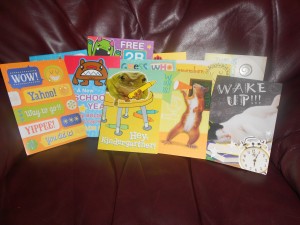 I also received some great cards from Hallmark for the first day of school.  I was able to use one of them for Little C and some of them for my niece and nephew. Some of the cards are back to school related and some are just encouraging cards that will make any kid feel good. There was a particular card that I absolutely loved for my niece and seemed to fit her very well.
If you have children that are starting school within the next few weeks make sure to check out the Hallmark Pics 'N' Props School Days Activity Kit.  You can also check Hallmark out on Facebook and Twitter to see all of the cool stuff they offer.
Win It: One US resident will win a Pics 'N' Props School Days Activity Kit!  Good luck and have making some very cute memories!
*Emily Reviews is currently testing out the upgraded giveaway tools entry form. Because it is so new, it may have some bugs or technical problems. If you experience any problems with the form, please email Giveaway Tools at Support@giveawaytools.com.


This post currently has 6 responses.