I will receive a Minted gift card for baby announcements for my review.  
Minted is an extremely neat company.  I have reviewed for them before and was aloud to pick a piece of artwork for my son's room.  We still love the print.  Now I am in search of some unique and cute baby announcements.  For those of you who have never heard of Minted you really need to check them out.  They have Holiday Cards, Wedding Invitations, Baby Announcements, Art Prints, Party Decor and Greeting Cards to choose from.  It really almost seems like a one stop shop for most of your needs.  Within these categories there are so many choices and I have to say that most of them are very unique and prints that I haven't seen available anywhere else.
Now for the super fun part.  All of you get to help me and my husband decide which baby announcement we should choose.  We have looked through almost 250 choices on Minted and have found several that we like.  Another quick fact about Minted is that they run cool contests that anybody can enter.  You get the chance to enter your design for the category of their contest going on at the time.  If enough people vote for your design it will sell on the Minted website.  I have thought several times about doing this, but I just don't know if I am creative enough after looking at some of their prints.  Okay, back to picking out baby announcements.  My husband and I found about 10 that we just loved and I think we have narrowed it down to seven.  Keep in mind that we are having a boy who should arrive in November.  We like the simple look for the most part.  Nothing too busy, but something unique.
Here are our choices: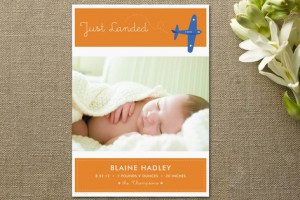 Fly By Baby – This is one of our top choices.  We absolutely love the announcement.  The saying 'Just Landed' with the airplane is just the cutest thing ever.  It is not overwhelming and I think it would be very easy to match any picture of our baby into.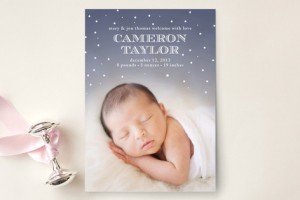 Sweet Dreams – Okay so this one is my absolute favorite, but my husband says it is just okay.  I think it is absolutely precious and very unique.  The only thing I'm not sure of is how easy it would be to match a picture that I think would look good in this announcement.  The picture used here as a sample is fantastic.  Any thoughts?
Over The Moon – This announcement is very sweet and I love the saying on it as well.  I always tell Little C that I love him to the moon and back and I have no doubt that I will tell Baby A the same thing.  It kind of fits that saying and I think it would be easy to pick any picture for this announcement.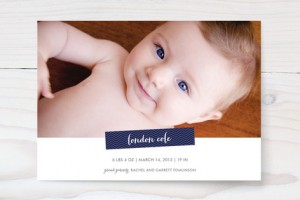 Modern Chevron – This announcement looks so fresh and clean.  I believe that is the reason we liked it so much as well as the fact that it is simple and not busy.  This would also be a super easy announcement to add any picture to.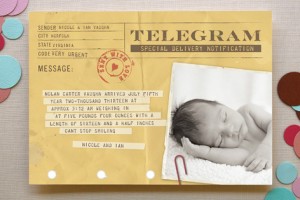 Telegram – This is another one of our absolute favorites.  I believe this is the most unique baby announcement that I have ever seen.  Both myself and my husband love this one.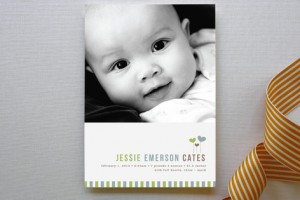 Little Heart – I love this announcement because I am a huge fan of black and white photos, especially of babies.  I also love the blue and green color.  It brings in just enough color to allow the announcement to not be boring.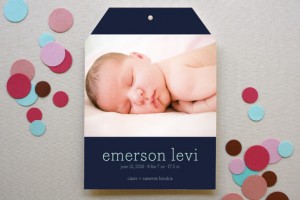 Luxe – We love this announcement because of the brilliant blue color along with the choice of the shape.  I love that the announcement looks like a tag.  I think it is unique enough and I feel like the shape just adds more character to the announcement.
My husband and I are asking for your help in picking out baby announcement!  We want to thank you so much for your help and if you are looking for announcements or any other type of card or artwork make sure to check out Minted.  You can also find more information on Facebook and Twitter.


This post currently has 6 responses.