Many people have trouble falling asleep, myself included. There are so many reasons that falling asleep can be a hard task, from simply getting too much blue light from computer screens and cell phones before bed, drinking caffeine too late in the day, to more serious issues such as constant stress or insomnia. Whatever the case may be, Glysonna may be able to help. Glysonna is a natural sleep aid, that is non-habit forming, and works the very first time you use it. I was very excited to be able to try out some Glysonna sleep aid.
I received the following from Glysonna for review: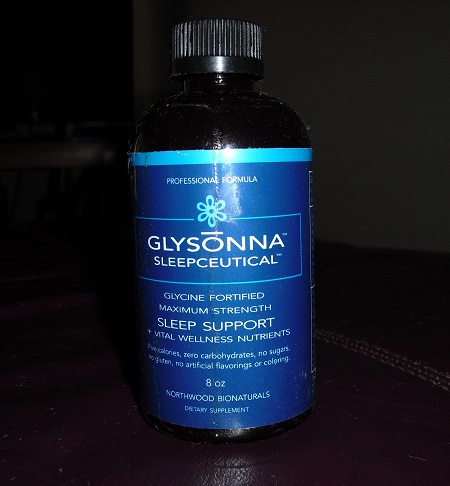 I received an 8 oz bottle of Glysonna Sleepceutical.
Glysonna Sleepceutical is an all-natural sleep aid. All ingredients in Glysonna are on the FDA's approved safe list, earning Glysonna the cGMP seal of approval. Glysonna triggers relaxation, initiates the natural sleep process, and helps to sustain sleep. It contains nine active ingredients, including glycine a natural sleep aid, that help you drift off to sleep, as well as a nutritional multi-vitamin to help nourish you while you sleep. Glysonna is only five calories, has zero carbohydrates, no sugar, no gluten, and no artificial flavorings or coloring.
The Glysonna Sleepceutical 8 oz bottle allows for eight doses of Glysonna. Myself and my fiancé both tried it the first night. We were both impressed by the taste. We expected a very medicine-like taste from the liquid, but it had a nice, sweet taste. It tasted a bit apple-y to me, and was not hard to swallow whatsoever. I was surprised by how well it tasted, especially since it contains no sugar.
The first night I took Glysonna sleep aid I noticed that it made me relaxed and sleepy after about 20 minutes, and I was able to fall asleep pretty easily, and faster than normal. My fiancé noticed similar affects, but not as pronounced as mine, and didn't care for the product very much. I however, really liked it. I tried it again the next few nights, and noticed the same effect, I was able to fall asleep quite a bit faster than normal. It normally takes me a long time to be able to fall asleep, but after taking the Glysonna Sleepceutical, I would fall asleep a lot faster.
I did not notice Glysonna helping me sustain sleep, however. I would still wake up in the night, randomly, like I normally do. In that area, I didn't notice the Glysonna helping much. However, it did really help me fall to sleep faster. Once I ran out of Glysonna, I realized it really did help a lot, as I found it hard to fall asleep at night again without it. However, I was still able to fall asleep, I did not NEED the Glysonna, it simply took longer. Glysonna is indeed non-habit forming, and simply a nice, gentle sleep aid.
Overall, I enjoyed the Glysonna sleep aid and found that it helped me fall asleep faster. I liked that it is all natural, safe to use, and is not habit forming. If you have trouble sleeping, you should check out this natural sleep aid.
Buy it: You can buy Glysonna Sleepceutical in the single bottle, or a four pack online at the Glysonna Website
Connect: You can connect with Glysonna on their Facebook, and Twitter.
Win it: One lucky reader will get to win one 8 oz bottle of Glysonna Sleepceutical natural sleep aid. This giveaway is open to US residents 18 years of age and older. This giveaway ends on February 18, 2014 at 11:59 PM EST. To enter, simply fill out the Giveaway Tools form below. Good luck!


This post currently has one response.