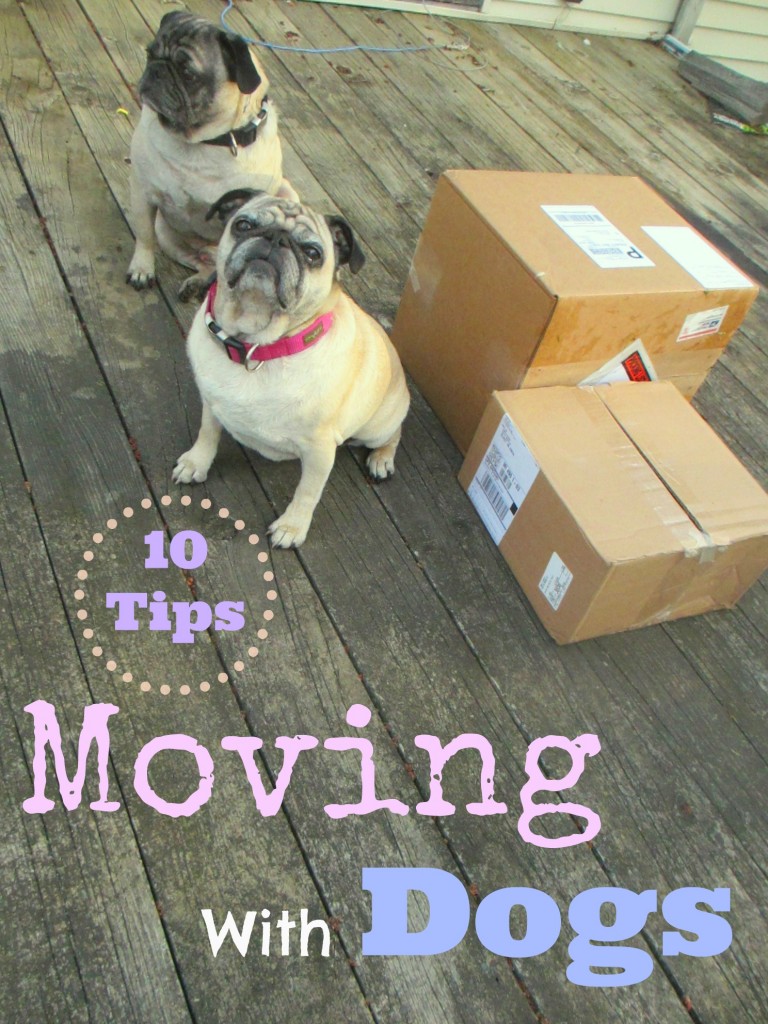 In January I moved to a new apartment and this was our first time moving since I got my two pugs, Frank & Beans. We discussed how to handle the move with the dogs a lot before we left and tried to prepare as much as possible but we still had a couple of regrets and learning experiences, so I thought I'd share a few tips that I have for moving with dogs.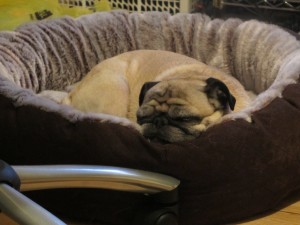 1) Keep old favorites. Bring along your dogs bed, blankets, toys, etc from your old home. When we were packing, I was tempted to toss out a lot of our old items that were worn out anyway, but with your pet's items it's best to wait a while after the move before getting new because the old ones can provide comfort and stability for your dog during and soon after the move. Keeping their material items around will provide comfort for your dog during the transition. If your dog is particularly attached to a specific item, consider giving them access to it while in the vehicle on the way to the new home as well.
2) Make a plan for when and how to move your dog. My mother in law's dog has extreme separation anxiety, so when she has moved, she takes the dog with her each time that they go take a truckload of belongings to the new location. My dogs get anxiety about being in the car, so for us it was best to just take them on the very last trip instead.
3) Have a dog-sitter the day of the move. Of course, this only fits if you won't be taking your dog during each trip to the new place. When we moved, our dogs got nervous when we started moving big furniture around, and got progressively more nervous as we moved more and more of our things. I wish we would have thought to have Ryan's mom or someone else who they see often enough to feel comfortable with dog-sit them for the day to spare them the anxiety of watching our things leave our old house. If you have a higher energy dog, even if they aren't anxious, they might get in the way a lot.
4) Update your microchip information and Vet with your new address. I forgot to update our vet with our new address. I was lucky to be able to go pick up my mail at my old location that included the notice from the vet but it's best to remember to update it ahead of time so you don't miss important info. If your pet is microchipped, you'll want to have the address on it updated as well.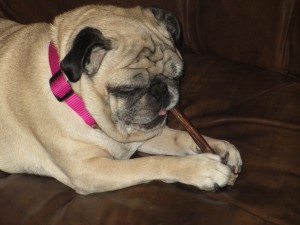 5) Give them a chew. Whether your dogs are high energy in general, or are anxious, giving them something appropriate to chew on can help them calm down. My pugs are anxious little dogs and bully sticks are life-savers for us during high stress situations like moving.
6) Exercise them to let them get their energy out. Once you start packing to move, it can be easy to get busy and skip out on your regular walks or exercise with your dog, but keeping up with their exercise can help calm them release energy and calm down during the transition.
7) Remember your dog waste bags. When you get ready to take the trip, don't forget to leave your dog waste bags in an accessible area in your vehicle. My sister lives next to a gas station and tons of people travel with pets, stop at the gas station and let her dogs into her yard to relieve themselves and then they don't pick up the mess. This is really frustrating for her and is just not very polite.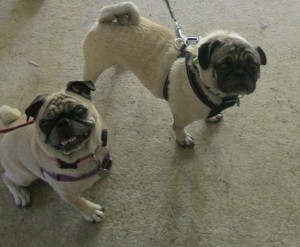 8) Stay outside with your dogs. At our old apartment, I always stayed outside with my dogs when they went potty but I let them roam free and they never wandered too far away. At our new place I used leashes for the first month or so, so that they could learn the boundaries at our new home. I also wanted to be completely in control of them in case a neighbor dog came outside to meet us for the first time.
9) Don't leave them home alone for long. The first time that we left the dogs alone at home, we just went to get groceries and a few other errands but when we got back, our dogs were really upset. After that, we made a point to leave them for really short periods of time (half an hour or so) the next two times and they were still more upset than usual when we got back, but they slowly went back to normal. I think the first few times that they were left alone, they were afraid we weren't coming back. So the shorter time that you leave them at first, the less time they have to worry and get worked up.
10) Update your dog's contact information on their collar. I had no real concern that my dogs would take off at our old place, but at a new location they aren't familiar with the boundaries and don't feel "at home" at first so the risk of them wandering off is greater. For this reason, I wanted to have updated contact information on their collars as soon as we moved. I had planned to buy new tags and I realized that their collars were in rough shape, too. Then I came across Mimi Green, a website that offers embroidered dog collars and engraved dog buckles on their collars. I loved how their buckles could be engraved with 3 lines of text, plus the collar can be embroidered, giving you 4 lines worth of information. In the past, I've always struggled with deciding whether to include the dog's name and our address, or our address and phone number. With the Mimi Green collar, we would be able to include all of that information in a single collar. The Metal Engraved Personalized Webbing Dog Collars (like we were sent for review) are $27 plus an extra $12 if you want to have it embroidered, making the total $39 each, but seems how I don't have to buy ID tags, I feel like the collars are worth the price. I love having their names right on their collars, it helps our family and friends tell our dogs apart. After about 3 months, Frank's embroidered name had missing pieces from him scratching the embroidery and the threads coming out. I wouldn't recommend the embroidery for dogs who scratch their collar or neck area, but Beans has held up great. I can't even count how many compliments we have gotten on their embroidered personalized collars. The collars come in a variety of sizes and when you place your order you can tell them your dogs exact neck measurement to ensure that the embroidered name won't be caught in the overlapping part of the collar material. I recently started a blog for my pugs called Frank Loves Beans. Check out my full Mimi Green Dog Collars Review by clicking the link.
Have you ever moved with dogs or other pets? What did you do to make the transition easier?



Hi there! I am Emily Evert, the owner of Emily Reviews. I am 28 and live in a small town in Michigan with my boyfriend Ryan and our two pugs. I have a large family and I adore my nieces and nephews. I love reading memoirs, and learning about child development and psychology. I love watching The Game of Thrones, Teen Mom, Sister Wives and Veep. I like listening to Jason Isbell, John Prine, and other alt-country or Americana music. I created Emily Reviews as a creative outlet to share my life and the products that I love with others.
This post currently has 9 responses.