*I was sent a complimentary container of Snout Soother. All opinions are my own.
It's been a pretty busy few months for Ryan & I so this winter seemed to go by pretty fast. I'm glad it did because it was a bitter cold (sometimes colder than -20!) and we had a lot more snow than usual, too. I've noticed the effects of this bitter long winter in my own body because I've had issues with dry skin and dandruff that I don't usually deal with. Yet, it didn't really occur to me that it would affect my dogs until I was looking at Beans one day and realized that the top of her nose looked frayed. I can't say that I usually pay much attention to dog noses, but I had never seen a dog nose look like hers did. I started googling it and found that it's actually fairly common and that it's the result of dry skin. I saw several people online suggest putting petroleum jelly on their noses but this didn't seem safe at all seems how I knew she would likely try to lick it off. I wanted something safer and more natural, so I continued searching and discovered All Natural Snout Soother on the Natural Dog Company website.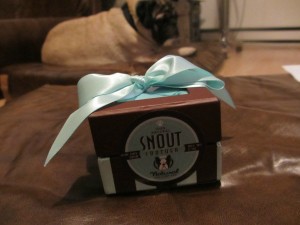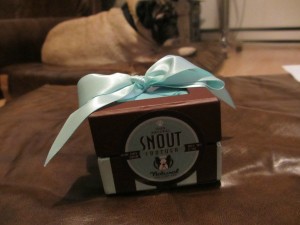 Their Snout Soother is designed to moisturize dry dog noses and all of the ingredients are natural, so there is no concern if your dog licks the Snout Soother off. I was sent a container for review and it came in a really cute box that made it feel so sweet – almost like opening a gift. It seems similar to lip balm that comes in a container – you just swipe your finger across the surface to get some on it and then rub it on your dog's nose. It's recommended that you apply it at least 2-3 times a day and you'll start seeing results as early as 1 day in.
My dogs don't like their faces touched at all. They are pugs and I've heard this is really common for pugs and the theory is that it's because their eyes bulge out of their head farther than most dogs'. Their eyes sticking out away from the rest of their head puts their eyes at risk of being damaged easily, so they are really protective of them. Although Beans' nose was really dry, I decided to use the Snout Soother on Frank as well because his was looking a little gray from being a bit dry as well. For Frank, I was able to just hold out a treat to distract him, dab it on his nose and then hand him the treat. He didn't like it, but he'd put up with it to get a treat. Beans was a lot harder because even with a high value treat being used, she wouldn't come near me if she knew I was trying to touch her nose. So what I did instead was wait for her to fall asleep and then pet the top of her head, and slowly move my thumb and pinky to either side of her head (Behind her ears) like I was massaging her head and then quickly extend my index finger to her nose to get the snout soother on. Seems how it was such a process to get her to let me put it on, I haven't been using it the 2-3 times a day as recommended, but instead just once a day most days. Plus, both of my dogs usually lick their nose after I put it on. Still, I've seen a big improvement in their noses, especially for Beans.  I think the difference is easier to see in person, but here are the before and after photos, with Beans' before and after photos on top and Frank's before and after photos on the bottom.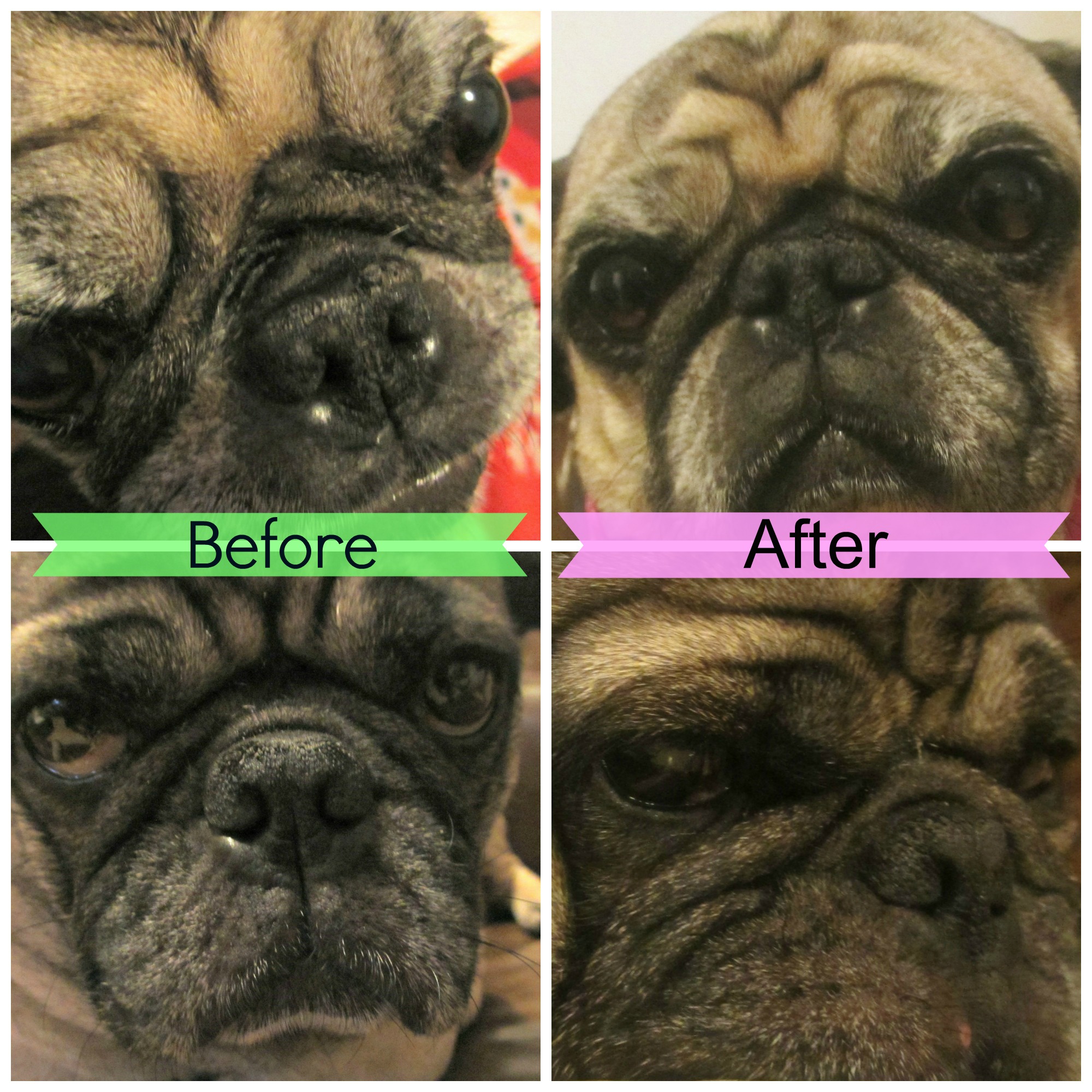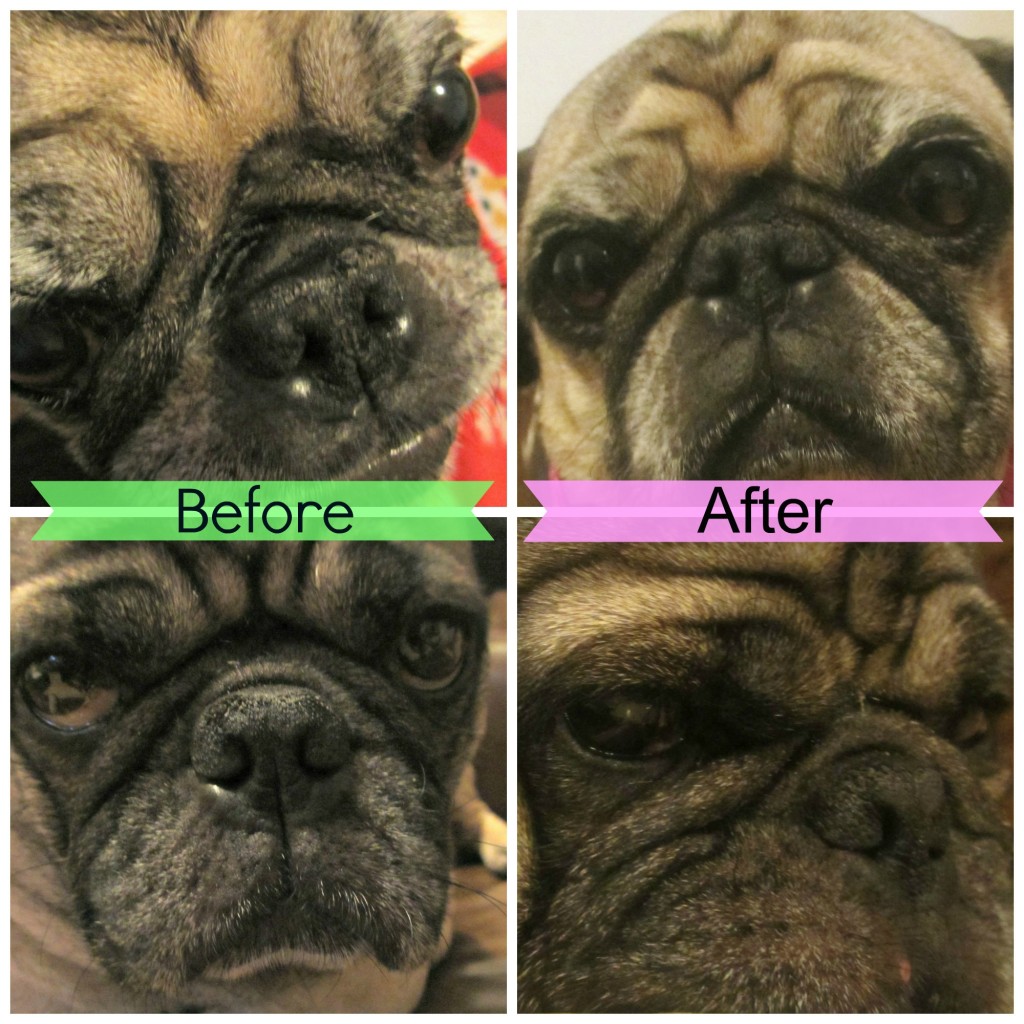 Do you have a dog at home with a dry nose? We're having a giveaway for a 2oz container of Snout Soother! Open to the US. Enter using the GT widget below. Giveaway ends 5/4/2014 at 11:59pm EST.



Hi there! I am Emily Evert, the owner of Emily Reviews. I am 28 and live in a small town in Michigan with my boyfriend Ryan and our two pugs. I have a large family and I adore my nieces and nephews. I love reading memoirs, and learning about child development and psychology. I love watching The Game of Thrones, Teen Mom, Sister Wives and Veep. I like listening to Jason Isbell, John Prine, and other alt-country or Americana music. I created Emily Reviews as a creative outlet to share my life and the products that I love with others.
This post currently has 2 responses.