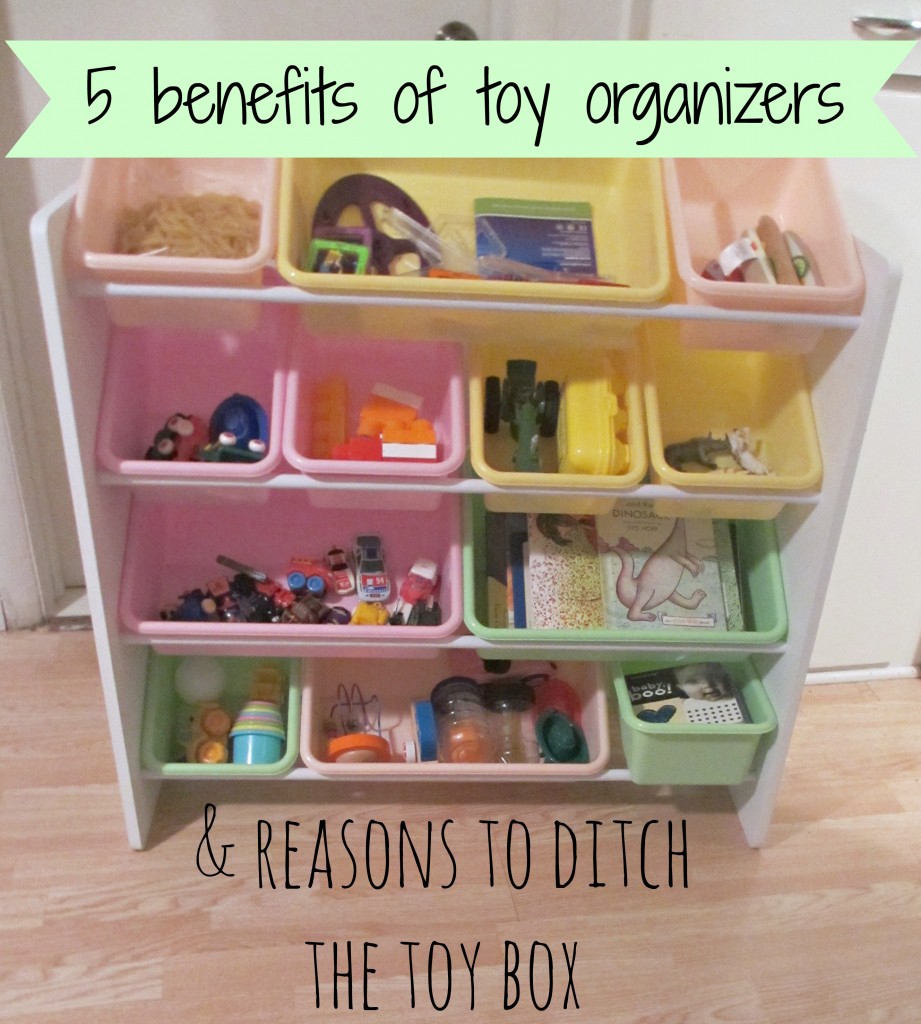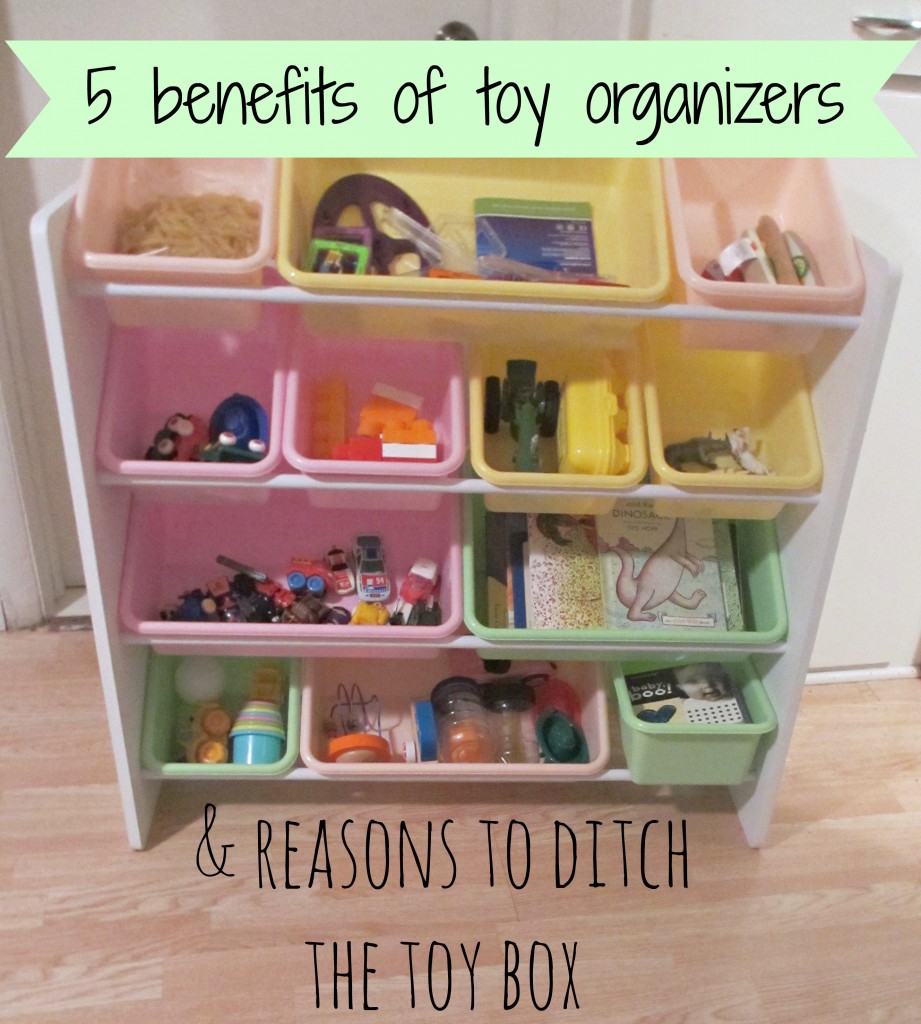 1) Toys are more visible and enticing. When children can easily see their toys, they can grab their attention. Toy boxes really limit how many toys children can view at once, and can seem chaotic and overwhelming. Imagine that instead of opening your refrigerator to see your food displayed, all of your food was in one big box. It's kind of the same theory. I used to store our books in a drawer that was at ground level so Drew (3) and Kelsie (13 months) could both access it. However, the first day that they came over with the books in our Whitmor Toy Organizer, Drew asked me to read to him 3 times (he doesn't usually ask me to read at all unless he is sick or tired, and he was neither). He also said "Where did you buy these books at?" when they were in fact books I had owned for weeks. It was clear that having them displayed in the bin made them more noticeable for him and encouraged him to want to check them out. He's asked me to read at least one book every time he has been over since.
2) Toys are more accessible. Toy boxes have to be fairly tall and large to fit a lot of toys. Toy organizers allow toys to be closer to the ground making them accessible by young toddlers and even babies who are crawling or just sitting up.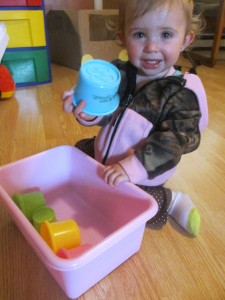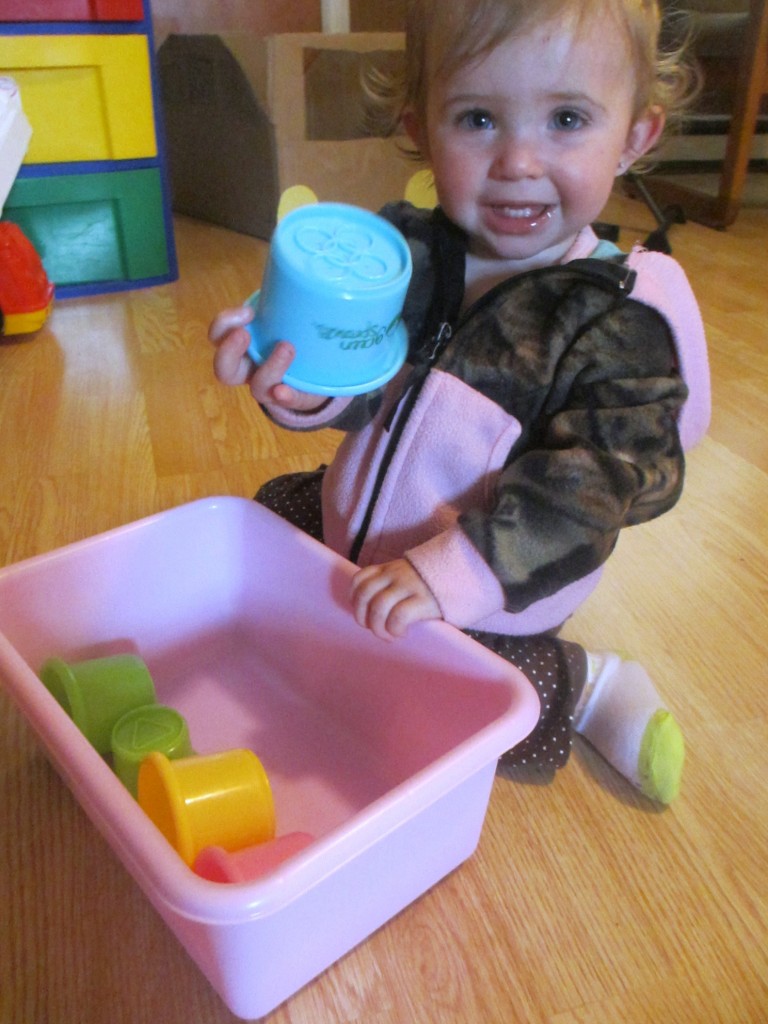 3) The bins are multi-purpose. Kelsie likes to stack the boxes and I have used a bin or two at a time to fill them with pasta, rice or other materials to create sensory boxes. I also plan to put a little bit of water in a bin some day for water-play outside. They can even be used to discuss and learn colors. "The legos go back in the big pink bin.". There are three bins in each color so you can even have a row of a single color to create further discussion of colors and organization.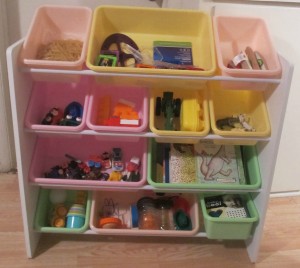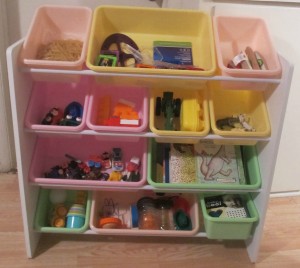 4) Encourages organization. With our toy organizer, we now keep the blocks in a single bin so I have noticed they get played with more. When we had a toy-box, the legos would end up all over the place so it took a long time just to gather the individual pieces before setting down to play. Most preschools have organized shelves that are at children's heights, so teaching kids that their toys and supplies have a "home" can even help prepare them for preschool.
5) Makes toy rotation easier. You've probably heard of the idea of toy rotation – it stems from the problem where many children will play with the same toys regularly, almost forgetting about other toys that they have. As I mentioned above, using toy boxes leaves only a few toys on display so I think in part this happens because children don't ever dig down deep enough into the toy box to see what else is in there, and keep playing with what is towards the top. Using a toy organizer will likely lessen this problem, but if you have more toys than what fit in your organizer, you can choose to pack up the rest or leave them out. Even if you leave them all out, you can rotate which toys are in the bins on display so that when children grow bored of playing with one set of toys, you can swap them out so they wake up to new toys being visible the next day and hopefully stay occupied with the newly displayed toys.
I have really enjoyed having a toy organizer and have no plans to ever go back to a toy box. I love how excited Kelsie gets when she eyes her toys and makes a bee-line straight for them every time she is over. I spend less time trying to entertain the kids and they seem to enjoy the ability to be more independent in picking out and putting away the toys as well. To learn more about the exact toy organizer that we have, check out my Whitmor 12 bin toy organizer review
Do you have a toy organizer? Why do you prefer it over a toy box?



Hi there! I am Emily Evert, the owner of Emily Reviews. I am 28 and live in a small town in Michigan with my boyfriend Ryan and our two pugs. I have a large family and I adore my nieces and nephews. I love reading memoirs, and learning about child development and psychology. I love watching The Game of Thrones, Teen Mom, Sister Wives and Veep. I like listening to Jason Isbell, John Prine, and other alt-country or Americana music. I created Emily Reviews as a creative outlet to share my life and the products that I love with others.
This post currently has 10 responses.