Having an almost 6 year old has proven to be quite interesting as he isn't a baby anymore, but he isn't old enough for a lot that this world has to offer.  Movies, television and even music has been a challenging road for myself and my husband these days.  Little C knows what he can watch on tv and he never ventures away from those shows so I don't have to monitor him very much and we have introduced him to some movies that aren't cartoons and he loves them.  We are just very picky about what we let him see and listen to.  I don't feel like we are overprotective, but we do feel like we need to filter what he is exposed to as much as possible.  Unfortunately there are so many challenges that he could face and will face as he gets older.
With that being said, we also love music in our house and in the car.  There are certain radio stations that my husband and I love to listen to, but there are definitely songs that are not appropriate for young ears.  Of course being on the radio the "bad" words are taken out, but you still have the content of the song.  As an adult listening to them I don't see anything wrong with the songs as I am able to disregard certain topics.  Little C however listens to everything.  Sometimes I wonder if he is really listening and comprehending what is being said, but then he will ask questions that make me realize that he is.  I just don't want his little mind filled with topics that aren't appropriate for him.  Luckily we have found some CD's that we as a family really like.  They aren't baby CD's, but they aren't so annoying that my husband and I grit our teeth every time we have to listen to them either.  One of those CD's is KIDZ BOP Party Pop.  I was sent a copy of KIDZ BOP Party Pop for review and we absolutely love most of the songs.  There are a couple of songs that none of us like, but you get that with almost every CD you could ever buy.  For the most part, we love the songs.  The songs are fun, high tempo and sung by kids which Little C adores!  This is a CD that travels back and forth from our apartment to the car.  Since we have found Little C some music to listen to, we have recently put a CD player in his room.  He loves to turn on his KIDZ BOP CD and dance or just listen while he plays in his room.  Sometimes we will bring his CD player out into the living room and dance as well.  I just love the stage that he is at and I appreciate the fact that wants to share his interests with me.  We have had a great time listening to our KIDZ BOP Party Pop CD and will definitely be purchasing some more of their CD's.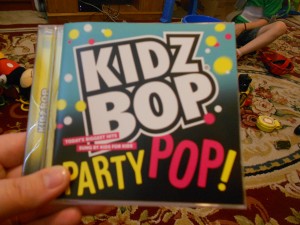 If you are going on road trips over the summer or if you just need some fun music to play while your little one plays inside or outside make sure to check out of all the options from KIDZ BOP.  They are tons of CD's so I'm sure you will find some that fit your child perfectly!  Have a great summer!
In you spare time make sure to check KIDZ BOP out of Facebook and Twitter!  KIDZ BOP is headed out on tour starting May 24 so you may like to experience the fun firsthand!


This post currently has one response.