Thank you Öko Creations
for providing me with a product to review, free of charge,
and for sponsoring this giveaway.
These are my own honest opinions.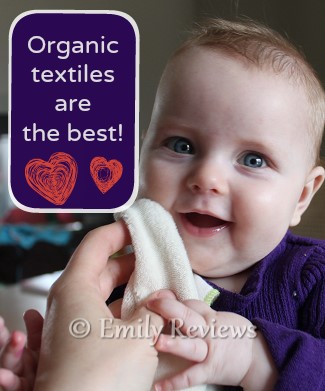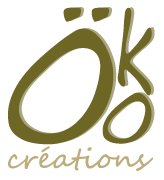 Öko Creations is a small company that 2 sisters with a love of all things green started back in 2009. They offer many great products made from eco-friendly textiles. Their aim is to replace everyday products such as towels and face cloth that aren't made of organic fabric as well as replace wasteful disposable single-use products such as sanitary pads and makeup removal pads.
For this review, I received a hooded bath poncho and a set of small face cloth. I chose the Hooded Bath Poncho because we already have one of their Hooded Baby Towels and I can't get over how plush and soft the terry cotton is. (I secretly want one for myself too!) I wanted my oldest daughter to have the same luxurious experience but with a more toddler-friendly design.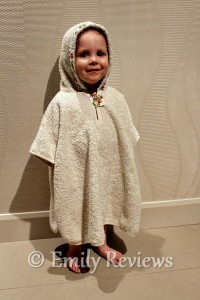 At the name states, this product is designed as a hooded poncho but it made of the same soft and absorbent undyed, unbleached (so it is a creamy color) and hypoallergenic organic terry cotton fabric as their fabulous baby towels. It's ideal for kids 18 to 36 months. All you do is slip it over their head, bring their arms out through the sides if they want to (my daughter prefers to keep them in most of the time). Dry them off quickly and let them walk around. I really like this because my daughter always asked to get tightly wrapped up in her hooded towel before heading to her bedroom to put her pajamas on. She would get frustrated when the towel wouldn't stay in place or she'd trip over the corners of the towel that would drag around her feet.
The poncho is more like a bathrobe and its design ensures that it won't fall off (toddler crisis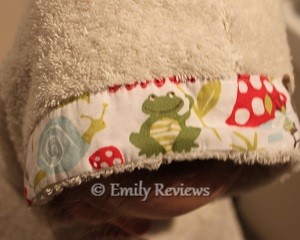 averted!) and it's also much safer because no matter how much she wiggles or moves around, it stays put and she doesn't trip over it. I think it would also be great for squirmy little ones or kids who need that extra little bit of enticing to get out of the tub. Oh and their fun trims (choice of 3 different prints) are really cute and add a touch of color!
I also received a set of organic cotton baby wipes. I might be a little crazy but I love wipes. Big ones, small ones, thick ones, thin ones. I have them all! There's always a million reasons to have one handy. Sticky hands: need a wipe. Runny nose: need a wipe. Spill on the table: need a wipe. Diaper change: need a wipe. Bath time: need a wipe. You get the point, I have stacks of them and I use them every day. But again, these wipes from Öko Creations aren't just your ordinary wipes. They're thick which means they can handle big sticky messes, yet soft, so they are gentle on baby's skin.
They are generously sized (9 x 9 inches) and are made of a blend of 80% organic cotton and 20% polyester. They are the largest wipes that Öko Creations offers and they can handle pretty much any job. They wash really well and are designed to not lose their shape. They are also made of undyed, unbleached, hypoallergenic fabric but the trims come in 4 different colors: red, yellow, green, and blue.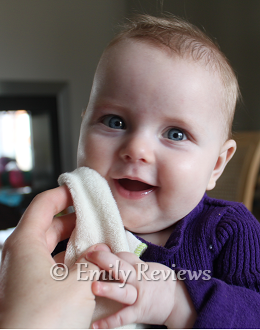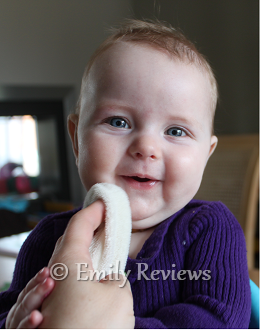 Now that my youngest has started solids, these are my favorite wipes for her. It gently removes sticky cereals from her face and given how much she likes to lick them, I'm thinking organic cotton might have a secret yummy flavor no one knows about. Anyhow, I'm happy I made the choice of using organic wipes! I think you can tell from the photos that I'm not the only one who's happy about the softness and goodness of natural fibers.
The fact that personal care products are eco-friendly should be reason enough to choose them over regular ones but add to that that they are plush, soft, absorbent and you realize there's absolutely no reason not to make the smart choice. I also like that Öko Creations designs products that are practical and tested for real life use. You'll really get the best value for your money with their products.
Buy It: Head over to Öko Creations to see for yourself their great selection of green baby/kid products as well as products for women they offer. SPECIAL PROMOTION: Emily Reviews readers get $10 off any purchase of $50+. For Canadian readers, use the code emilyreviewsrebate. For American readers, contact them directly by email or by phone to process your order. This special promo code is valid until May 31st.
Connect: Don't forget to like Öko Creations on Facebook, follow them on Twitter and Pinterest for all the latest news and promotions.
Win It:  Öko Creations is generously offering one of our lucky readers a Hooded Poncho like the one I reviewed. The giveaway is open to US and Canada and will end May 23rd. For your chance to win, enter the Giveaway Tools below. Good luck!
* Please note a winner was randomly selected after the giveaway ended and she claimed her prize. Due to a technical problem, her entry wasn't saved as the winning entry so I went back and selected it manually which is why it says that the winner was not randomly selected *


This post currently has 3 responses.