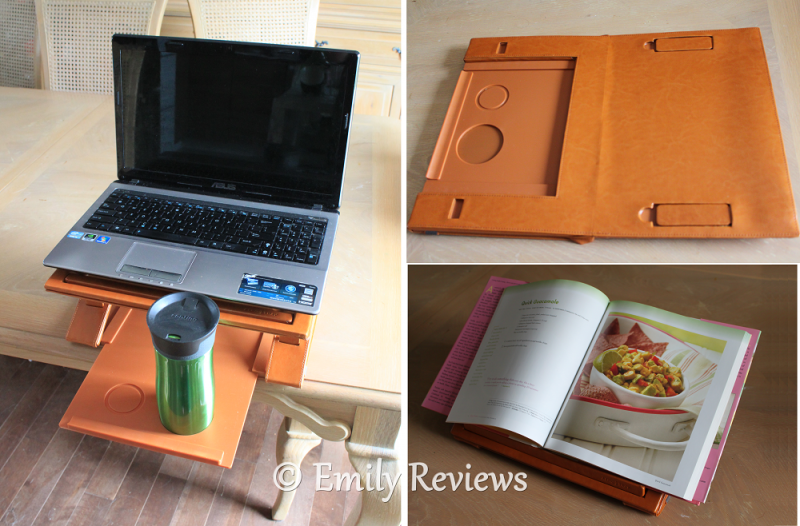 Thank you Aero-Tray
for providing me with a product to review, free of charge.
These are my own honest opinions.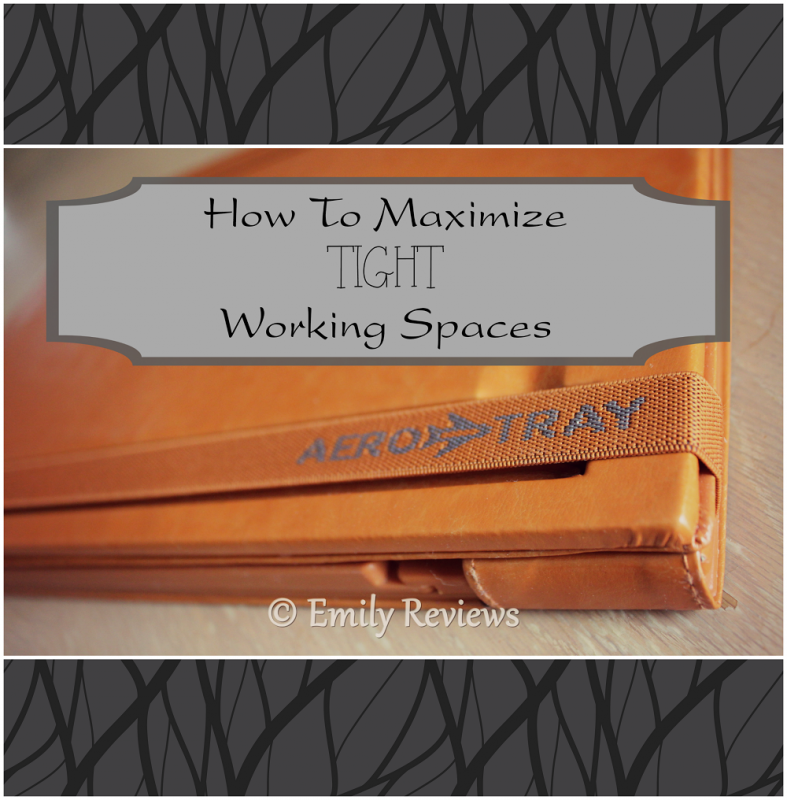 Most of us either own a laptop, a tablet or an eReader. If you're like me, you practice the subtle art of balancing your devices on your lap, on the tiny crowded coffee table, on the awkward tray on the plane or on the train. Not only it is risky for your expensives devices, it can also be quite uncomfortable.

I recently discovered the Aero-Tray and it's an amazing accessory to make the best of tight spaces and create a more ergonomic plateform for your devices. It is designed to be portable, weighs 1.5lbs and measures 9.5 x 14 x 1.5 inches. It is available in black and camel (orange/brown color). It stays securely shut thanks to two elastic bands. The little tabs are amazingly sturdy and stay in place very well in the grooves.
Let me tell you how this little accessory can help you make the best of tight spaces and provide you with a more comfortable space to work (or play, or read, or whatever!)
1. If you use your devices on your lap, the Aero-Tray will change your life! It'll bring the device and at the screen at the right height and proper angle. It will also block heat, especially from your laptop. My chiropractor told me a few weeks ago that my neck is starting to show signs of dammage because my neck is always bend down. While discussing this with her, it became clear that the number one reason why this is happening is because I use my laptop on my lap for many hours a day and always had my head down to look at the screen or keyboard which isn't an ergonomic position. Same with my eReader. I didn't realize that my posture was literally affecting the curvature of my neck… Needless to say, I changed this bad habit as soon as I received my Aero-Tray.

2. If you bring your devices in airplanes, trains, or anywhere else there isn't a lot of space (think tiny tables at the coffee shop or minuscule desks in university auditoriums), you know how awkward it can be to try and use them. Sometimes it's even impossible because there just isn't enough space. The Aero-Tray can be used as a multi-tiered workstation. You can have your laptop on top, then a book on the lower level using the retractable tray. Or you can place a snack and a drink on the tray: there is a special groove for a glass and one cut out for a cup that are perfect for drinks. It keeps them on a separate level from your devices which also reduces the likelyhood of a spill that could damage them. In planes and trains, the Aero-Tray is especially useful because space it tight and if the person in front of you lowers her seat, it becomes impossible to use your laptop because it can't be opened properly (hence you can't see the screen). With the Aero-Tray, you can easily create an angled surface which will counteract the angle of the reclined seat in front of you.
3. If you want to protect your smaller devices while traveling, open your Aero-Tray and TA-DA! There is a recessed area that is perfect to store your smaller devices such as tablets and eReaders! They are safely protected and available whenever you need. Of course, there are many options to set your device in the most comfortable position for you. You could place it on the angled Aero-Tray, or use the little vertical flap as support with the Aero-Tray in the highest flat setting.
4. If you don't have access to a tray or table, the Aero-Tray is strong enough to be used as a flat lap desk. It can also be turned into a handy clipboard using the elastic bands if necessary to hold your documents in place.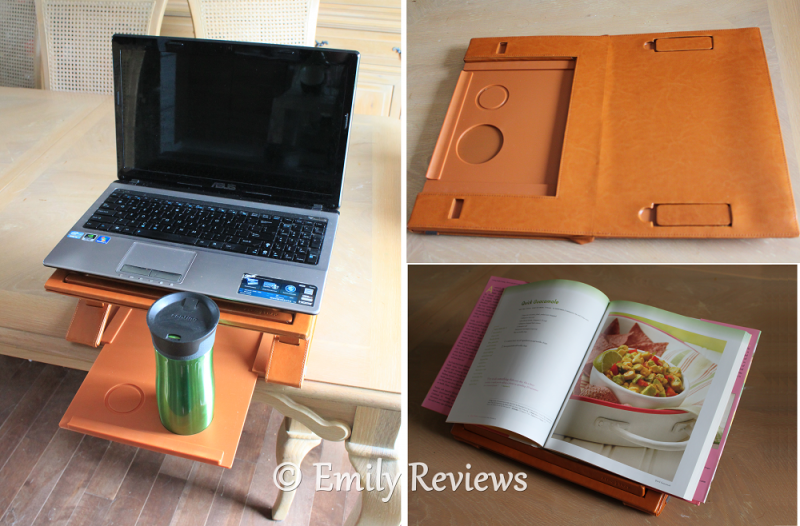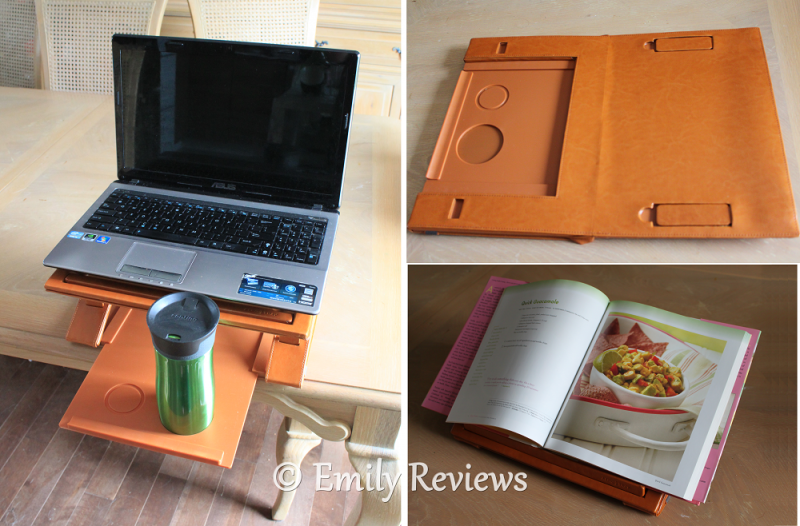 Overall, I think the Aero-Tray is a very well designed product. It's versatile and can be set up in multiple different positions (angled or flat, with or without the retractable tray, etc.) It can be used at home, at work, or while traveling. Its compact design make it easy to bring along with your devices and will help your create an ergonomic, space-saving platform in just a few seconds. I can't find anything I don't like about it but if I were to make a suggestion, it might be a good idea to have the tabs extendable/retractable. I'm not very tall and when I want to have the platform flat on the highest position, it's a little too high for me. If I could retract the tabs, even by just 1/2 inch or 1 inch, it would make a big difference. I also hope the Aero-Tray will be available in more colors soon! How about charcoal gray or white?
If you're looking for a unique and practical gift for a dad who travels or could use a more comfortable setting while using his devices, look no further, the Aero-Tray is what you need!
Buy It: Head over to Aero-Tray to see for yourself the clever design and explore the many possibilities that it can offer you. You can purchase it only at Wayfair (currently on sale!), at TravelSmith, and at Bed Bath And Beyond as well as in many stores.

Connect: Don't forget to like Aero-Tray on Facebook, follow them on Twitter for all the latest news and promotions.


This post currently has no responses.