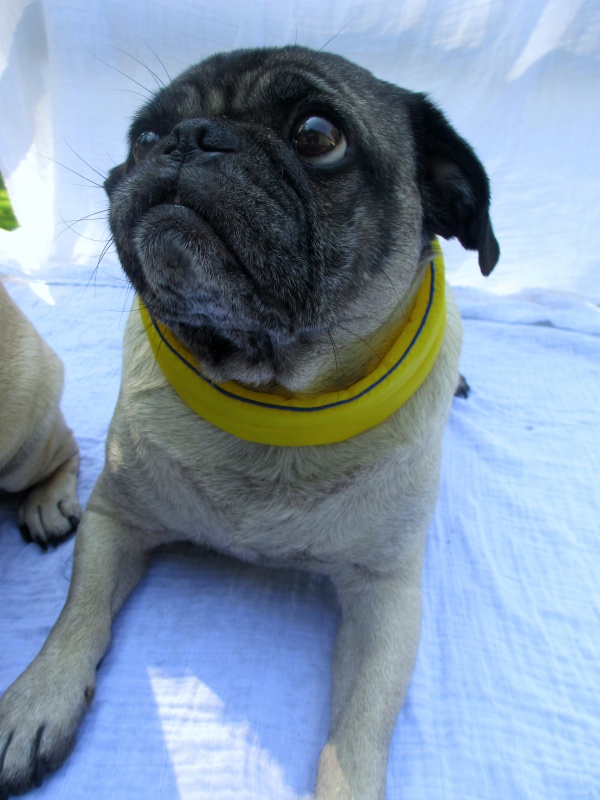 *I was provided with two iCool scarfs from Doggie Couture Shop. All opinions are my own.
A lot of pugs have very flat faces which makes them prone to a few different causes for breathing problems. Dogs rely on panting to regulate their body temperature, so pugs don't usually tolerate heat well. Neither of my pugs do particularly well in heat but Beans is very sensitive to hot weather. Her face is much flatter than Frank's and she will begin panting heavily before he starts panting at all. In the summer, we take several steps to make sure that Beans avoids getting overheated. However, there are still instances where she does begin to get too hot and we like to have a variety of methods for cooling her off. We recently added another "cooling option" to our tool kit which is the iCool Scarf from Doggie Couture Shop.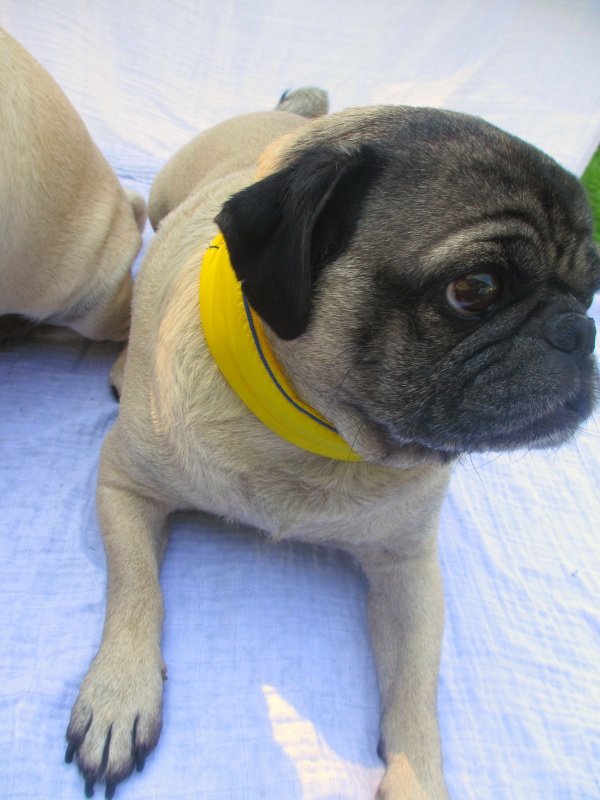 These are basically collars that have "beads" (non-toxic polymer) inside. When the iCool scarfs arrive, they will be very flat. To "activate" the scarf, you either set it in cold water or hold it under a faucet. I have been laying it in a bowl of cold water. After a minute or two the scarf will completely fill out as the "beads" in the scarf expand. When the beads expand, they almost feel gel-like. The entire collar feels cold and squishy. You velcro the iCool scarf onto your dog and it will take several hours before the scarf goes back to being flat and dried out again. I've only ever needed to use the Scarf on Beans for about an hour at a time. Once I take it off her, I leave it on the counter to dry and sometimes it takes more than 24 hours for it to completely go back to being flat and dry. Even several hours after being activated, the scarf is still very chilled to the touch. While I wouldn't rely on the iCool scarf alone if I thought that Beans was experiencing heat stroke or was severely overheated, it works great for more minor situations when she is too warm and panting. For dogs who aren't as sensitive to overheating, it might be a nice way to keep them comfortable on a hot day even if they aren't panting or visibly struggling with the heat.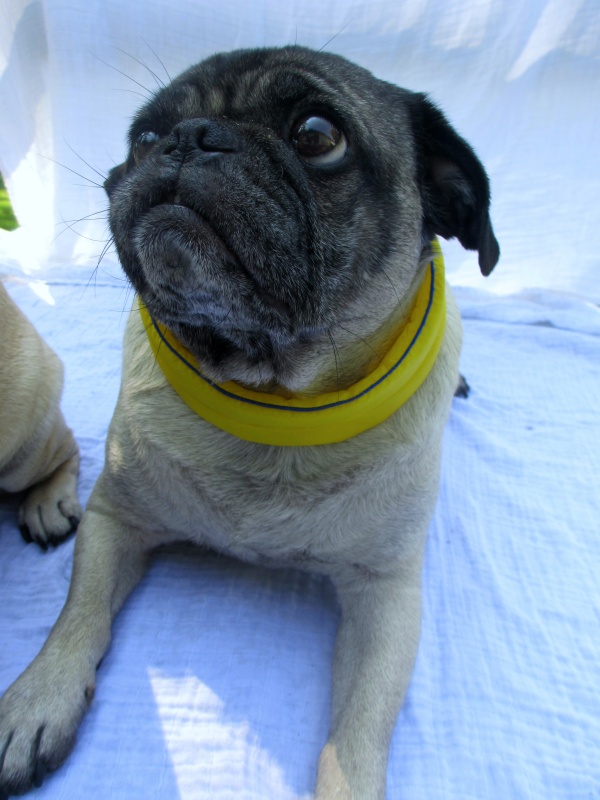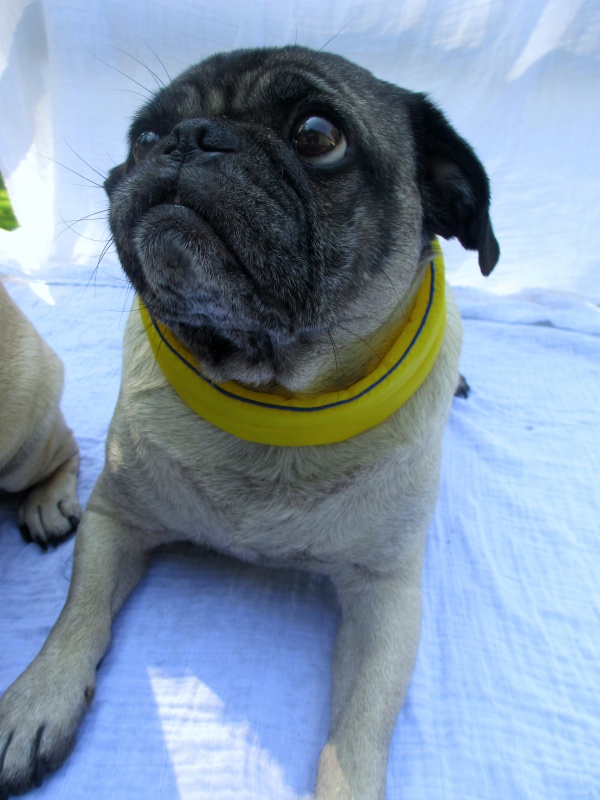 My dogs have 15.5 and 16.5 inch necks. The size large iCool scarf is suppose to fit up to 17.75 inches, but it seems as if it's barely able to fit Beans (16.5 inch neck). I would recommend sizing up if you are towards the end of the measurement for any of the sizes, to allow room for the scarf to expand. The photo below shows the scarf before water is added (on bottom) and after the scarf has been put into water to expand (top).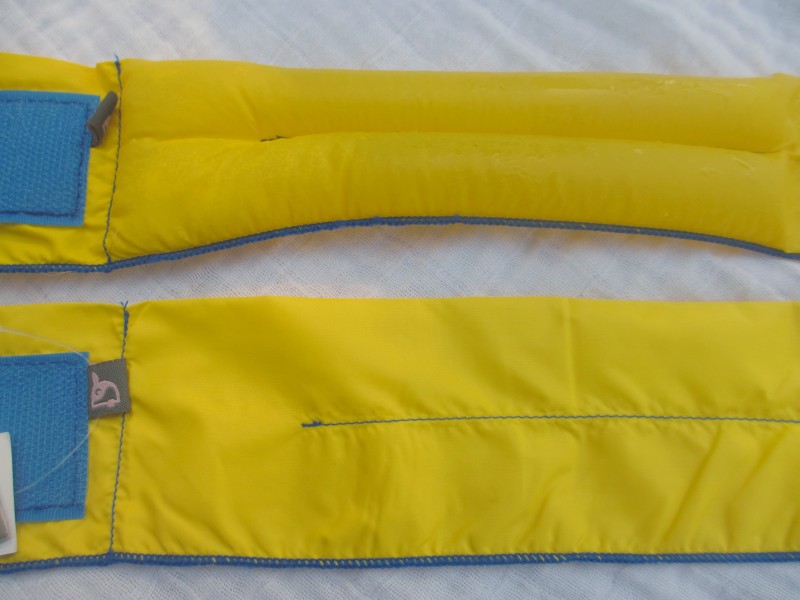 The iCool Scarfs are sold for $13 at Doggie Couture Shop. They have an entire section of products for helping your dogs cope with the heat this summer called "cool me off!". They also have tons of adorable accessories and gifts for your pup.
Connect: You can connect with Doggie Couture Shop on Facebook and Entry Form
…



Hi there! I am Emily Evert, the owner of Emily Reviews. I am 28 and live in a small town in Michigan with my boyfriend Ryan and our two pugs. I have a large family and I adore my nieces and nephews. I love reading memoirs, and learning about child development and psychology. I love watching The Game of Thrones, Teen Mom, Sister Wives and Veep. I like listening to Jason Isbell, John Prine, and other alt-country or Americana music. I created Emily Reviews as a creative outlet to share my life and the products that I love with others.
This post currently has 5 responses.