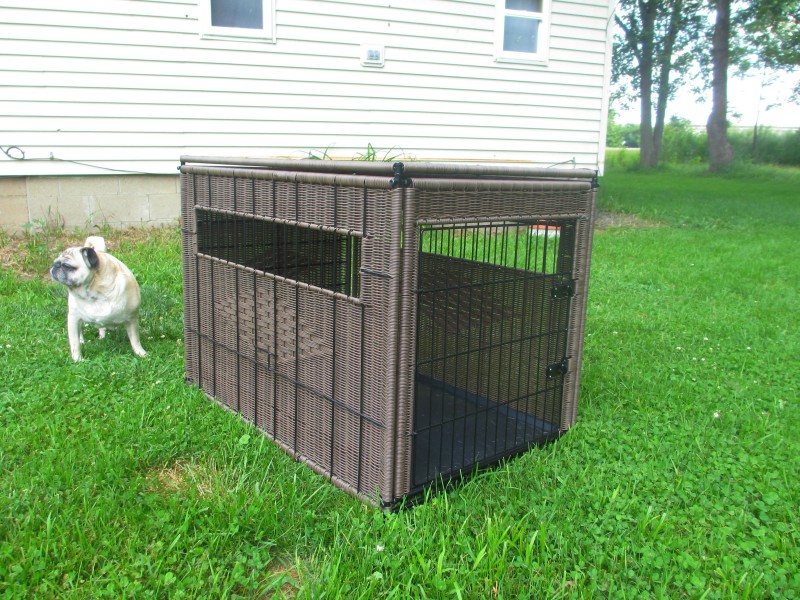 *I was provided with a Solvit Wicker Residence. All opinions are my own.
Frank & Beans' previous older told me that they had been kennel trained. So we used a kennel for the first night or two, but it was clear to me that they were experiencing anxiety while in the kennel. So we tried having them sleep out of it on the third night and it went great. We've never had issues with chewing or potty accidents so our dogs don't ever sleep in a kennel. However, they are anxious dogs in general and they get particularly nervous when we have company. They don't like being away from Ryan & I so putting them in our bedroom or another room just makes things worse. So, we like to leave a kennel in our living room so that the pugs have a "safe space" to go to get away from our guests but still be in the same room with Ryan & I. We've found that they will opt to go in there to chew on a bully stick or other treat, or sometimes just to lay or sit as well.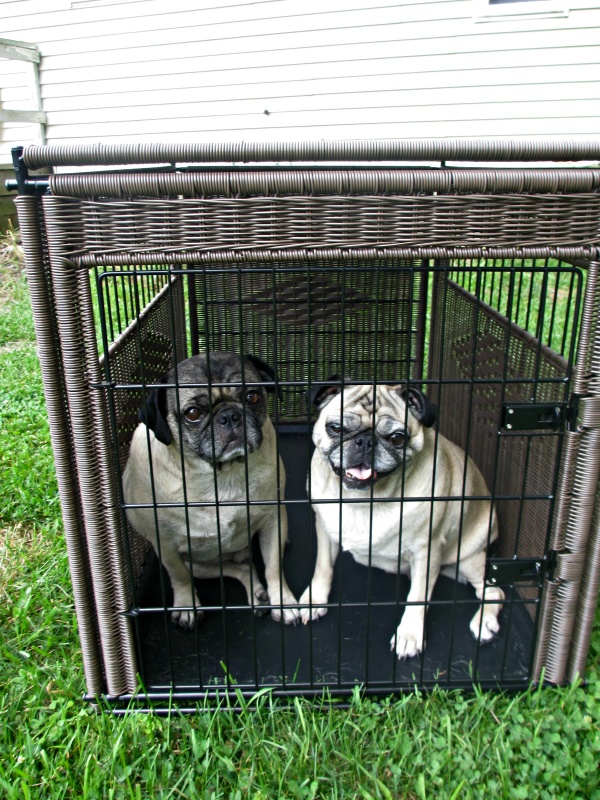 Most dog kennels don't look very nice to leave in a main room of a house. I've also wondered if the grid on most kennels are uncomfortable for dogs when they lean up against the side or the back of the kennel. When I saw that Solvit makes Wicker Residences I was interested for several reasons. I thought that the wicker surfaces look so much nicer than traditional kennels. I knew I wouldn't mind leaving the wicker residence in our living room because it just looks more fitting. I also liked how the sides and back were completely covered surfaces, so if the dogs lean up against the sides or the back, they will be fully supported instead of having just the wires push up against them. The fully covered sides also make the space inside the kennel a bit more dim than the rest of the room, and blocks the dog off from the visual stimulus going on around the residence. For my anxious dogs who get overwhelmed when there are multiple people around, I thought it would be perfect. The wicker material isn't absorbent so it won't absorb liquids or odors.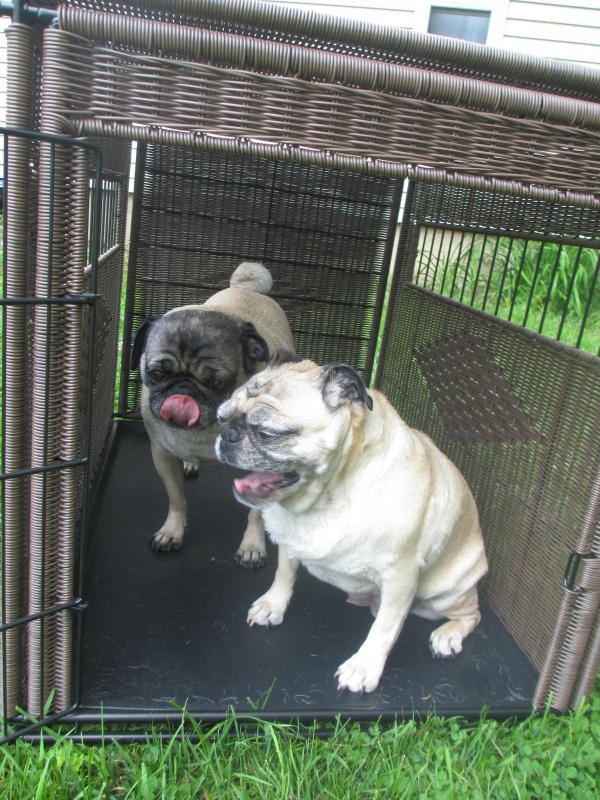 My dogs took to their Solvit Wicker Residence right away. We went with the size Large which is big enough for my pugs to share with room to spare. It measures 36″ long, 24″ wide and is 27″ high. We have a rectangular dog bed that is slightly smaller than the base of the kennel so we can make it extra cozy for them. They are really comfortable using their Wicker Residence as they see fit. If we were to ever need to leave them with someone else overnight or for a few days, it would give me comfort knowing that we could leave their residence with them so they still had a comforting place to be.
When the Wicker Dog Kennel arrived, it required assembly but I did it on my own in probably 10 minutes. I did accidentally put the sides on inside-out (the black wires should be inside). I didn't actually realize this mistake until I was finishing up this post, but the kennel has worked fine for us as-is. Having the wires on the inside of th kennel would of course look better and might help deter dogs from scratching the wicker as well. Thankfully, my dogs haven't tried scratching at it yet so we haven't had any problems. The residence feels very sturdy. I like how the kennel floor is slightly elevated so it won't scratch your floor. The tray on the bottom of the residence can come out for easy cleaning – which is awesome because both of my pugs are shedding so much right now. Unlike a lot of other kennels, the door can swing both ways.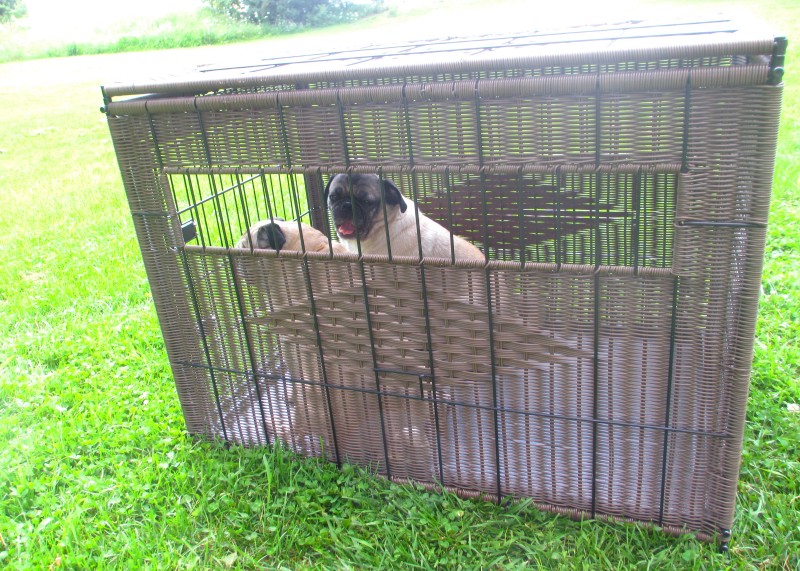 I feel like the Solvit Wicker Residence is the ideal kennel for us, I can't think of any way that it could be improved for us personally.
If you want to try to win a wicker residence for your dog, be sure to subscribe because a giveaway for one will start soon!
Do your dogs use a kennel? Is it for sleeping in or do you use it as a "safe space" or both?



Hi there! I am Emily Evert, the owner of Emily Reviews. I am 28 and live in a small town in Michigan with my boyfriend Ryan and our two pugs. I have a large family and I adore my nieces and nephews. I love reading memoirs, and learning about child development and psychology. I love watching The Game of Thrones, Teen Mom, Sister Wives and Veep. I like listening to Jason Isbell, John Prine, and other alt-country or Americana music. I created Emily Reviews as a creative outlet to share my life and the products that I love with others.
This post currently has one response.