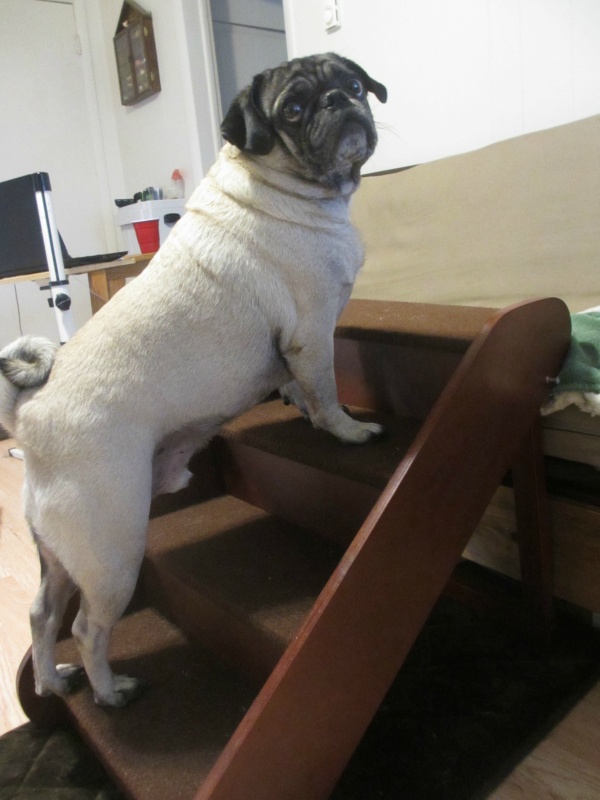 *I was sent Solvit dog steps. All opinions are my own.
My 10-year-old pug Frank has arthritis. Thankfully, most days he has no symptoms. However, on rainy, humid and/or cold days he sometimes walks unevenly, favoring one leg or another. I hate seeing him in pain, so I've been trying to work on his arthritis problem in multiple ways to hopefully do the most benefit.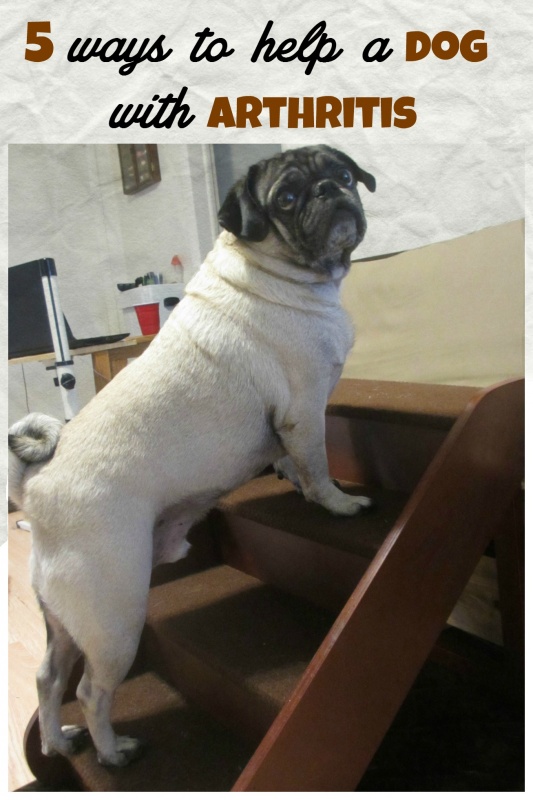 5 ways to help dogs with arthritis. 
1. Check their weight. Frank lost quite a bit of weight right after I brought him home, but over the past year he had still remained a few pounds overweight. Now that he is struggling with arthritis, we are really being strict with his diet to get him to lose the remaining weight. When a dog has arthritis, having excess weight on their joints can cause them more pressure and pain. Most dogs are at their ideal weight when you can see a "waist" when you stand above them and when you can easily feel their ribs. If you're unsure if your pet should lose weight, ask your vet.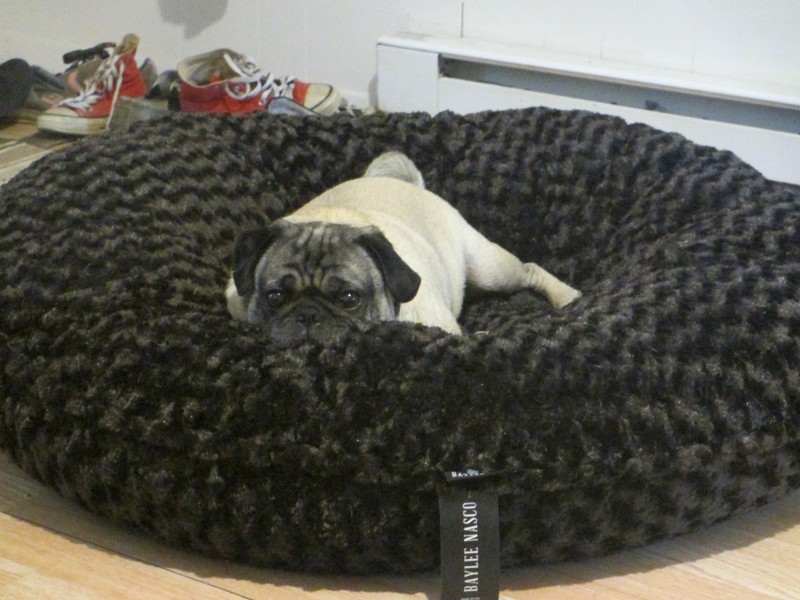 2. Thick dog beds/bedding. I noticed a few months ago that Frank would go into my bedroom instead of laying in the living room. In the past he would always lay at my feet so it was very odd for him to go into another room alone. Later I noticed that if we left a blanket or coat on the floor in the living room, he'd stay with us and lay on it. That's when I realized he was going into my bedroom because it was carpeted, I think its painful for him to lay on the laminate flooring in the living room. So we got him a well-padded dog bed so that he stays off the hard floor.
3. Glucosamine/chondroitin. These are both found in normal cartilage and are taken as supplements because they are believed by many to help with arthritis. I've read respected sources like WebMD that say that neither supplement is proven to work but we found a dog food that had both ingredients in it and was otherwise very similar to food which my dogs had done well on. Seeing how the food wasn't any more expensive than the food we had them on before, I thought it was worth switching because we didn't have anything to lose.
4. A warm place to lay. Frank seems to be in pain more often on cold days. There are heated dog beds and heated mats that can be left out for your dog to lay on.
5. The right level of activity. My vet told us that it's a good thing to keep Frank from lying around all day so going on a daily walk is still good for him. However, he also said that we need to be careful to avoid letting Frank do too much or make unnatural motions. For example, it's good for us to discourage him from standing up on his hind legs because that is an unnatural position for dogs and is hard on their joints. It's also good to prevent him from jumping too much. This was an issue for us because with Frank being a pug he is only about a foot tall. He was in the habit of jumping up onto our couch, my bed and our recliner several times per day.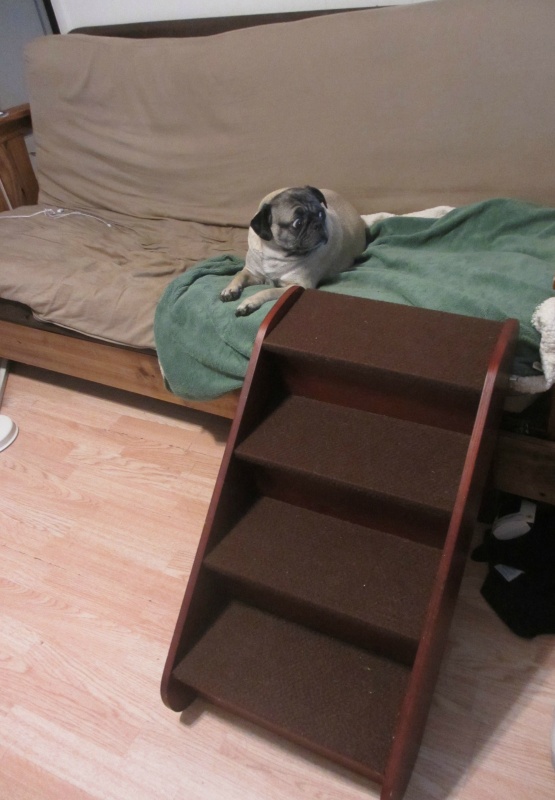 In an attempt to get Frank to jump less, we got Solvit PupSteps in size large. They go up 20 inches high and my futon is 18 inches high so it works great. At first my dogs were afraid of the steps so we put training treats on the third and fourth steps (which they couldn't reach from the ground) to encourage them to get on the steps. Over time they became more comfortable with the stairs. We put a rug under the steps because we found that the steps would shake a tiny bit if left on our laminate floors which would scare the dogs. Now that we've had the steps for about a month my dogs will use the steps to go both up and down on their own sometimes. Sometimes they still will jump up onto the futon as well but I'm glad that we've at least reduced how often they are jumping. Solvit has other dog steps (and ramps) that come in various sizes so that you can get a set that fits your furniture.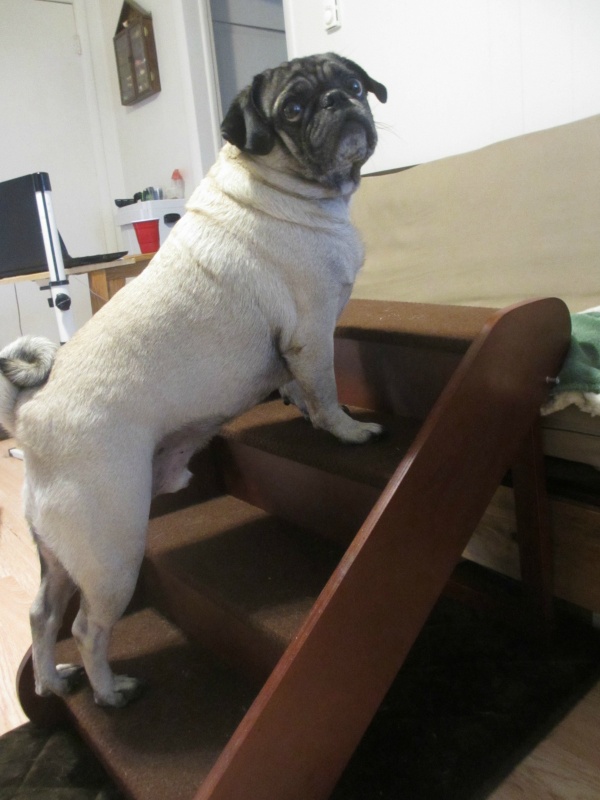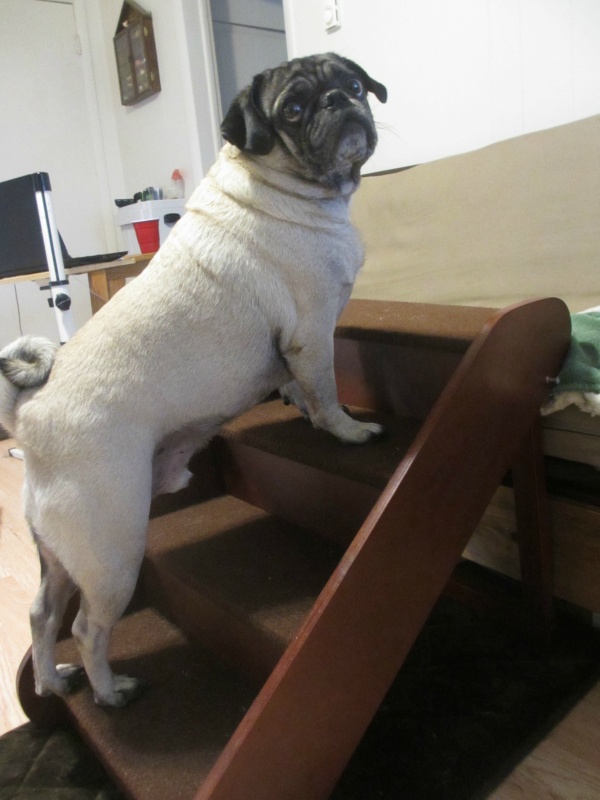 Win it: A set of Solvit PupSteps – size large measures 20″ high or size Extra-large which measures 25″ high. Giveaway is open to the US and ends 10/16/2014.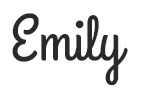 Hi there! I am Emily Evert, the owner of Emily Reviews. I am 28 and live in a small town in Michigan with my boyfriend Ryan and our two pugs. I have a large family and I adore my nieces and nephews. I love reading memoirs, and learning about child development and psychology. I love watching The Game of Thrones, Teen Mom, Sister Wives and Veep. I like listening to Jason Isbell, John Prine, and other alt-country or Americana music. I created Emily Reviews as a creative outlet to share my life and the products that I love with others.
This post currently has 8 responses.