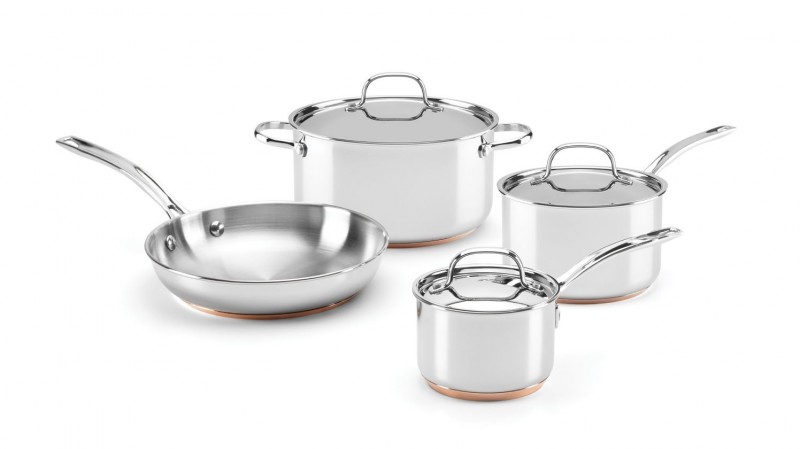 Thank you Food & Wine For Gorham
for providing me with products to review, free of charge.
These are my own honest opinions.
Food & Wine is notorious for bringing us delicious recipes, introducing us to new food-related trends from around the world, and showcasing amazing kitchen design ideas and products. Over the years, they obviously developped an expertise in kitchen products and they know exactly which features are important, which materials work best, which designs are both functional and appealing. So when they decided to create their own lines of dinnerware, glassware, flatware, serveware and cookware, I was thrilled!

They decided to collaborate with Gorham which is also a renowned brand in the kitchen industry both for its tableware and barware. The result of this collaboration promised to by outstanding!
The Food & Wine Collection For Gorham is sold exclusively on Amazon.com and was launched earlier this Fall. At this point, they offer 3 lines of dishware: Modern Farmhouse which is inspired by Scandinavian design, The Entertainer, which is elegant enough for parties, yet works well for everyday use, and On The Dot, which has a delicate dotted pattern with a raised dot at the 12 o'clock position to help home cooks plate food as precisely as a chef. There are 3 styles of flatware, gorgeous European-made drinkware, and beautiful and practical oven-to-table bakeware. As for the cookware, there is the light stainless steel line and the enameled cast iron line.
For this review,  I received the 7-piece stainless steel cookware set. It includes a 1.5-quart saucepan with lid, a 3-quart saucepan with lid, a 6-quart stockpot with lid and a 10″ skillet. Each piece is made of impact-bonded stainless steel and the base of each item has an aluminum core and copper banding which ensures fast and even heat distribution. The riveted handles are designed in 'v' shape to defuse the heat when cooking on the stovetop so they remain comfortable and safe to handle.
In terms of versatility, these pots and skillet can be used on gas, electric and ceramic/glass stovetops. They can also be used in the oven at temperatures up to 500° F. They are also dishwasher safe! As I said before, Food & Wine made sure to create cookware that was fonctional in home kitchens! I love that they choose simple, modern lines so this cookware will look great in any kitchen now, but also because it has this timeless flair, it won't look out of place in 10, 15 or even 20 years.
To celebrate the launch of the new Food & Wine Collection for Gorham, there is a huge contest that will run until November 30th. The grand prize is a trip to Solage Calistoga in Napa Valley, California worth approximately $25 000. There are also 3 other prizes where you can win Food & Wine for Gorham products, an Amazon gift card, Food & Wine's cookbook, etc.  You can enter here.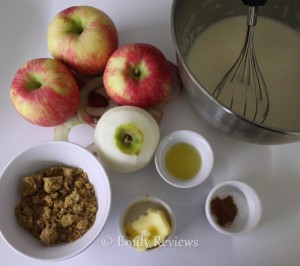 Instead of just telling you about this cookware set, I decided to show it action with one of my favorite Fall recipe: a German Apple Pancake!
For this recipe, I use my Food & Wine 10" skillet. It's ideal because I can use it to cook the apples on the stovetop and then to bake the pancake in the oven. I find I get the perfect heat distribution I want to the pancake is evenly cooked and not burnt even though it's fairly thick.
This recipe is for 4-6 people and will take about 30-40 minutes to make.
Ingredients:
1 1/4 cups (310 ml) milk
2 eggs
3/4 cups of unbleached all-purpose flour
2 tbsp of sugar
pinch of salt
3-4 apples, peeled, cored, and sliced
2 tbsp of butter
1/4 cup of brown sugar
pinch of cinnamon
1 tbsp of lemon juice
powdered sugar (optional)
maple sirup (optional)

Preparation:
Preheat the over at 500° F  (Remember to choose a skillet like Food & Wine's for optimal result at such high temperature)
Prepare the crepe batter by mixing the milk, eggs, flour, sugar and salk in a blender until smooth. Set aside.
Melt the butter over medium-low heat in your skillet. Add the brown sugar, cinnamon, lemon juice and mix well.
When the mixture is well combined, add apples. Cook until the apples are soften and are slighly brown (don't forget to stir often to prevent them from burning). This will take about 10 minutes.
Pour the crepe batter directly over the apples. If you feel fancy, you can arrange your apple slices to create a design.
Make sure your oven is at 500° F and transfer your skillet to the oven. REDUCE the heat for 450° F immediately.
Bake until the crepe is golden is thoroughly cooked (about 18-20 minutes).
Spinkle with powdered sugar if you want.
Cut and serve warm. I suggest you add a bit (or a lot) of maple sirup. It's delicious with the apple and cinnamon flavors.
Enjoy!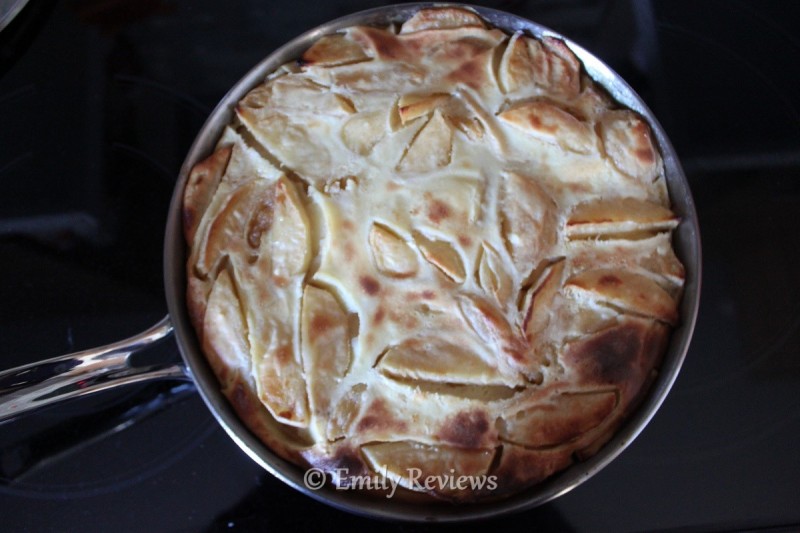 Tell me! What is your favorite Fall recipe?


This post currently has 2 responses.