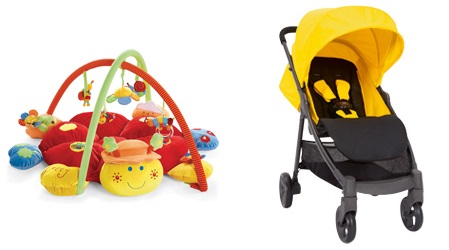 Mamas & Papas is a brand dedicated to bringing parents the best of the best. The company started when David and Luisa realized when they became parents that the best out there wasn't good enough. They decided to raise the bar and actually meet parents' needs. Their daughters, now parents, share the vision and help shape the business to the expectations that today's parents have.
Mamas & Papas offers tons of innovative and fun products such as strollers, baby carriers, highchairs, floor seats, development toys and more.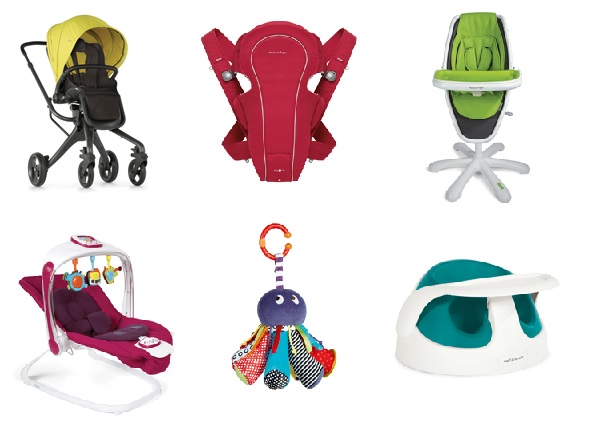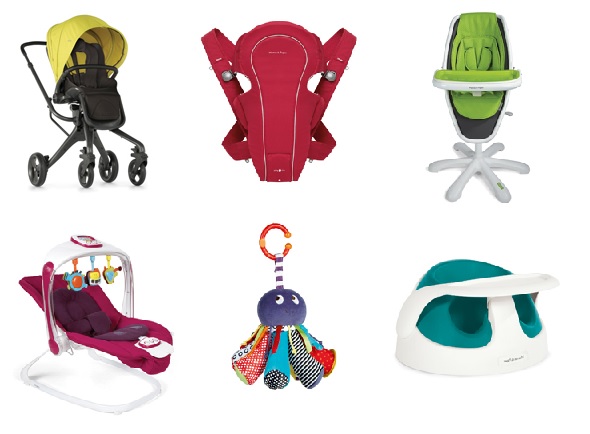 There is also the all new Armadillo stroller. It comes in Lemon Drop, Black Liquorice, and Blue Fizz. It is nicknamed the 'big little stroller' because it's compact yet has a large seat and can accomodate children up to 50lbs. It also has a large canopy with a peek-a-boo window and comes with a raincover that actually covers baby all the way to her feet! The seat reclines to a horizontal position which we know is best when baby sleeps. The leg rest can also be raised to provide more leg room and comfort. You can see how big the seat is when you look at my nearly 3-year-old in the stroller below. She's not the tallest girl of her age but still, that's a lot of leg room!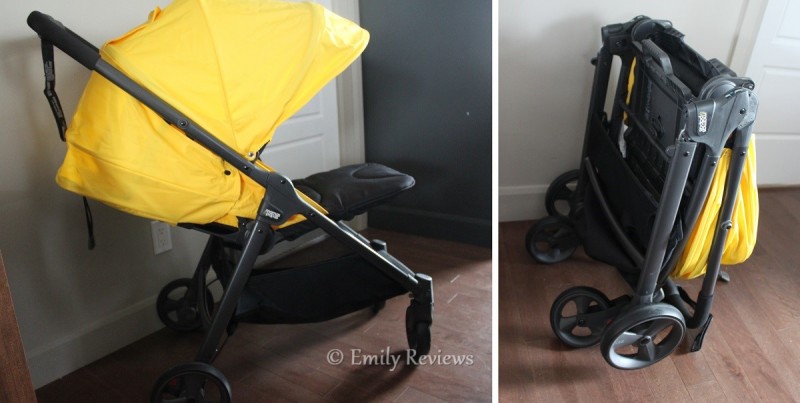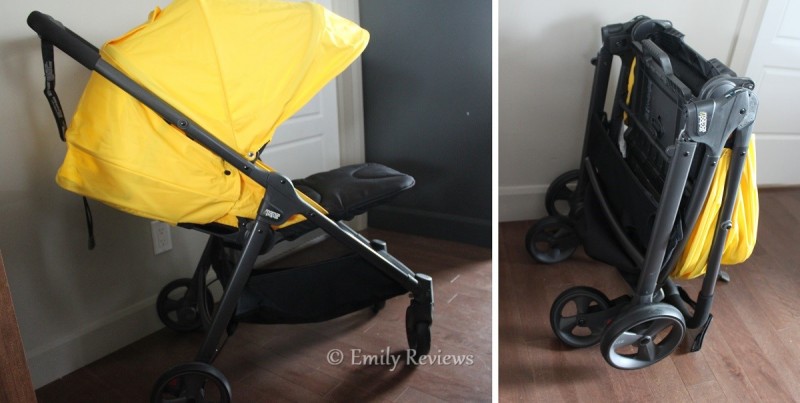 In terms of safety, the Armadillo has an adjustable 5-point safety harness. It also has brakes that are easily accessible and easy to operate. The front swivel wheels can also be locked in position when the terrain is uneven for maximum stability. I only wish the wheels had rubber tires instead of being made of hard plastic. It would make for an even smoother ride. This stroller can also be transformed into a travel system and used with an infant seat (car seat adaptor not included). This would allow you to use this stroller from birth.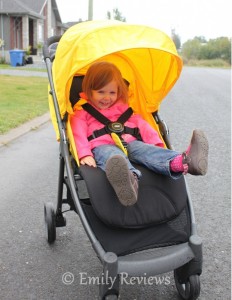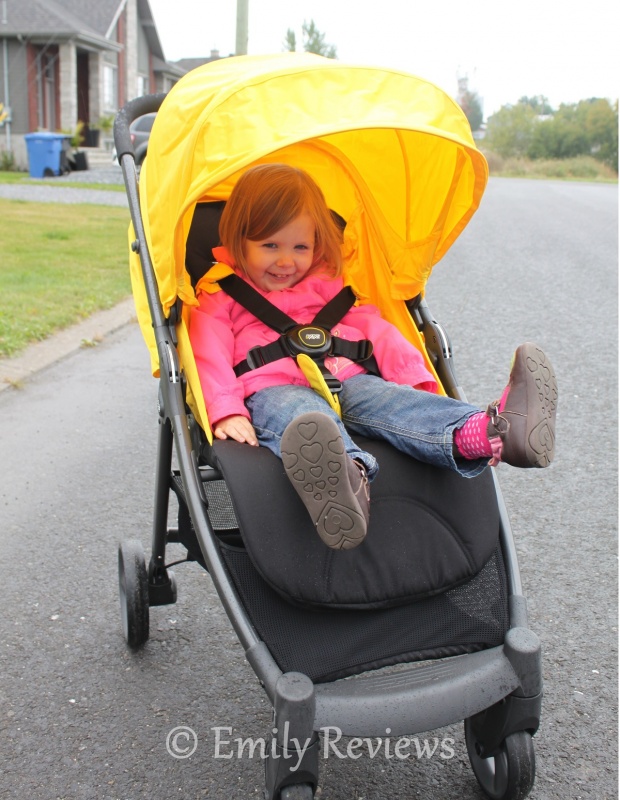 Another great feature of this stroller is the way it folds. It comes really compact because the handlebar folds over the seat and rests near the front wheels. It basically gets folded in half! There is even a handle that makes it very easy to transport this stroller. I also use it to hang my stroller when not in use.
Overall, it's a great compact and lightweight stroller that is perfect for the city. It's also a great solution for people who want a travel system but don't have the space to store a big stroller.
For this review, I also received the Light and Sound Lotty Playmat. I love it! It's plush and fun and coloful. Oh and it has a sense of humor because Lotty and her friends say a few phrases such as 'I'd forget my head if it wasn't sewn on'. My oldest daugther finds it hillarious.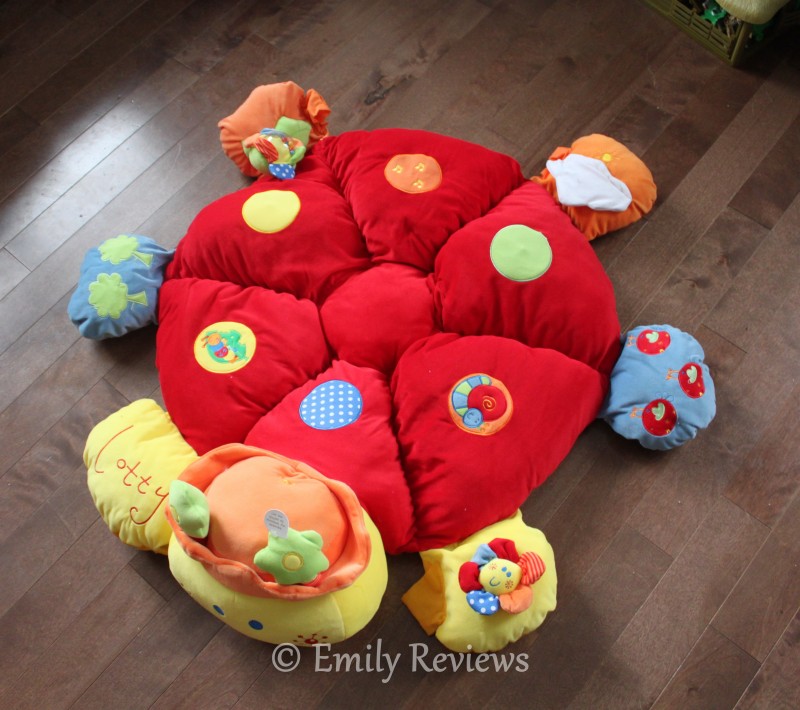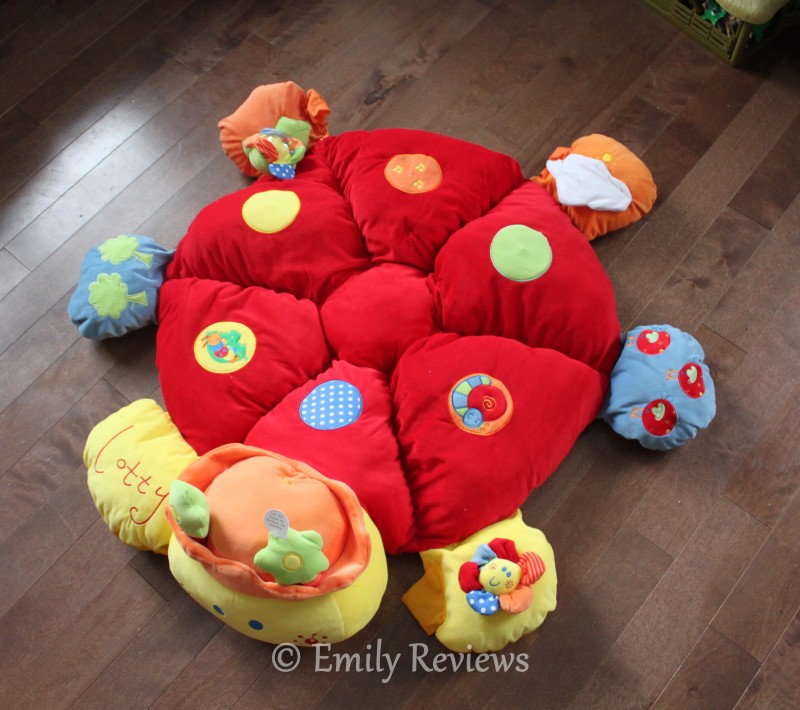 Lotty is packed with interactive features including a miror, rattles, crinkle material, vibration, lights, sounds and music and more. There are 2 arches with 5 toys that dangle from it. This playmat offers all the stimulation a baby can want!
It can be used from birth with baby lying down on his back, looking at the brightly colored critters dangling above him. Then baby can start to explore and crawl around the playmat. She'll learn to push buttons, pull toys, and activate the music, sounds and light. It's great for her fine motor and gross motor development. Even for an toddler, it's a great spot to rest and relax. My daugther likes to curl up on this plush mat to read books or play with her doll.
I like that this playmat is actually more like a cushion that a regular playmat. It's a lot more comfortable and it's also better when baby is learning to sit up because she won't hurt herself if she loses her balance. I like that is has a great variety of things for baby to explore. From a parent's perspective, I also like the cute gender neutral design and the fact that the sounds, music and phrases are actually fun to listen to!


Giveaway: Mamas & Papas is generously offering one of our lucky readers a Light and Sound Lotty Playmat just like the one I reviewed. The giveaway is open to Canada and will end November 28th. For your chance to win, enter the Giveaway Tools below. Good luck!


This post currently has 3 responses.