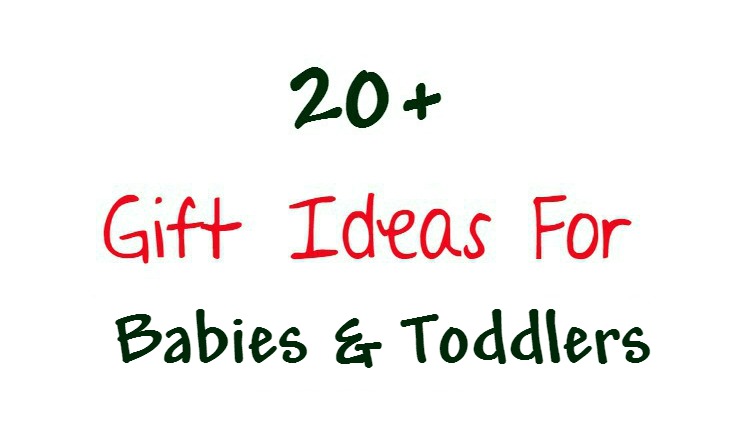 Emily Reviews writers were provided with product for inclusion in our holiday gift guide. All opinions are our own. There are affiliate links in this post.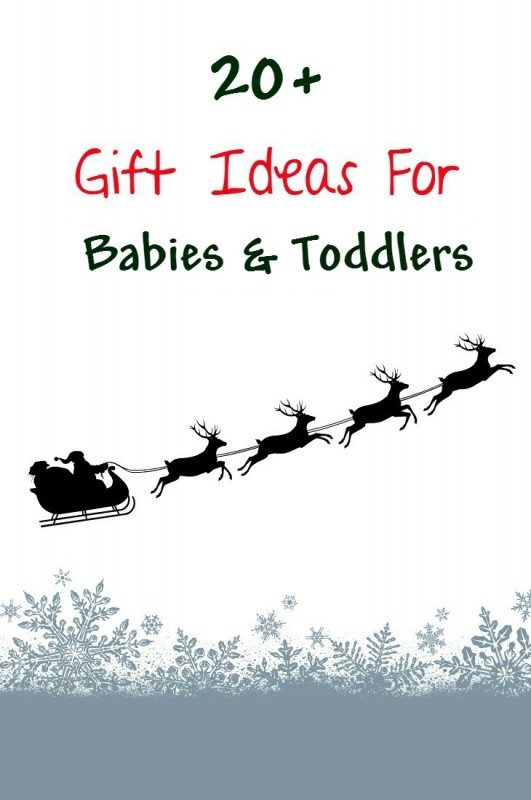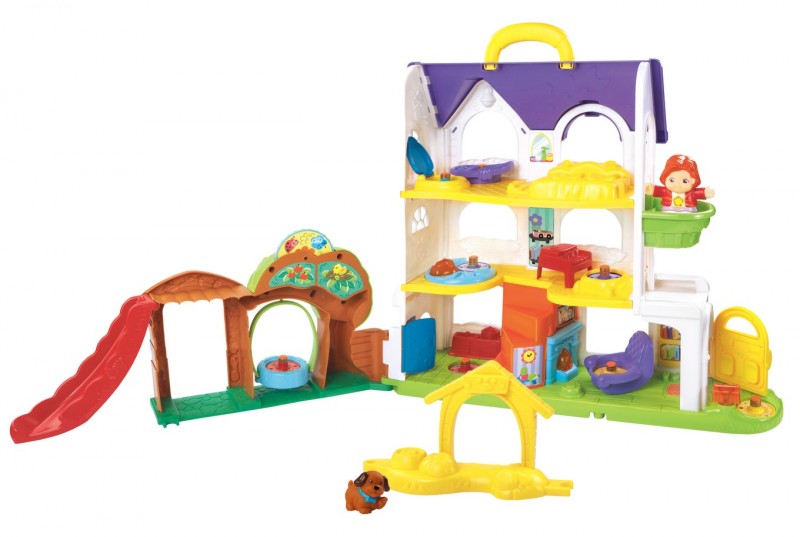 Go! Go! Smart Friends Busy Sounds Discovery Home is suggested for ages 12 months to 5 years. It is a doll house with bathroom, bedroom, playroom, kitchen, living room and outdoor play area. It can be used with other Go! Go! products to create an entire town or community. The house has several spots that will make noise when a doll is placed there. The house sings, makes music and noise as well. It's a great first doll house for little ones interested in pretend play.
Buy it: Amazon.com.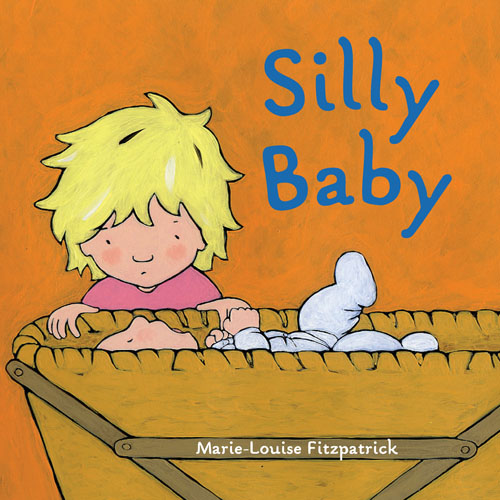 Silly Baby by Marie-Louise Fitzpatrick is a great book for toddlers who are welcoming a baby sibling into their family. The book is about how a young girl is confused and surprised about all the things her new baby sibling does (and the things he doesn't do – like talk to or play with her) and how her grandma helps her learn how she can interact with him.
Buy it: Amazon.com.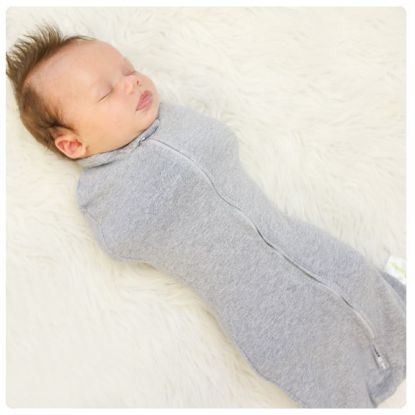 Woombie makes a sleep swaddle that is peanut shaped, so your little one's arms and legs are all inside a single compartment. The swaddle is easy to put your baby in and requires no folding or "origami" work. It's available in multiple sizes and multiple materials for use with your baby as they grow and as the seasons change.
Learn more: Woombie blog post.
Buy it: Woombie.com or Amazon.com.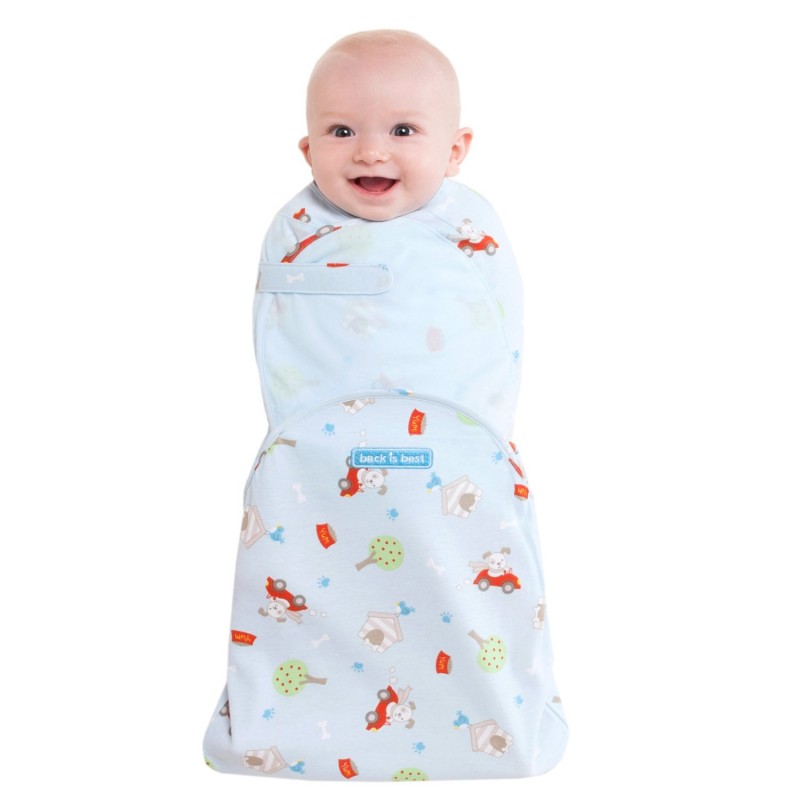 The SwaddleSure By HAlo is a wearable blanket that comes in newborn (6-12 pounds) or small (13-16 pounds) to help babies sleep well and safely. It's designed to take the place of loose blankets to help keep your little one warm. It has a wide pouch that allows for easy diaper access and healthy hip development. The swaddle is adjustable and has a three-point fastening system to resist 'breakouts' and for a more secure swaddle.
Buy it: Amazon.com.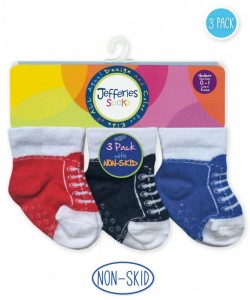 Socks In Stock offers Jefferies Non-Skid Sneaker Socks for newborn babies and infants. These fashionable socks are embellished with non-slip traction grips on the bottom of the feet. Jefferies Sneaker Socks are made with a Cotton, Polyester, Spandex blend. Jefferies Sneaker Socks are a great addition to your babies Christmas stocking.
Learn more in my Socks In Stock review.
Buy It: www.SocksInStock.com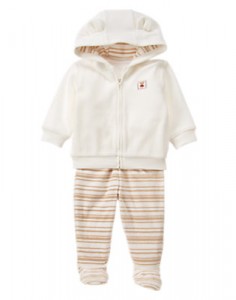 Buy baby an adorable Fleece Hoodie 2-Piece Set from Gymboree! The Fleece Hoodie 2-Piece Set has a zip front for easy dressing. The jacket is embellished with a bear patch and the hood is adorned with charming bear ears. Footed pants will help keep baby warm in the cool weather. This set is going to be picture perfect!
Learn more in my Gymboree review.
Buy It: www.Gymboree.com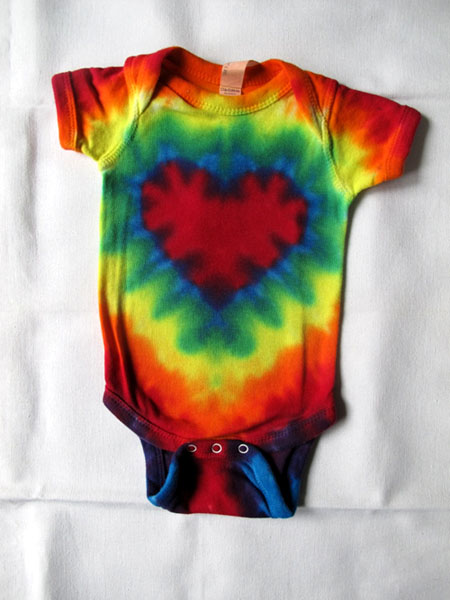 A beautifully hand created Tie Dyed Onesie from E-Art Tie Dye would make for a memorable gift for every child.  Bright and bold, these eye-catching onesies are available in a variety of color and style designs.  Any child would stand out in these unique clothing pieces and the they even come pre-shrunk!  Give the gift that is sure to be a hit!
Putting something fun to wear under the tree makes for a great gift.  Head over to Princess Bowtique to view their beautiful selection including this festive Holiday Satin Red & Green Ruffle Romper.  Frilly and cute, this outfit is unique and fun.  Pair with some baby legs and a sweater for cooler climates and get ready to party!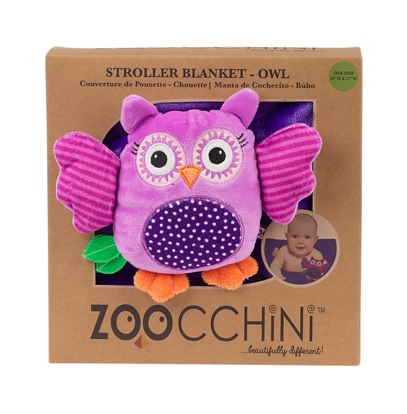 This adorable Zoocchini Stroller Buddy Blanket in Purple Owl would make a fun and comforting gift this year.  This Buddy Blanket is super soft and cuddly and even comes with a built-in owl friend.  Measuring in at about 27″ by 39″, it's a great size for young children and it even comes packaged in a box perfect for the gift giving!
Encourage the smallest chefs in the family by gifting them the Learning Resources New Sprouts Stir Fry Cooking Set this year.  Included are a multitude of colorful vegetables along with a wok to cook them in and utensils to stir.  Serve up dessert with the included fortune cookie too, all constructed from a durable plastic that is perfect for little hands.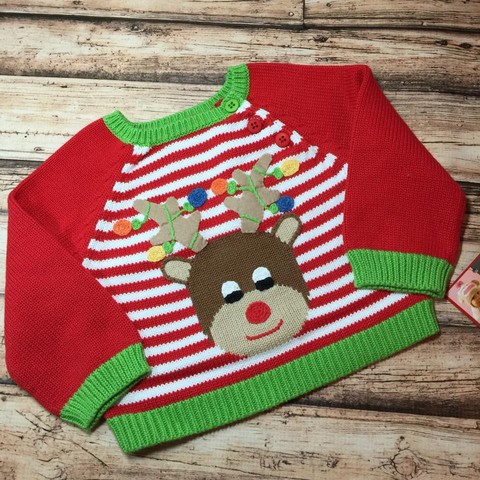 Dress your little one in Zubels' Ralphy The Reindeer Sweater and they are sure to be the most festive of all.  This adorable 100% cotton hand knit sweater is available in sizes 6 months through 4T.  Brightly colored and super unique, Zubels is known for their high quality products and this sweater is beautiful in person!

Give the gift of a better nights sleep for both baby and parents with a Zipadee-Zip from Sleeping Baby. This uniquely designed slumber sacks offer the perfect amount of resistance, comfort, and stretch and provide baby with a secure feeling that enables a great sleep. It's a great way to easily transition baby from swaddle to self sleeper.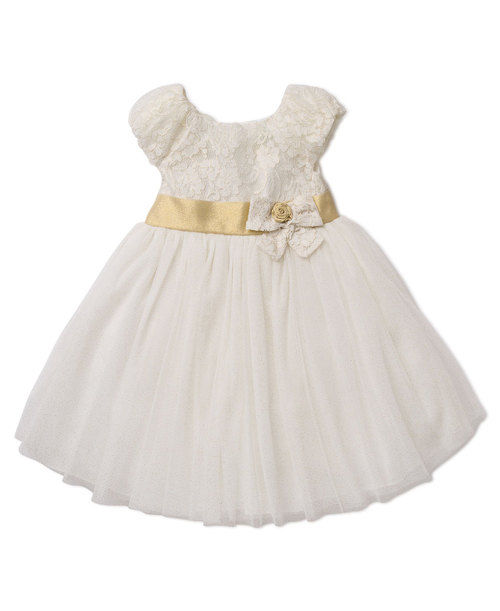 Putting a stunning outfit under the tree for your little one to wear on Christmas Day is a great idea.  Be sure to consider the LittleMe Sparkle Gold Dress & Panty Set this year.  Stunning and super soft, this dress will be a sure favorite for both child and mom.  This sparkly multi-layer skirt will offer picture perfect moments all day long! They offer lots of great choices for both boys and girls.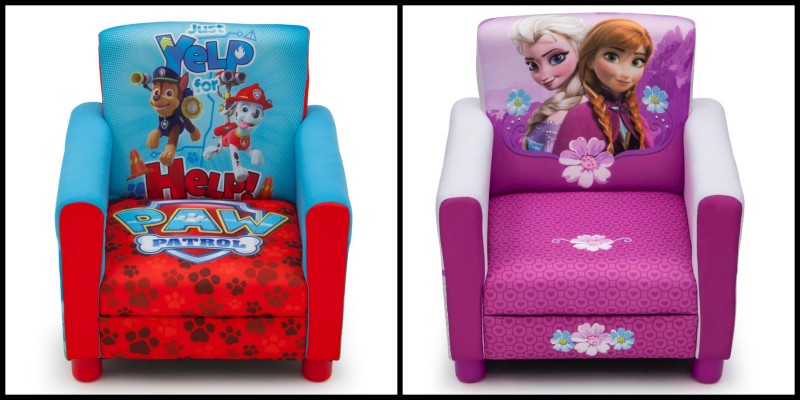 Kid sized furniture is always a hit with the younger crowd so be sure to check out Delta Children's line up upholstered chairs.  Available in a variety of characters and styles, these mini versions of an arm-chair are the perfect size for children up to age 6.  Beautiful colors and fun characters are appealing while the low profile is perfect for safety.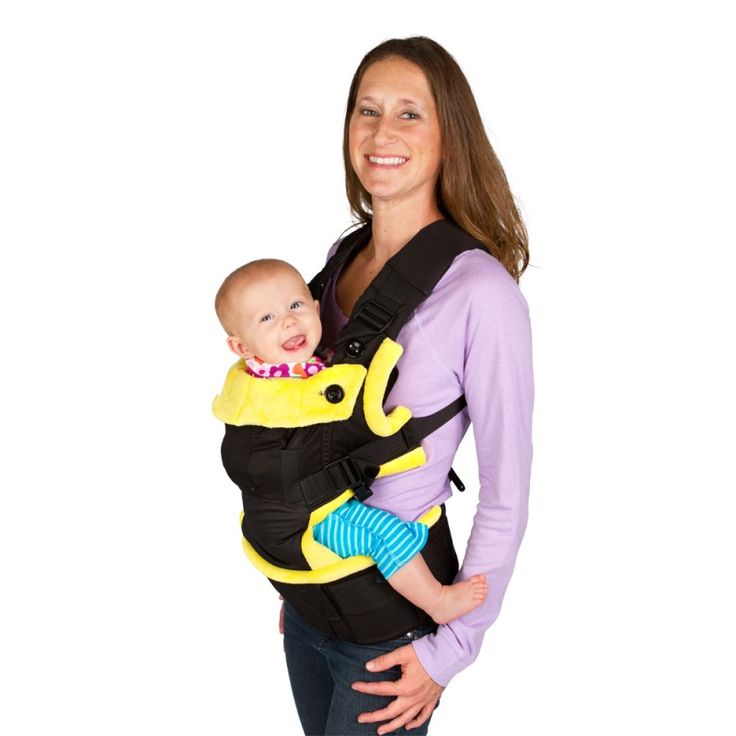 Put a Blooming Baby Carrier under the tree as a joint gift for mom and baby this year!  Made from a super soft and cozy fabric, both baby and the wearer will be comfortable.  This front carrier can accommodate both in and outward carrying while the breathable material keeps from overheating.  Babies love to be held, snuggled, and carried so consider the Blooming Carrier this Christmas.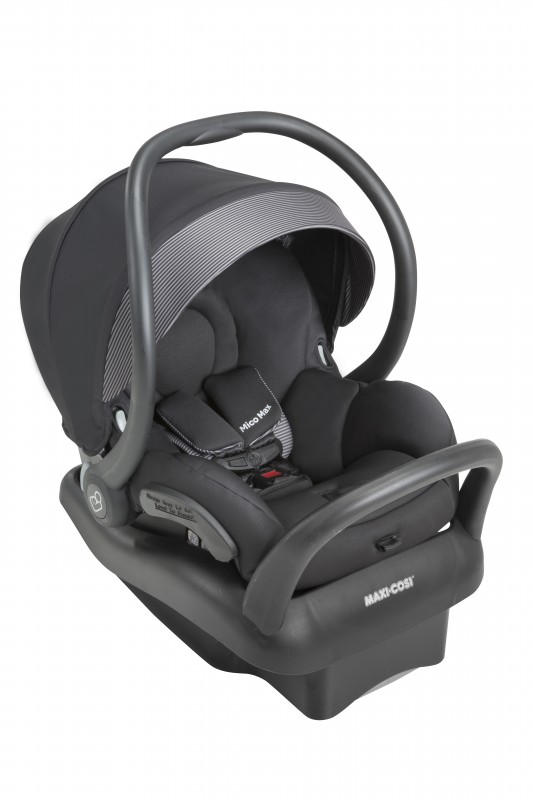 Give the gift of safe travel with the Maxi-Cosi Mico Max 30!  This is the lightest premium seat in its class while offering a multitude of awesome features.  Geared for children from 4# all the way up to 30# and available in an array of eye-catching colors as well as the option to customize!  The easy to remove fabric is moisture wicking and very easy to clean as well.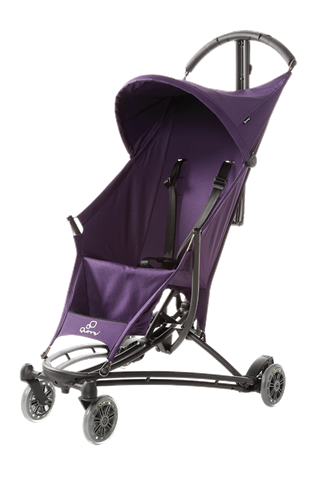 Give your infant or toddler a sweet ride by putting a Quinny Yezz under the tree this year.  This ultra lightweight stroller offers a comfortable hammock style seat while the small fold takes up little cargo space.  Designed with high performance roller wheels, this stroller is perfect for cruising around town or hitting the mall.  Lots of great features and style rolled into one have created this great stroller that's dubbed "The Travel Hero".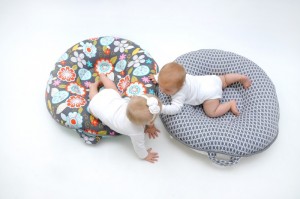 Pellos are an innovative line of luxury floor pillows. The majestic/ivory Pello is equipped with a 6.5" square pocket, two 9.5" handles and five loops for toy attachment. The center of the Pello cradles while still being firm. Pellos are perfect for tummy time, entertainment and extra seating. Pellos are great for everyone in the family, no matter their age.
Learn more in my Pello review.
Buy It: www.mypello.com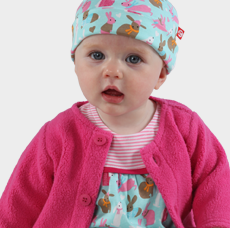 You don't have to choose between style and comfort for your little one's wardrobe thanks to Zutano. Not only do they offer some of the most vibrant and whimsy prints, they take great care when designing their clothes to make sure they are comfortable, practical, and durable. Their mix-and-match designs allow parents to create coordinated outfits in a breeze!
Buy it: www.zutano.com
More gift ideas for babies and toddlers:
Mittens & hat set
Rattles or car seat/stroller toys
Building sets with large pieces
A ball
A doll
New bedding
A blow up ball pit
Puppets
A jacket in the box
A toy phone
A hooded towel
A shape sorter
Need more baby gift ideas? Try out baby shower gift guide for gift ideas for newborns or last years Baby and toddler gift guide.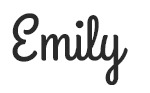 Hi there! I am Emily Evert, the owner of Emily Reviews. I am 28 and live in a small town in Michigan with my boyfriend Ryan and our two pugs. I have a large family and I adore my nieces and nephews. I love reading memoirs, and learning about child development and psychology. I love watching The Game of Thrones, Teen Mom, Sister Wives and Veep. I like listening to Jason Isbell, John Prine, and other alt-country or Americana music. I created Emily Reviews as a creative outlet to share my life and the products that I love with others.
This post currently has 7 responses.