ZipIt provided me with a ZipIt bedding set. All opinions are my own.
My sister is now 12 and I've found that it's a bit harder now to find gifts that she enjoys compared to a few years ago. She's in middle school so her friends are very important to her and finding her own personality and individuality are also key right now. When it comes to finding gifts for her, I pay close attention to what she says she likes or thinks is cool because that helps me a ton when finding gifts for her. Two of the things that I've directly heard her say she thinks are cool are peace signs and zigzag or "chevron" prints. I also know that she enjoys pink and bright teals so when I saw the ZipIt Rock Princess bedding set I knew it would appeal to her for several reasons.


I remember being around her age and visiting my friends and checking out how they were decorating their rooms. I'd get inspired by their ideas and then go home and try to make my room look cool as well. My sisters bedding set that she's been using for a few years is pretty generic so I thought having this set that really shows off her personal interests and personality would be a fun way to make her room suit her better.
In addition to having really modern print, the bedding set is cool because it makes it super easy for kids to make their bed. The bed covers zip into the edges to keep you snug and warm at night but also making bed-making a snap (or a zip?). The covers are reversible so if your child can flip back and forth between showing off the side with guitars and peace sides to showing off the chevron side that features bright pink, purple, black and teal chevron stripes.


ZipIt has a whole line of different designs including designs that are made to appeal to both genders and some designs that will appeal to older teens or college students as well. ZipIt bedding sets are available in twin or full/queen sizes and can be ordered online at ZipIt Bedding. You may want to turn your speakers down before visiting the site as there is an auto-play video that is pretty loud. I've jumped a few times when visiting the site.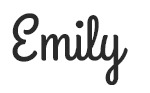 Hi there! I am Emily Evert, the owner of Emily Reviews. I am 28 and live in a small town in Michigan with my boyfriend Ryan and our two pugs. I have a large family and I adore my nieces and nephews. I love reading memoirs, and learning about child development and psychology. I love watching The Game of Thrones, Teen Mom, Sister Wives and Veep. I like listening to Jason Isbell, John Prine, and other alt-country or Americana music. I created Emily Reviews as a creative outlet to share my life and the products that I love with others.
This post currently has 6 responses.