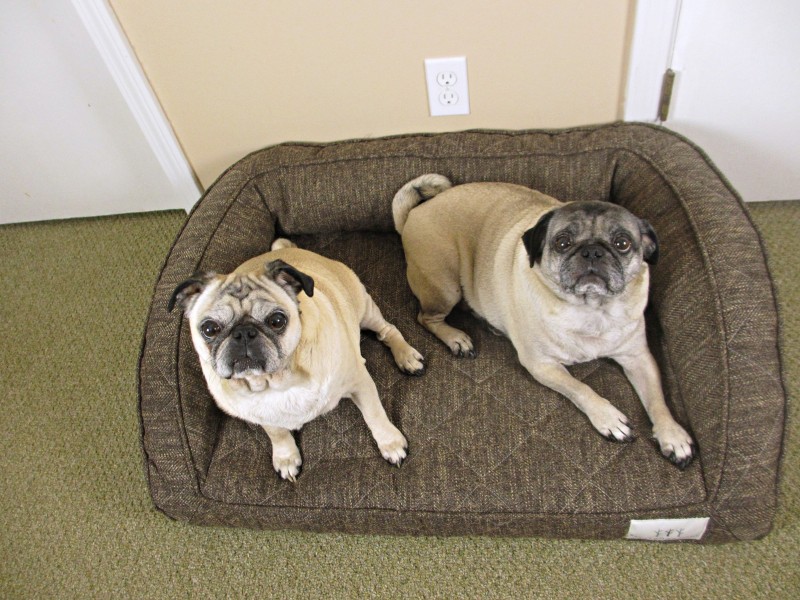 I was sent a Brentwood Runyon Deluxe pet bed. All opinions are my own.
About three years ago I adopted a pair of bonded pugs. They were 8 and 9 then, so they were already considered seniors. Now they are 11 and 12 and I'm thankful that they are both still in pretty good health. They both seem to struggle with occasional aches and pains. My female pug, Beans can't jump up into the car, or onto the couch like she used to so we pick her up. My male pug, Frank has days where he limps a little after waking up for the day, or after standing up after laying for long periods. While aging is just a fact of life for all of us, it's important to me that I make it as comfortable and pain-free as I can.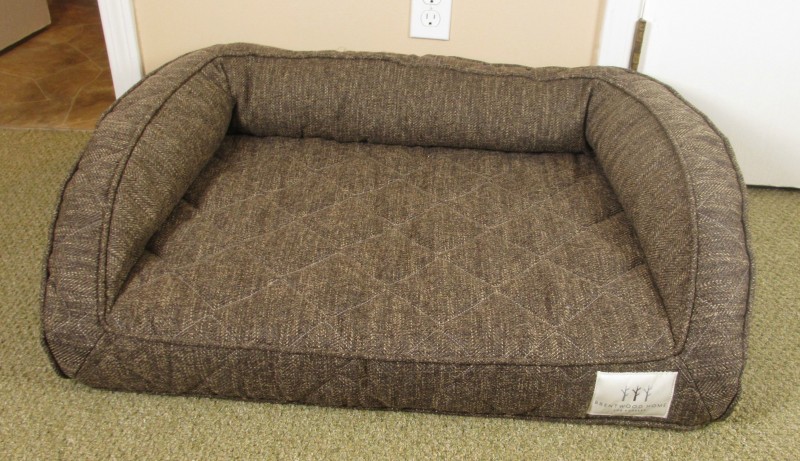 We were recently sent the Brentwood Home Runyon deluxe pet bed. The Runyon dog bed offers orthopedic support which is designed to help cushion and protect your pets joints. It offers back and side support that provides additional cushioning. My dogs like beds with sides because they rest their chins on the ledge. The cover is removable and machine washable which makes it much easier to clean. I wish all dog beds came with a washable cover! It even features a nontoxic waterproof liner to help protect it against stains and odors.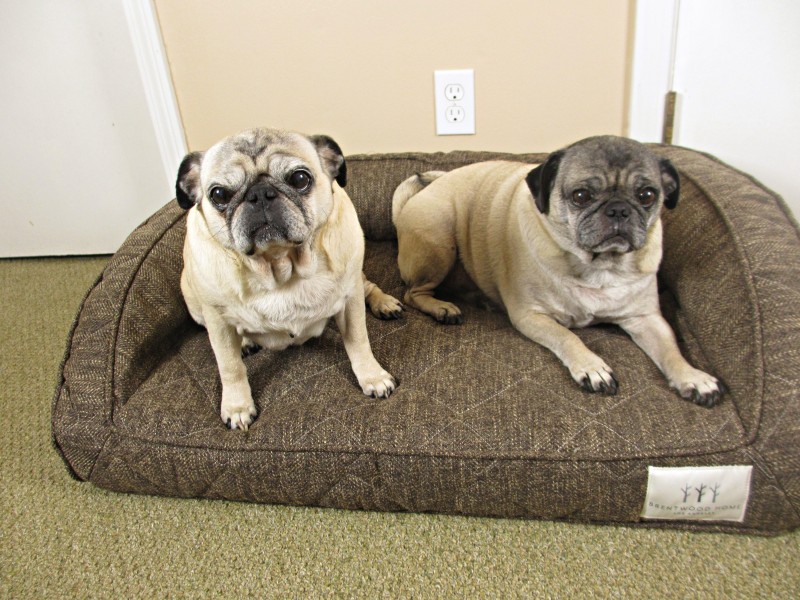 We were sent the medium bed which measures 34 by 24 inches. This is really quite large and my two chubby pugs share this bed with room to spare. The cover is soft but sturdy feeling.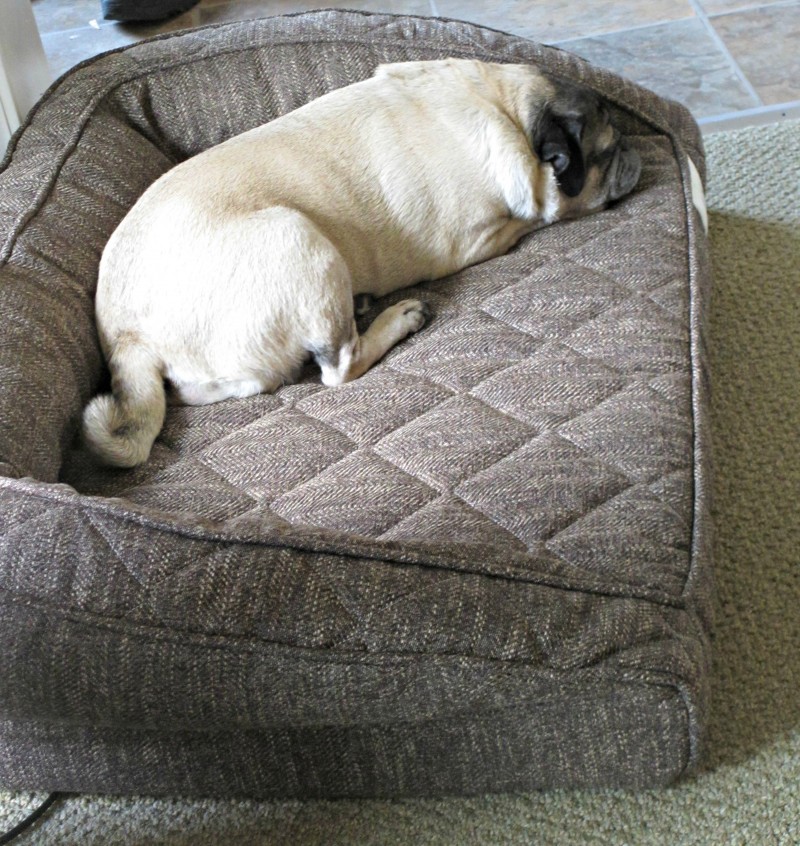 Both of my dogs were drawn to this bed from the day it arrived. They lay and sit in it separately and together throughout the day. They have spent time up against the sides and the back of the bed and it hasn't flattened under their weight. I like how the color of the cover blends naturally with my home. It doesn't seem as out-of-place as many dog beds do. With the front of the bed being open (not having a side) this would work great as a dog bed to place on top of a couch, or at the end of your (human) bed to give your dog a place to rest that doesn't block their entry when jumping from the floor, but still protects your furniture from their paws, loose fur, etc. My dogs both like this bed and it's exceeded my expectations so far. I would definitely recommend this bed to pet owners.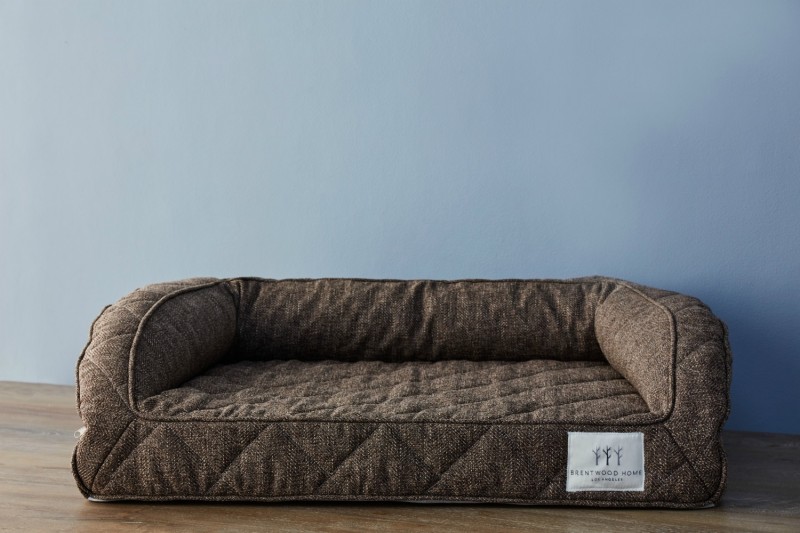 Photo courtesy of Brentwood Home.
Win it: Brentwood home has offered a medium (36×24) Runyon deluxe dog bed as a giveaway. This is the same size that I reviewed. This bed has a retail value of $200. Giveaway is open to the US and will end 11/6/2016.



Hi there! I am Emily Evert, the owner of Emily Reviews. I am 28 and live in a small town in Michigan with my boyfriend Ryan and our two pugs. I have a large family and I adore my nieces and nephews. I love reading memoirs, and learning about child development and psychology. I love watching The Game of Thrones, Teen Mom, Sister Wives and Veep. I like listening to Jason Isbell, John Prine, and other alt-country or Americana music. I created Emily Reviews as a creative outlet to share my life and the products that I love with others.
This post currently has 14 responses.