This post is sponsored by Oratene® and the BlogPawsTM Pet Influencer Network™. I am being compensated to help share information about Oratene brushless pet oral care products for Pet Dental Health Month, but we only share information we feel is relevant to our readers. Oratene is not responsible for the content of this article.
Taking care of my pets well is really important to me. I love them, and I want to give them the best life possible. This includes keeping up with their health care needs. I got my two pugs when they were 8 and 9 years old, and they both had lost a few teeth already. Frank was missing almost 1/4 of his teeth, almost half of the bottom side of his mouth has toothless! It's always been a little surprising to me that he still eats really well. My other dog has only had a couple of teeth removed and she chokes or gags on food occasionally but Frank never does, despite his lack of teeth. I don't know the back story to what happened to all of those teeth, but I've wondered if he may have lost them really young so that it was easier for him to adapt. I'll never know what happened to his teeth prior to when they started living with me, but I wanted to make sure their remaining teeth are well cared for so that they hopefully won't lose more.
I've tried a variety of dog toothbrushes and toothpaste and it just has not went very well at all. We've tried going really slow to prevent anxiety but they still get worked up when we get close to their face with a toothbrush. I wish we would have had them when they were younger so we could have gotten them used to having their mouth handled from a young age.
I recently learned about Oratene®, a brand of oral care products for dogs that doesn't require brushing. They make a variety of prodcuts that are brush-free. Oratene makes a brush-free toothpaste gel, a water additive and a breath freshener.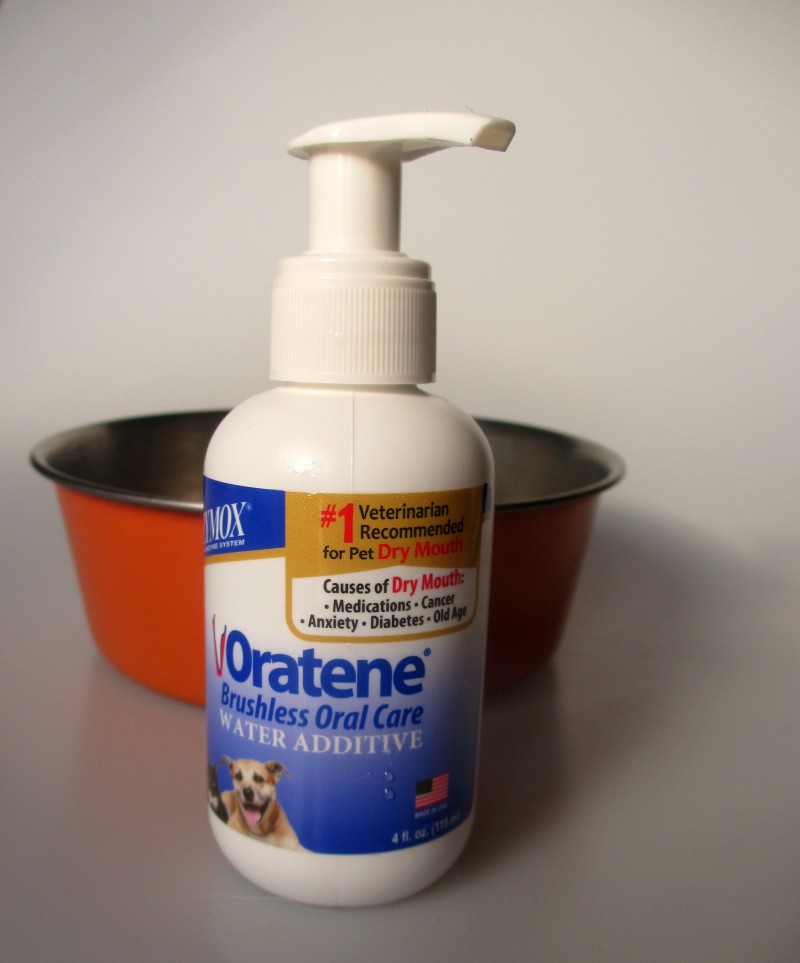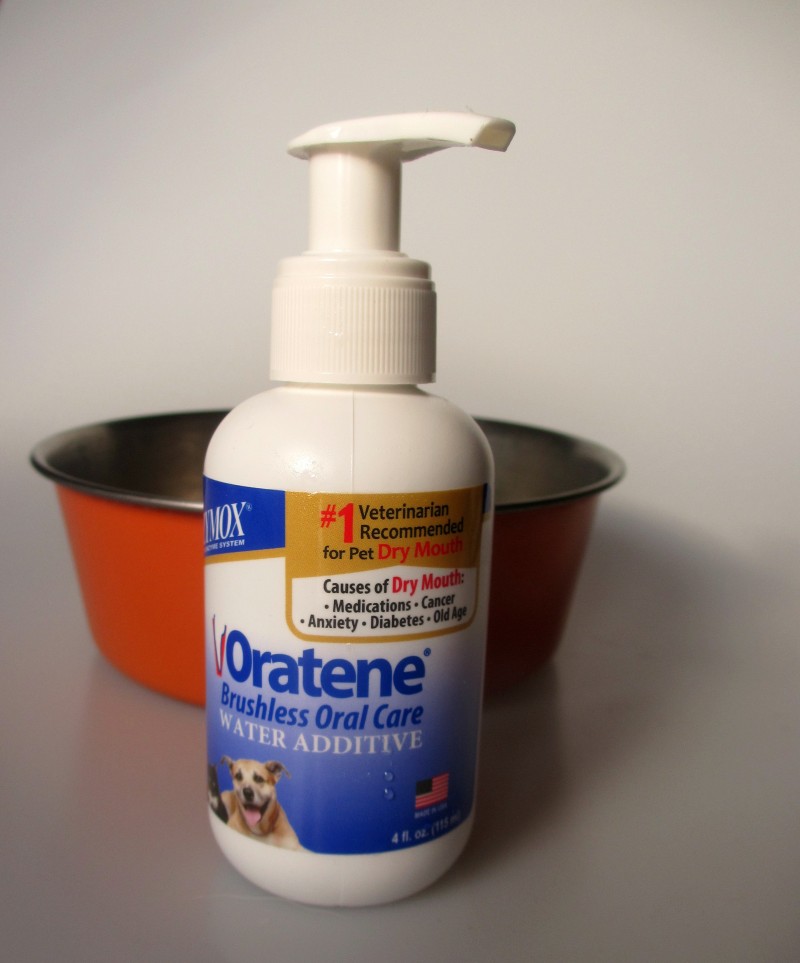 We've been using the Oratene Water Additive for a while now. It comes in a container with a pump, and you add 2 pumps per quart (or 4 cups) of water. I wasn't sure how much water our water dish held so I used a measuring cup to see, and it worked out to exactly 4 cups.


My dogs are both really picky about only drinking water that is extremely clean. They never finish a bowl of water because it inevitably gets a piece of their own hair, or crumbs from them drinking after eating, or some other imperfection in the water and then they won't drink the rest. Instead of filling the entire bowl I've been filling it half way (roughly 2 cups) and adding a single pump. When I first add the pump into the water I can see it, but it quickly settles in and is invisible. Both of my dogs have drunk the water with the additive without any trouble or hesitance. It doesn't seem like they know anything is different at all which is awesome.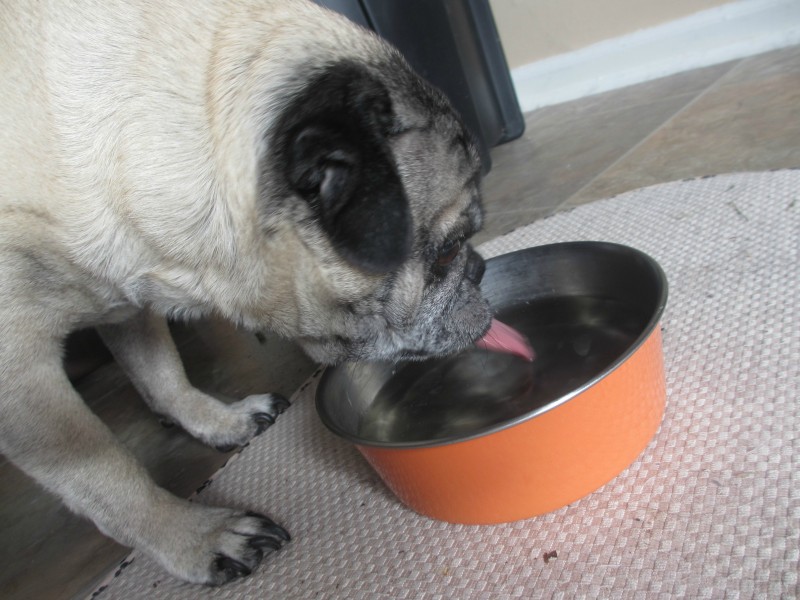 All three Oratene dog dental health products work the same way. They use a two enzymes (Mutanase and Dextranase) to kill germs and bacteria, remove plaque biofilm and to make plaque water soluble so it cannot adhere to the tooth. Check out this article on the LP3 Enzyme System for more info. While I have been using it for my dogs, it can also be used with cats. It's safe for daily use and does not contain chlorhexidine, xylitol, alcohol or chlorine compounds.
In addition to making your pets mouth cleaner, it also can help with bad breath. The enzymes target the odor-causing bacteria so that your pet will be left with better smelling breath. Oratene products also help pets who struggle with dry mouth.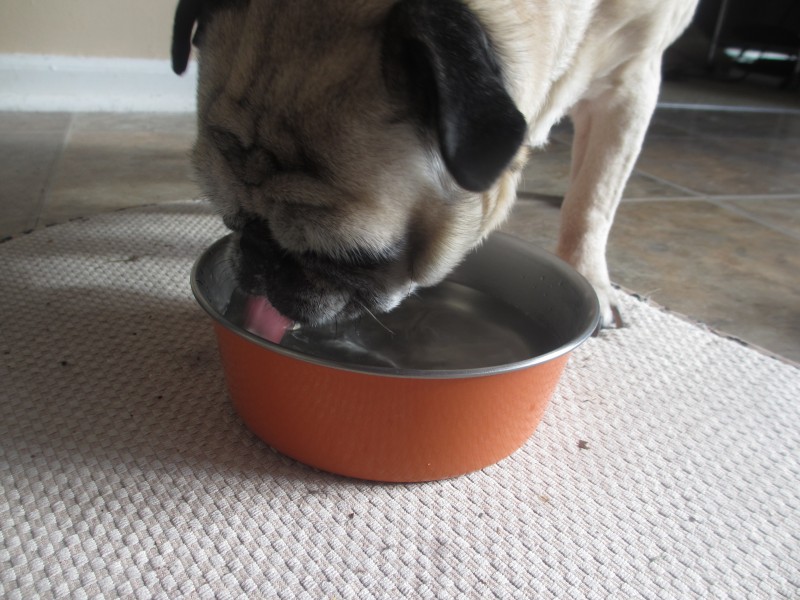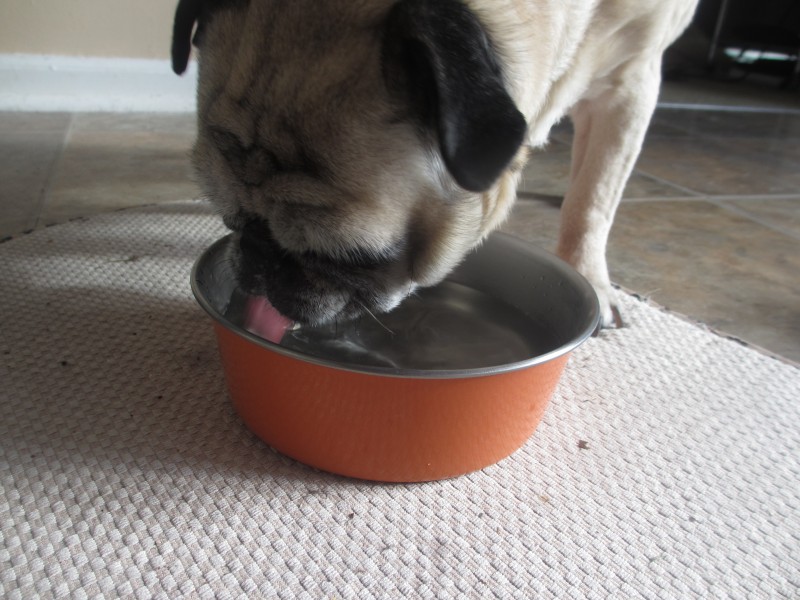 Dry mouth is a common side effect of medications used to treat allergies, pain, incontinence or behavior. Pets who suffer from dry mouth can benefit a lot from Oratene because it helps balance the oral flora which gets disrupted by dry mouth. Dry mouth contributes to a build up of plaque which can cause tartar and decay. Preventing dry mouth is goes a long way at preventing tooth decay in pets who are on medication.
Win it: A bottle of Oratene Water Additive.
To enter: Fill out the Giveaway Tools form below by 2/17/2017 at 11:59pm EST. Giveaway is open to the US only.



Hi there! I am Emily Evert, the owner of Emily Reviews. I am 28 and live in a small town in Michigan with my boyfriend Ryan and our two pugs. I have a large family and I adore my nieces and nephews. I love reading memoirs, and learning about child development and psychology. I love watching The Game of Thrones, Teen Mom, Sister Wives and Veep. I like listening to Jason Isbell, John Prine, and other alt-country or Americana music. I created Emily Reviews as a creative outlet to share my life and the products that I love with others.
This post currently has 22 responses.