Solvit wood dog stairs were provided for my review. All opinions are my own.
My pugs are an important part of my life. They are very attached to my boyfriend and I, so they spend almost all of their time within a foot of us. As I sit here blogging on my couch right now, one is between my knees and the other is laying against my hip. That's pretty much how it is 24/7 here!
The pugs sleep in our bed, and we allow them onto our couch. Until about a year ago they could both jump onto the couch, but only Frank (my male pug) has ever been able to jump high enough to get on our bed. We had always lifted Beans onto our bed, but recently we've been having to lift her onto the couch too. She's about 23 pounds so it's not her weight that is an issue, I just worry about pulling on her shoulders or other sensitive areas several times a day. She's roughly 12-13 years old, so I want to be as gentle with her as possible.
We had tried dog steps in the past that were a bit wobbly, so our dogs would only use them if we encouraged them at each step with a treat. I had hoped that with a lot of training, they would eventually get comfortable enough with the wobbly steps to use them without treats, but after a few weeks we weren't seeing any improvement. Then, we had a family member come over and her shoe caught the edge of the steps, causing her to fall onto the steps and they busted. They just were not well made!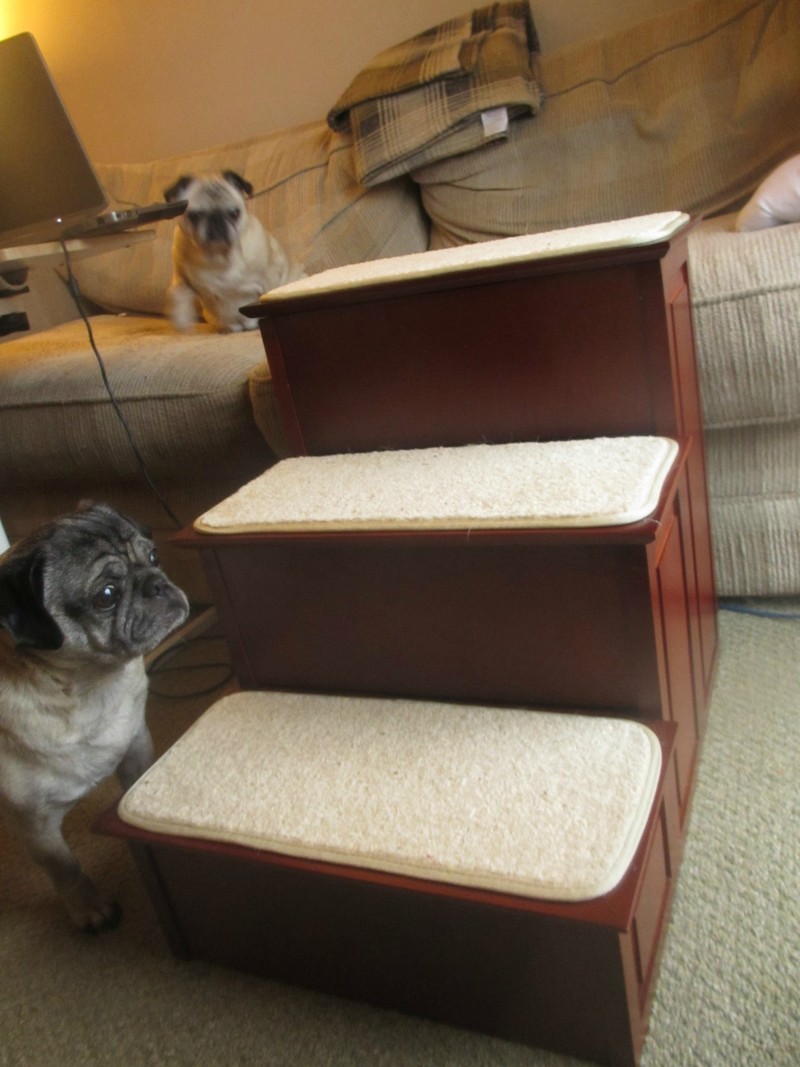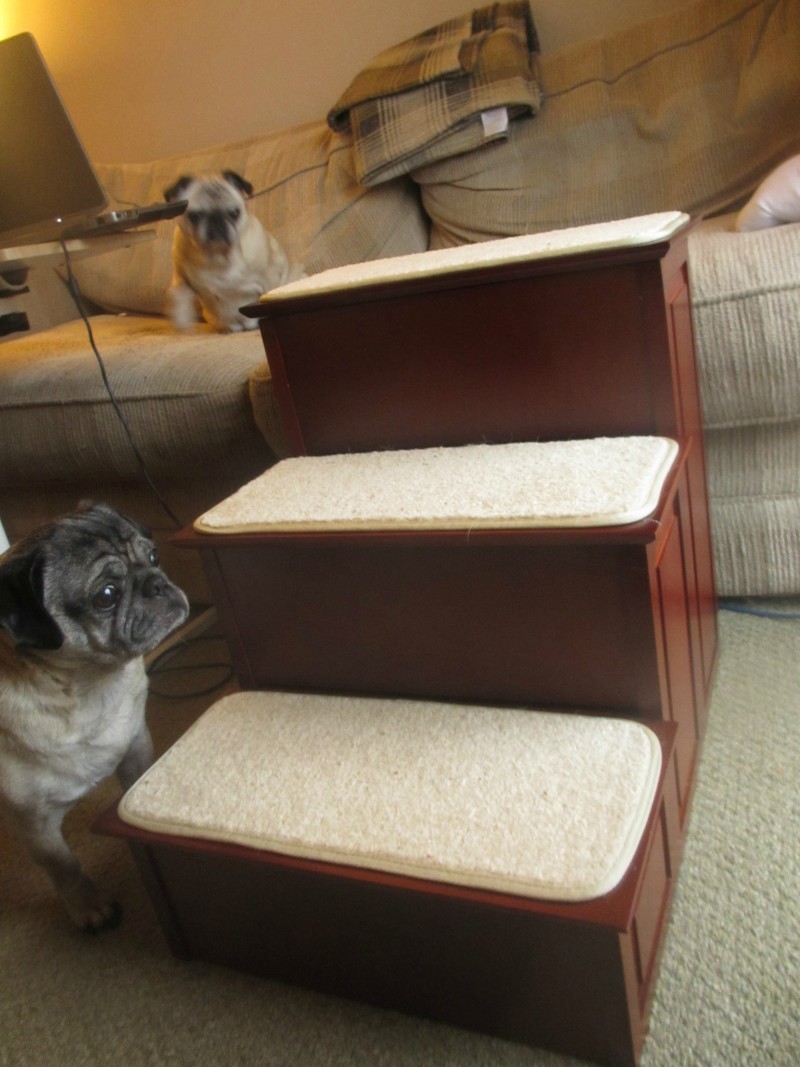 I was eager to try Solvit decorative wood dog stairs primarily because of the quality. I knew that if I wanted my dogs to really use steps, they would need to feel safe and sturdy while my dogs walked on them so I decided to try paying for the quality. The three level stairs are normally priced at $199.99, and are $128.07 right now on Amazon. They are a bit of an investment, but my pugs have taken to these stairs with almost no coaxing. In my opinion, these stairs are worth the cost because my dogs actually use them, unlike the other sets we had tried.
I couldn't see anywhere on the Solvit site that listed a specific weight limit, but they do say they are suitable for pets of any size. I assume this includes very large dogs such as St Bernards that have a weight range of 120-180 pounds! In other words – small to average adults should even be able to put their weight on these steps so I decided to set on them and they absolutely feel sturdy when I sit on them or walk up them.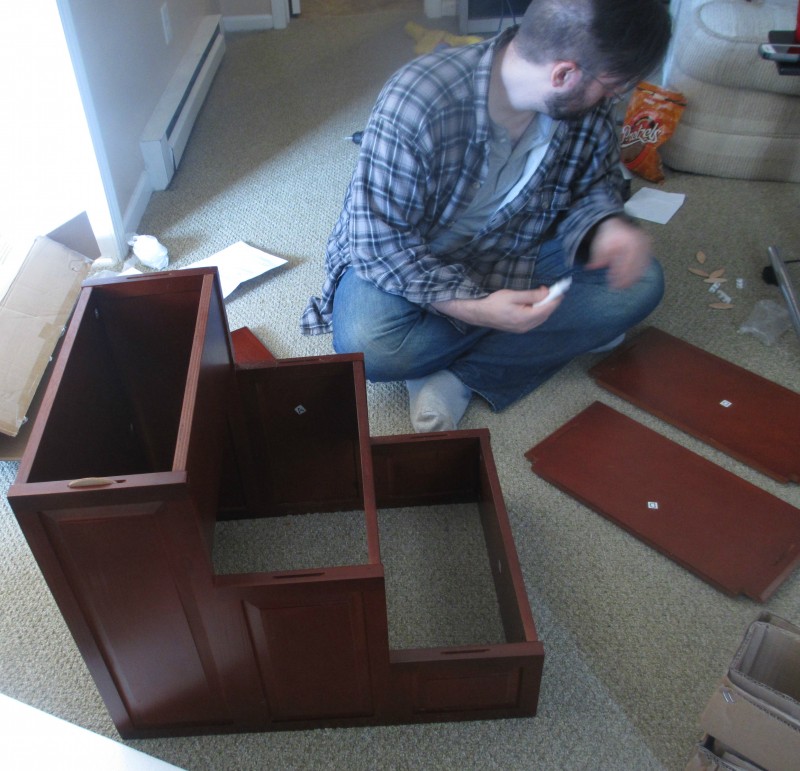 The steps do require a little bit of assembly. I let Ryan assemble them though I am sure I could have done it myself if needed. The active part of assembly took less than 15 minutes I would guess. Though the top of each step gets glued on, and the instructions said to allow the glue to dry for several hours. To be safe, we gave it a full day and then encouraged the dogs to go up them using a treat. For the first two days we would do little training sessions where we would stand at the top or bottom of the steps with a treat to encourage them to go up or down. We repeated this maybe 5 times per dog, for just two days. By the end of the second day Beans was using the stairs with the only prompt being me patting the top or bottom stairs and saying "come on!" or "come here!"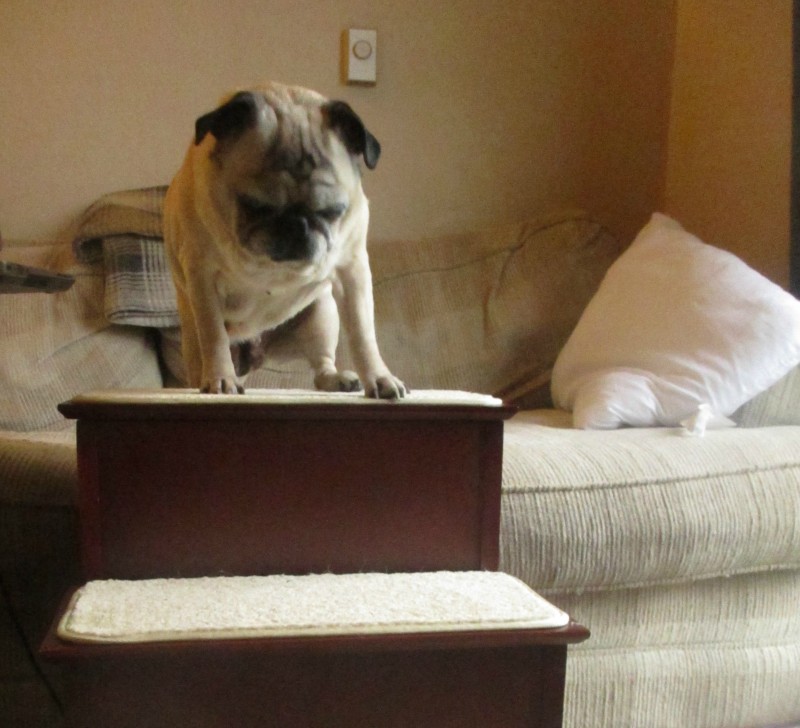 As I mentioned, Frank easily jumps up onto our bed, so jumping onto the couch is not a problem for him. He seems to use the steps only about 25% of the time. I assume this is because for him it's just faster to jump up or down. When he does use the steps he doesn't seem nervous or scared at all, like he did with the old steps that we had which were wobbly. Beans uses them 100% of the time though, and that was my main goal because she was the one who couldn't get up or down without being lifted before.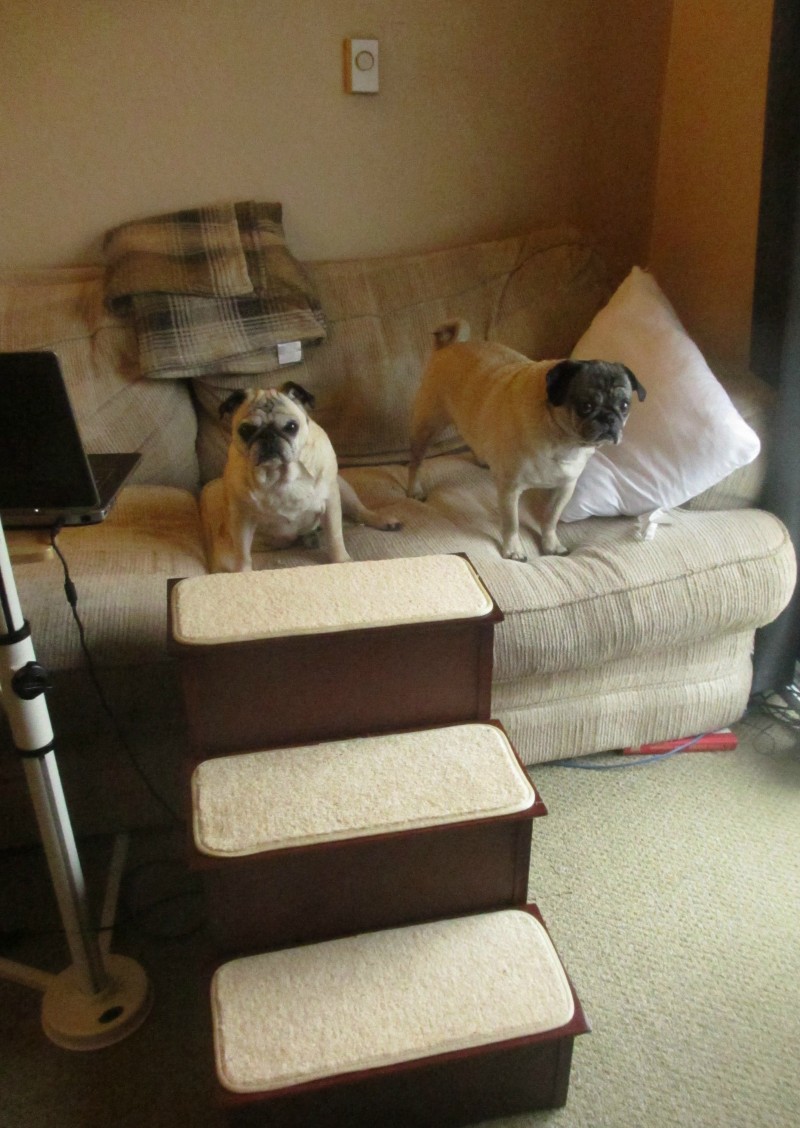 Both dogs are so fast when going up or down the steps that I had a really hard time getting a clear photo of them on the steps! We used a treat to get them to pause while on the steps just so we could get a photo that wasn't blurry. That's why they're looking sideways so eagerly!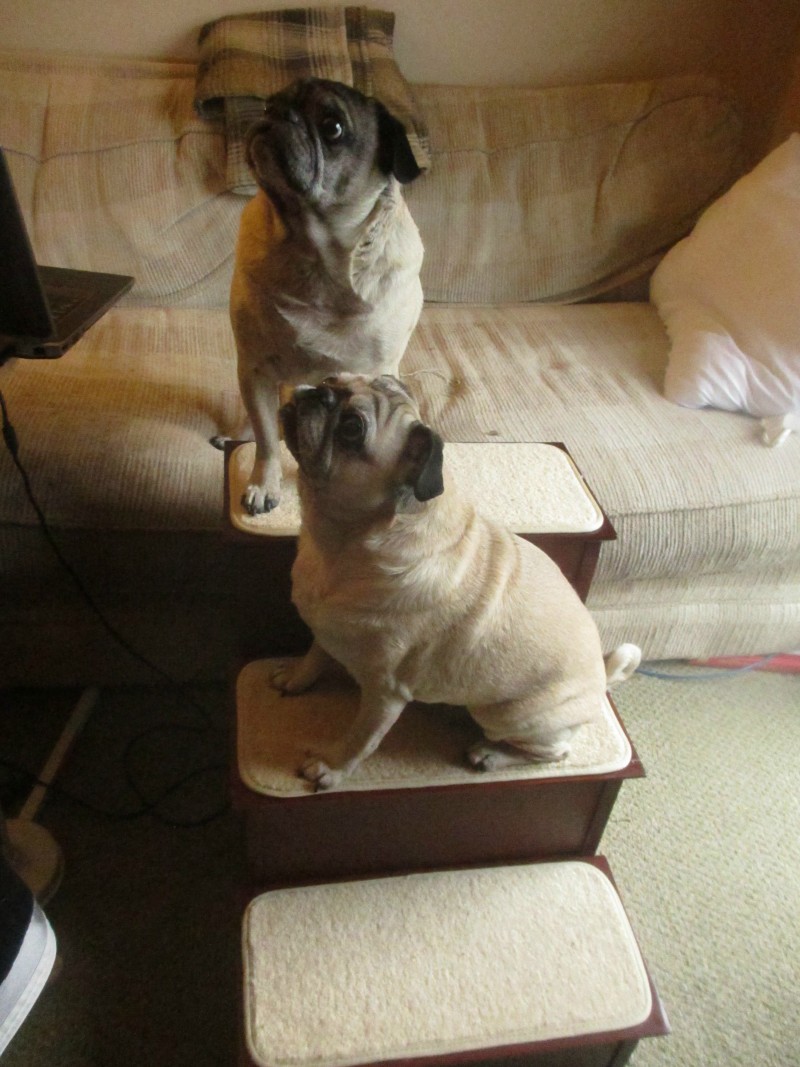 The three-set is designed to fit up against most beds. It is a good height for our bed, and we used it for that purpose at first. However, we quickly realized that our dogs go up and down on the couch several times a day, and only use the bed once. So for now we are using the steps for our couch even though the top step is above the height of our couch. They simply go up all three steps, and then step down onto the couch.
Here is a video of Beans coming up the steps:

And another of her going down:
In the future we'd like to get the two-step set for use in the living room, and then transfer this three-step set into the bedroom. The two-step set is $129.99 on the Solvit website, or is $93.69 right now on Amazon (prices can change at any time).
Win it: A three-step set of furniture-grade wood dog steps from Solvit. A $199 value!
To enter: Fill out the GT form below by 4/2/2017. Giveaway is open to the US.



Hi there! I am Emily Evert, the owner of Emily Reviews. I am 28 and live in a small town in Michigan with my boyfriend Ryan and our two pugs. I have a large family and I adore my nieces and nephews. I love reading memoirs, and learning about child development and psychology. I love watching The Game of Thrones, Teen Mom, Sister Wives and Veep. I like listening to Jason Isbell, John Prine, and other alt-country or Americana music. I created Emily Reviews as a creative outlet to share my life and the products that I love with others.
This post currently has 12 responses.