I am a Nutrisystem nation blogger. I am provided with a Nutrisystem meal plan in exchange for regular updates. All opinions are my own.
I was emailed by a reader this week asking me about flex meals. The timing was so perfect because just a couple days prior I got an update from Nutrisystem. Since about April of 2016 Nutrisystem has encouraged a weekly flex meal for lunch and dinner. Prior to that, Nutrisystem would send 28 entrees for each meal time. After the switch, there were 28 breakfasts, 24 lunches and 24 dinners. Now the new update also involves a weekly flex meal for breakfast and snacks. Meaning orders include 28 breakfasts, 24 lunches, 24 dinners and 24 days worth of snacks.
Our order that is currently in the works will be our first that has Ryan create his own flex meals for breakfasts. The purpose of flex meals is to help users learn how to make healthy meals on their own. This way, you'll have an idea of how to create a healthy, low calorie meal for each meal setting once you are off of the Nutrisystem program.
People on Nutrisystem will already be familiar with PowerFuels and SmartCarbs, because they choose both for snacks on the plan already. Flex Meals are simply made up of PowerFuels (Proteins) and SmartCarbs (Fruit or whole wheat bread sources). Here is the graph that helps explain further.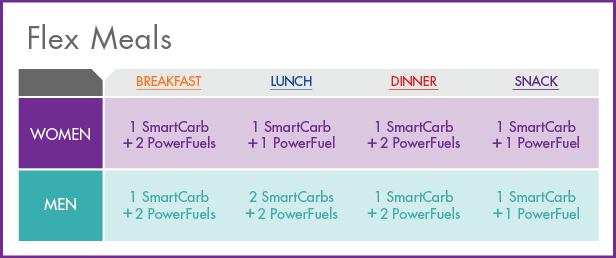 We are excited to try out making healthy breakfast recipes at home that still comply with Nutrisystem guidelines. It's important to learn how to manage yourself so that you can eventually leave the program and Flex Meals are set up to assist with that.
If you're looking for ideas for how to make you rown flex meals, try the links at the bottom of this flex meals page. One is women, the other for men. In the coming weeks I'll try to share a few Flex Meals that Ryan chooses to give you more ideas!



This post currently has 3 responses.