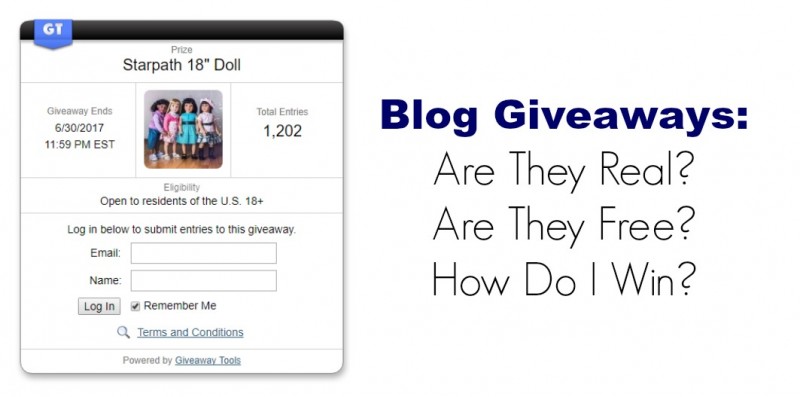 I wanted to do something a little strange today, and address some basic information about how giveaways work. Due to a few emails that I have received recently it's become clear that some of our readers are confused about how our giveaways work. It's really quite understandable, because most people still haven't even heard of blog giveaways. When you stumble upon them for the first time, it's logical that you may be confused or even skeptical.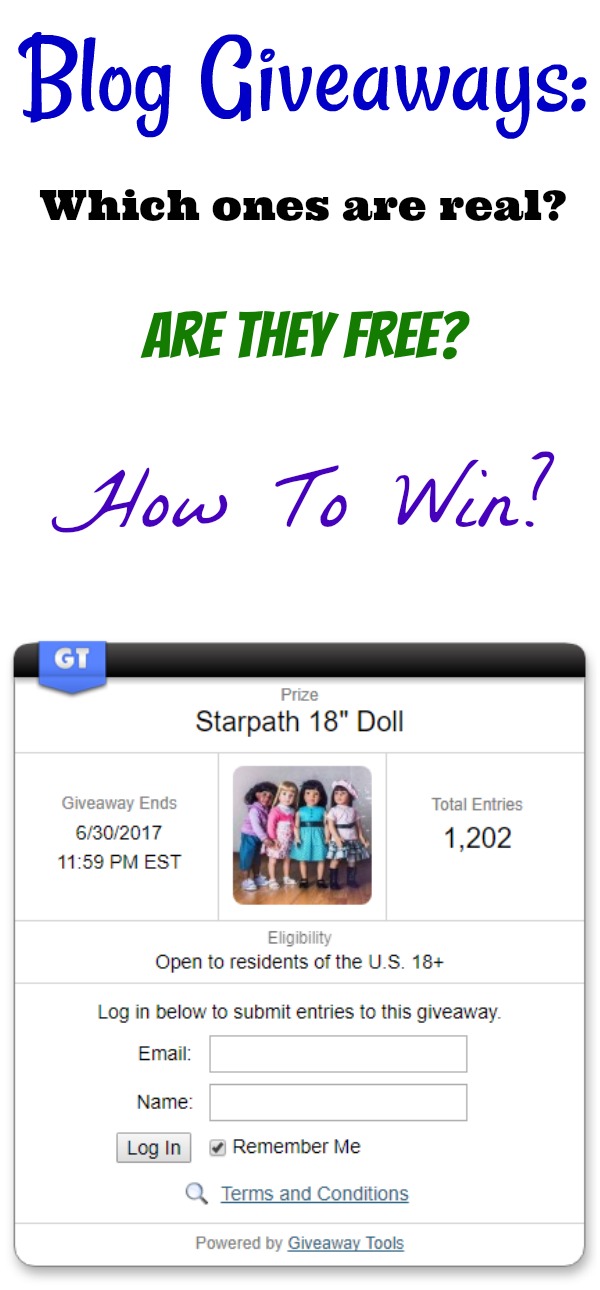 Are blog giveaways real?
Of course, I can't say that every giveaway on every blog has been real. I can say that all of my blog giveaways are authentic, and the same is true for most other blogs.
How do bloggers afford to do giveaways?
Most blogs (mine included) that do giveaways regularly do not purchase the products themselves. The products are usually sent to the winner directly from the company who makes the product, or a retailer that sells the product. Though some bloggers do choose to buy products to giveaway to benefit their readers, or they giveaway items that they have created or just do not want any more.
Why do companies sponsor blog giveaways?
Primarily to increase exposure to their product and their brand. They typically choose bloggers who have a large readership and who has an audience that is a good match for their products. Also, to gain social media followers, to create a social "buzz", and/or to get their product in the hands of new people.
Are blog giveaways free?
Yes! Legally, blog giveaways are considered sweepstakes which MUST be free to enter. On one or two occasions I have seen bloggers who are not aware of this who tried to charge per entry but requiring a fee to enter makes the giveaway a raffle as opposed to a sweepstakes, and raffles typically have to be registered with local government though that may vary by where you live. You will never see a giveaway here on Emily Reviews that requires any kind of cost or fee. I occasionally will refer to our giveaways as sweepstakes and/or contests on the blog or on social media because people use that terms when seeking out blog giveaways. However, our giveaways are sweepstakes and not contests. Contests require some sort of skill, where the winner is not chosen at random but is instead decided as "the best" such as a an art contest. In our giveaways the winner is always chosen at random (My entry form, giveaway tools, picks at random so every entry has an equal chance of being chosen).
I've been entering your blog sweepstakes for weeks and haven't won anything.
This is the question/comment that I have been emailed about a few times recently. On rare occasion I've even seen this used as an attempt at "proof " that our giveaways are fake. It is very possible to enter a lot of giveaways without winning anything. Therefore, if you have entered a lot of giveaways but haven't won, that doesn't work as proof that the giveaways are not fair or authentic. To understand how this is possible I will use an example with very simplified numbers. In truth, our giveaways do not all end with 1,00 entries, some are lower and others are higher.
Lets say that every single giveaway here at Emily Reviews ends with exactly 1,000 entries, and you do exactly 2 entries for each one. That means you have a 2 out of 1,000 odds of winning each giveaway. That is equivalent to a 1 in 500 odd, so to be statistically likely to win one giveaway, you would have to enter 500! However, it is just a statistically likelihood, so it's still possible to enter 500 and for your entry to just not get drawn, or you may luck out and win your very first giveaway. It's chance.
How do I increase my odds of winning?
You can dramatically increase your odds of winning by doing more entries for each giveaway. Here on my blog, we allow one tweet per day. Most of our giveaways run for roughly 14-16 days, so doing a tweet per day can gain you 15 entries. We typically only offer about 12 other entries and they are each done once per giveaway (not daily), so tweeting daily more than doubles your odds of winning even if you do ALL of the other entries. Lets say you do all 12 other entries, plus 13 daily tweets. Now you have 27 entries. So if the giveaway ends with 1,000 entries you now have a 25/1000 or you are 12.5 TIMES more likely to win than the person who only did two entries for that giveaway. However, this is still a 1 in 40 odds of winning if that giveaway has 1 winner and ends with 1,000 entries.
To further increase your odds of winning, enter giveaways with fewer total entries. We occasionally have giveaways end with only 600 or so entries. If you do 25 entries in that giveaway your odds are higher. We also sometimes have giveaways with multiple prizes. If a giveaway has two winners that doubles your odds of winning compared to a giveaway with just one prize and the same number of entries.
I think it probably goes without saying, but make sure you are not lying about doing entries, too! The entry form that I use (Giveaway Tools) has a verification system so if you claim to follow on Twitter but then unfollow before the winner is drawn then it will not allow that entry to be chosen as a winner because you are not in fact following as you claimed. Other entries are verified manually. We don't let cheaters win!
Also, make sure you check your email regularly. We contact winners by email and they have 2 days to reply. If you're entering giveaways but not checking your email you may have missed some notifications in which case the blogger will eventually choose a replacement winner.
How can I tell if a blog's free sweepstakes are scams?
Sometimes there isn't a clear way of finding out, as far as I know. However, many blogs who have giveaways will have posts on their Facebook fan page wall, or will get tagged on Instagram or Twitter when winners receive prizes. Here is a link to my Facebook Comments where you can scroll to see a few comments and even pictures of people saying thanks for the prizes they have gotten.
If you ever win giveaways here at Emily Reviews we would love for you to stop by the Fan page and add a comment and/or picture of your prize so that others will see it and know that our giveaways really do have winners!
Do you have any other questions about giveaways? Leave them below and I will answer them in the comments or maybe even add to this post!

Hi there! I am Emily Evert, the owner of Emily Reviews. I am 25 and live in a small town in Michigan with my boyfriend Ryan and our two pugs. I have a large family and I adore my nieces and nephews. I am a calorie counter who loves soda. I budget to save money so I can spend it on my dogs. I love reading memoirs, and learning about child development and psychology. I love watching The Game of Thrones, Teen Mom, Sister Wives and Veep. I like listening to Jason Isbell, John Prine, Kris Kristofferson and Blue October. I created Emily Reviews as a creative outlet to share my life and the products that I love with others.
This post currently has 27 responses.