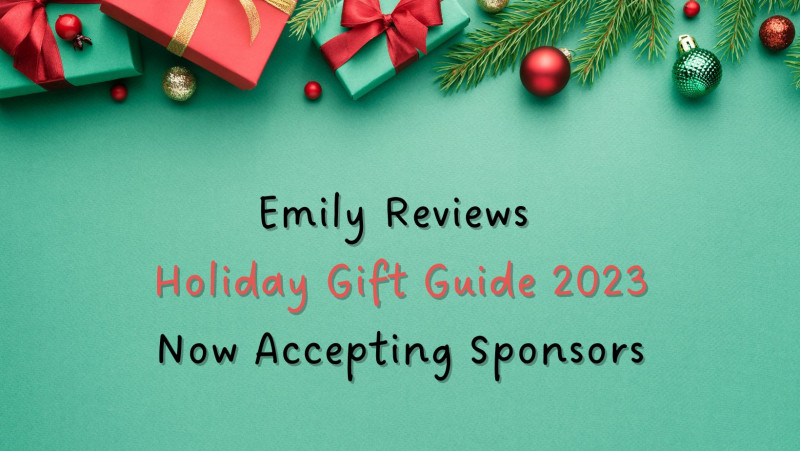 Greetings, dear readers and fellow gift enthusiasts! It's that time of year again, and we couldn't be more excited to announce that Emily Reviews is gearing up for our annual holiday gift guide. The 2023 edition promises to be bigger and better than ever, and we're thrilled to invite brands and retailers to join us in spreading holiday cheer.
What's Our Holiday Gift Guide All About?
From November 1st through December 15th, Emily Reviews becomes a hub of holiday inspiration. Our mission is clear: to provide our readers with a curated selection of gift ideas that cater to everyone on their holiday shopping list. Whether it's a budget-friendly find, a luxurious indulgence, or something in between, we're dedicated to showcasing a wide range of products to suit every taste and budget.
We understand that our readers come from diverse backgrounds and have unique gifting needs. That's why our gift guide covers gift ideas for people of all ages, from newborns to great-grandparents, and for every kind of relationship, whether it's a close friend, a coworker, or a new neighbor.
In the spirit of inclusivity, our gift guide features both practical and indulgent gifts, affordable and high-end options. In the past, we've presented over 200 distinct gift suggestions, ensuring there's something to delight everyone on your shopping list.
But here's the twist – we don't just aim to make your holiday shopping easier; we also provide a valuable opportunity for brands and retailers to showcase their products to our audience.
Our Target Audience
Most of our dedicated readers are women aged 25-44, often serving as the primary shoppers for their households. This demographic makes our platform the perfect place to advertise holiday gifts, as they're actively seeking the best products to gift their loved ones.
How to Get Included in Our Blog Holiday Gift Guide 2023
If you represent a brand or retailer with exceptional holiday gift options, we invite you to join us in our festive journey. Just send us an email at emilyreviewscom [At] Gmail[dot] com with a link to your website, expressing your interest in being featured in our gift guide. If you have specific products or product lines you'd like us to highlight, please let us know.
It's worth noting that Emily Reviews is home to multiple writers, each with their own unique interests and family structures. So, if your product isn't the perfect match for us, we'll gladly consider it for one of our talented writers.
Participation Requirements for Our Blog Holiday Gift Guide
Here's the exciting part: there's no fee or payment involved for most brands to participate in our gift guide. We primarily accept product samples as compensation for our time and the promotion your brand will receive. Together with your brand, we'll decide which product(s) should be sent for review.
We offer different levels of promotion based on the value of the samples you provide. For instance, a brand offering a $25 product sample will be recognized as a "Level A" sponsor and featured in a gift guide round-up post.
On the other hand, "Level E" sponsors, those providing samples with a combined value of $150, receive even more exposure, including a review or featured post dedicated to their brand and products, along with a shout-out in one of our weekly email newsletters.
These are just two examples; we have various promotional levels tailored to your brand's offerings. So, whether you're sending a product worth $25 or $1000, we've got a fair exchange available for partnerships at any value.
Find All the Information and Options in Our Media Kit
If you'd like to explore all our promotional levels, detailed statistics, important dates, and more, check out our 2023 holiday gift guide media kit. It offers a comprehensive overview of everything you need to know.
Frequently Asked Questions
What does it cost to be included? There is no fee! We primarily work with brands through product samples. However, we are open to discussing alternative arrangements.
Do you include Etsy shops or small businesses? Absolutely! We welcome partnerships with Etsy shops and small businesses.
What are your blog stats? You can view our blog statistics in our gift guide media kit.
When is the deadline for emailing you? While we occasionally accept last-minute partnerships into early December, it's advisable to reach out by mid-November to ensure optimal consideration.
Is Your Gift Guide Exclusively For Christmas? No, our gift guide isn't limited to Christmas. We recognize that different readers celebrate various winter holidays, and our gift suggestions are suitable for any holiday occasion.
What Price Range Is The Gift Guide For? We include gifts for every budget, with a majority falling in the $20-$200 range.
We can't wait to embark on this holiday journey with you once again and make the 2023 Emily Reviews Gift Guide the best one yet! Let's spread the joy of gifting far and wide. Contact us today to get started on this festive adventure.
Hi there! I am Emily Evert, the owner of Emily Reviews. I am 28 and live in a small town in Michigan with my boyfriend Ryan and our two pugs. I have a large family and I adore my nieces and nephews. I love reading memoirs, and learning about child development and psychology. I love watching The Game of Thrones, Teen Mom, Sister Wives and Veep. I like listening to Jason Isbell, John Prine, and other alt-country or Americana music. I created Emily Reviews as a creative outlet to share my life and the products that I love with others.
This post currently has 3 responses.