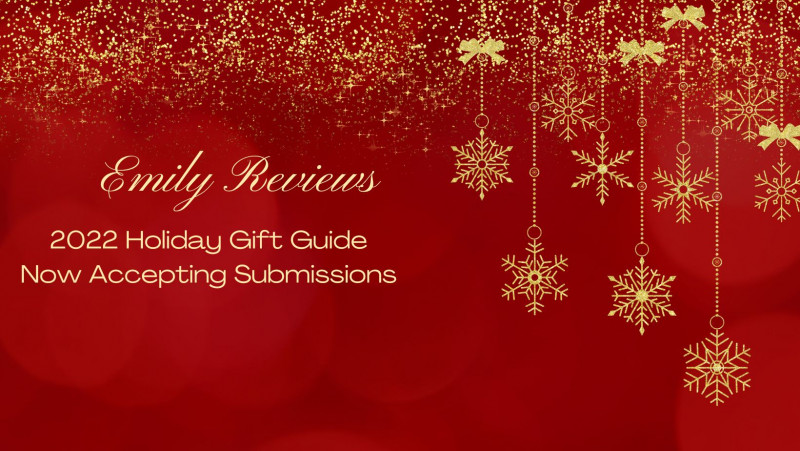 Emily Reviews Gift Guide Now Accepting Submissions
Each year from November 1st through December 15th we host our blog holiday gift guide. This is always our biggest event of the year, and our readers who have been around for a while tell just that they look forward to it every single year.
With our gift guide, our goal is to provide our readers with gift ideas for everyone on their list. To accomplish that, we include gift ideas covering a really wide range of price points to try to match every budget. We also look to provide gift ideas for people of all ages. We know some of you have newborn babies on your Christmas list, and others have great-grandparents. We also try to keep in mind that some may be looking for gift ideas for those they're really close with, while others may be seeking gift ideas for their neighbor, a new coworker, their child's teacher, or someone else they may not know very well.
Our gift guide always includes some practical gifts and some indulgent gifts, some very affordable items and some high-end items. In past years, our gift guides have included over 200 different gift suggestions – truly something for everyone!
While our #1 goal is providing awesome gift ideas for our followers, we also enjoy making this a beneficial opportunity for brands and retailers who offer products that we believe in. So much shopping happens in the fall and early winter, it can be hard to break through the noise and get word out about your product. We like to look for brands who offer products that we feel are deserving of a little spotlight, and give them space in our gift guide.
Most of our readers are women ages 25-44, and most of them are the primary shopper for their household. This makes our audience a great fit for advertising holiday gifts to.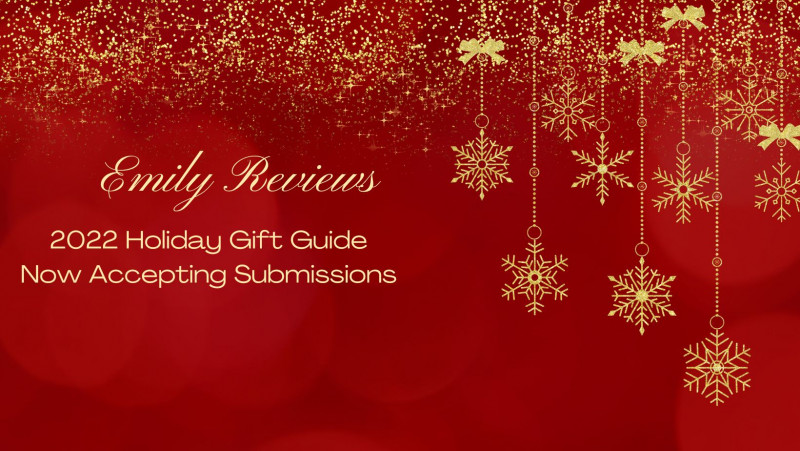 How To Get Included In A Blog Holiday Gift Guide
If you own or represent a brand or retailer who has items that you think would make a great holiday gift, just email me to get the process started. My email address is emilyreviewscom [At] Gmail[dot] com. When you reach out, please provide me with a link to your website and let me know that you're interested in being included in my gift guide. If you have a vareiy of products but are hoping to have a specific item (or line) featured please let me know.
There are multiple writers for my blog, and we have different family makeups. If I am not a good match for your products, it may be a fit for one of my writers instead. If I'm not a good fit for a product that I'm told about, I forward it to my writers to see who it would be a good fit for.
What Is Required For Participating In Our Blog Holiday Gift Guide
There is no fee or payment involved with our gift guide for most brands. The only exception to this is if a brand prefers to offer payment instead of product samples.
Most brands send us product sample(s) to review or feature. We take these samples as compensation for our time and for the promotion your brand will receive. The brand and Emily Reviews will decide together which product(s) should be sent for review.
We offer different amounts of promotion to brands depending on the value of the sample(s) that they send for review. For example, a brand who sends one item that retails for $25 will be a "level a" sponsor, while a brand who sends samples that have a combined value of $150 will be a "level E" sponsor.
Level A sponsors have one product included in a gift guide round up post, like our gift ideas for women gift guide round-up post from last year.
Level E sponsors will have one product listed in two gift guide round-up posts (perhaps a gift ideas for men post and a gift ideas for teens post). They'll also get a review or featured post that is all about their brand and products. Plus, they'll get a shout-out in one of our weekly email newsletters! In the newsletter shout-out the brand could share information about a sale, coupon or sweepstakes, or they could promote the review and giveaway that we've done here on EmilyReviews.
These are just two quick examples. We have several promotional levels for brands. Level A is for brands who send at least a $25 value of samples, while our biggest level (level K) is for brands who send $1000 worth of product. The value and amount of products tha brands send us can vary a lot, so our perks ensure that there is a fair exchange available for partnerships at any value.
See All The Info & Options
If you'd like to see all of our promotional levels, check out our 2022 holiday gift guide media kit. It goes over all promotional levels from A to K. It also shares stats, important dates and more.
Common Questions:
What does it cost to be included?
There is no fee! We work with brands by having them send us product samples in almost all cases. Occasonally brands prefer to send payment instead of product samples though, and I am open to that.
Do you include Etsy shops or small businesses?
We are open to working with Etsy shops or other small businesses.
What are your blog stats?
They can be viewed in our gift guide media kit linked above.
When is the deadline for emailing you?
We sometimes accept some last-minute partnerships through early December. We are very busy by then though, so we are more selective about what partnerships we take at that time. If possible, please try to reach out by mid November.
Is Your Gift Guide Exclusively For Christmas?
Our gift guide isn't just for Christmas. We don't have any writers who celebrate other winter holidays, but we have readers who do. We call our blog event a holiday gift guide because we know our gift suggestions can be suitable gifts for various holidays, not just Christmas.
What Price Range Is The Gift Guide For?
We include gifts for every budget. We usually have gifts ranging from around $5 to over $500. I'd say a majority of the gifts that we suggest fall in the $20-$200 range.
Hi there! I am Emily Evert, the owner of Emily Reviews. I am 28 and live in a small town in Michigan with my boyfriend Ryan and our two pugs. I have a large family and I adore my nieces and nephews. I love reading memoirs, and learning about child development and psychology. I love watching The Game of Thrones, Teen Mom, Sister Wives and Veep. I like listening to Jason Isbell, John Prine, and other alt-country or Americana music. I created Emily Reviews as a creative outlet to share my life and the products that I love with others.
This post currently has 6 responses.