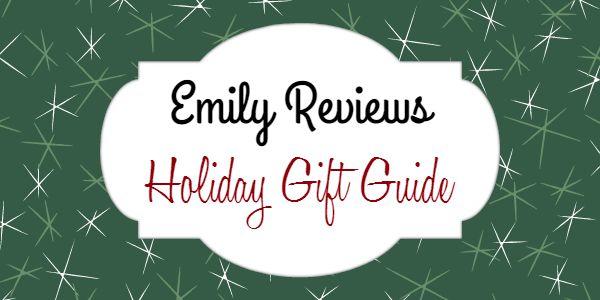 We are now accepting holiday gift guide submissions for the 2017 holiday season. Our gift guide will start November 1st and end December 15th. We have nine different product categories this year. Our goal is to provide our readers with gift ideas for everyone on their list, even including pets!
Gifts For men
Gifts For women
Gifts For teens
Gifts For big kids (ages 8-12)
Gifts For little kids (Ages 3-7)
Gifts For babies & toddlers
Gifts For pets
Stocking stuffers for adults
Stocking stuffers for kids
We are now accepting gift ideas for all nine categories. To submit your product to be considered for review send your pitch to me at Emilyreviewscom@Gmail.com.
There is no fee or payment involved with our gift guide. We accept product as compensation starting at a $25 value requirement. We offer different levels of promotion though, so brands who send higher valued items or several items will get more promotion in return. You can learn more about our promotional levels by checking out our Holiday Gift Guide Media kit.
Frequently asked questions about our blog holiday gift guide:
What does it cost to be included? It's free! We do have a product value requirement, and we require physical product in most cases but there is no fee or payment.
I don't want to send product, can I still be included? Yes! If you prefer to pay for coverage instead of sending product that is a possibility. Email me with your idea at Emilyreviewscom@Gmail.com.
How many pageviews do you get? How many Twitter followers do you have? Our stats can be found in our  Holiday Gift Guide Media kit.
Can I participate if my business is located outside of the US? Sure, as long as you are willing to ship to US locations.
Can I participate as an Etsy shop or very small business? Absolutely! We love to support businesses of all sizes.
When is the due date for sending pitches? The sooner the better! We can theoretically accept pitches through about 12/7/2017 if shipping is speedy and our schedule is not already filled, but mid November or before is much more ideal.
What is your target demographic? Our largest demographic is women ages 25-44 living in the USA. Additional demographics can be seen in our holiday gift guide media kit.
Is your holiday gift guide for a specific holiday? No. All writers at Emily Reviews celebrate Christmas but our holiday gift ideas are intended to be used for any winter holiday that our readers are seeking gift ideas for.
What is the price range for gifts? Typically the majority of our gift ideas are in the $15-$150 range but we also have several very affordable stocking stuffer ideas, and several big gift ideas that are in the $200+ range as well. Our readers have a variety of gift needs and budgets so we are happy to showcase it all.
If you have a question that is not included here feel free to email me at emilyreviewscom@Gmail.com. Or if you are ready to submit your product for inclusion you can fill out the form below. This form gets responses emailed to me so there is no need to do both. If you are a PR rep or marketing company representing multiple brands please leave links and information for each brand.
Hi there! I am Emily Evert, the owner of Emily Reviews. I am 25 and live in a small town in Michigan with my boyfriend Ryan and our two pugs. I have a large family and I adore my nieces and nephews. I am a calorie counter who loves soda. I budget to save money so I can spend it on my dogs. I love reading memoirs, and learning about child development and psychology. I love watching The Game of Thrones, Teen Mom, Sister Wives and Veep. I like listening to Jason Isbell, John Prine, Kris Kristofferson and Blue October. I created Emily Reviews as a creative outlet to share my life and the products that I love with others.
This post currently has 3 responses.