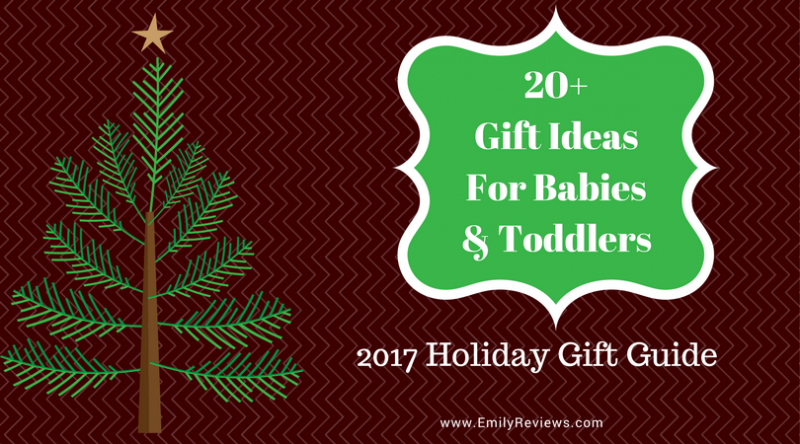 Emily Reviews writers were sent product in exchange for holiday gift guide inclusion. There are affiliate links in this post. All opinions are our own.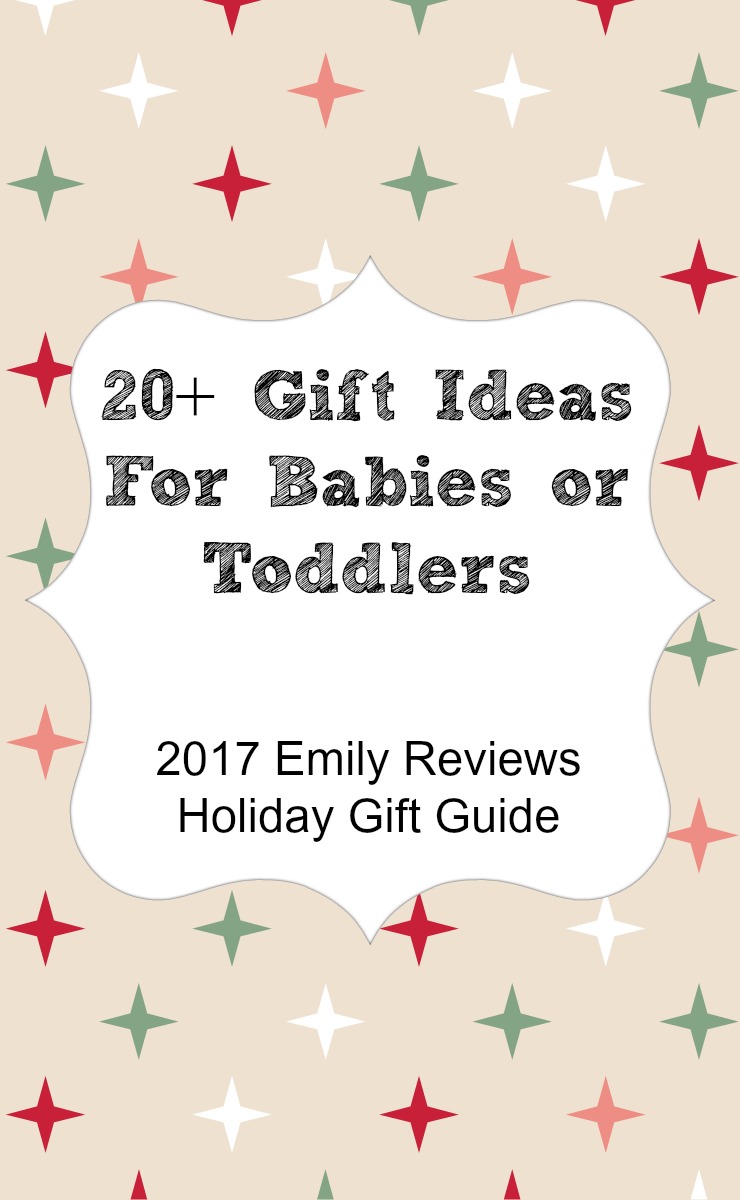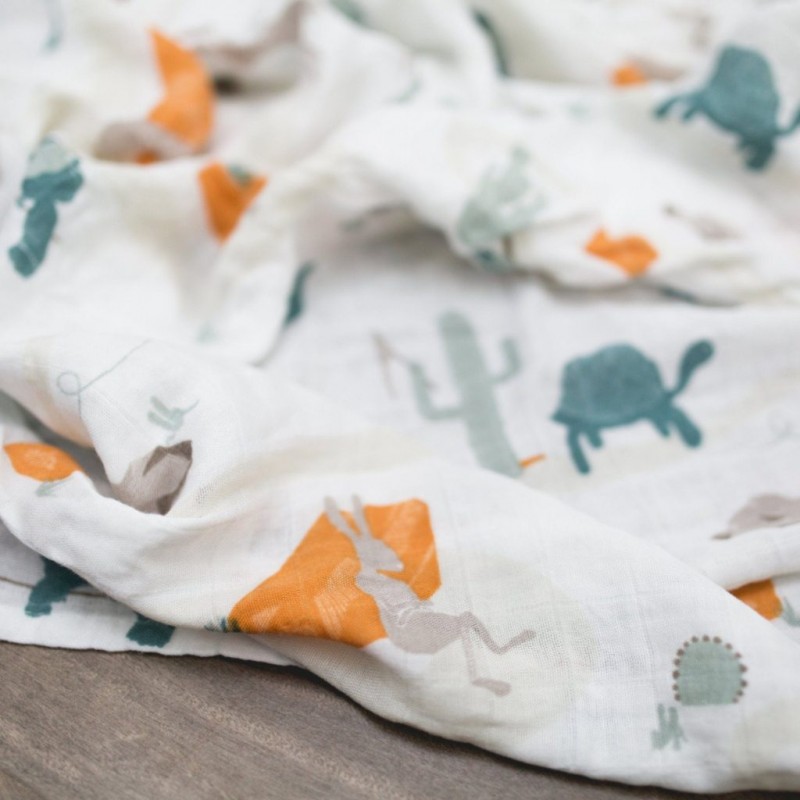 This gorgeous slow & steady bamboo rayon muslin swaddle from Saranoni is based on The Tortise And The Hare. They are 70% rayon from bamboo and 30% cotton making them ultra soft. The design is bold and bright while remaining gender neutral which I love. At 47×47 inches this is a generously sized swaddle. The blankets are lightweight and breathable so they can be used year round.
Buy it: Saranoni.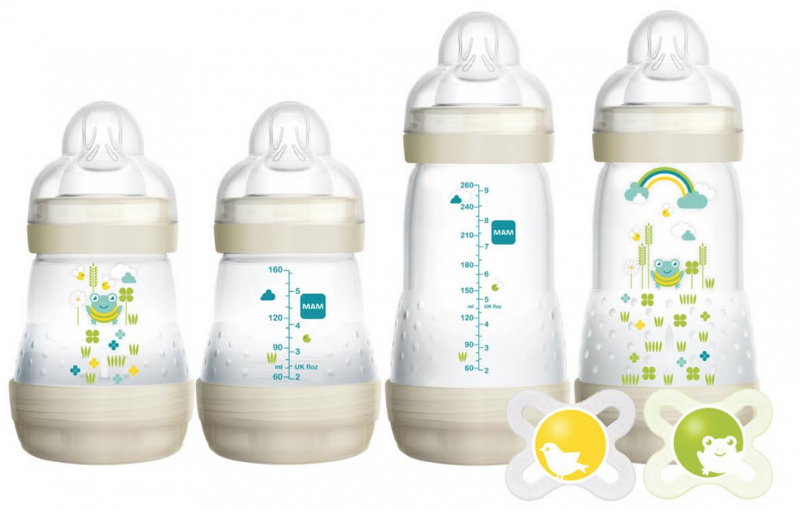 Give the littlest ones in your life something they will enjoy every day, the MAM Baby Feed And Soothe Gift Set!  This set includes four anti-colic bottles (2 five ounce and 2 nine ounce) as well as 2 MAM pacifiers, all specifically designed for 0-6+ months.  Available in three color options, this set is sure to become a favorite for parents and baby.  MAM combines technological innovation, medical function and contemporary design to create the best baby care products possible that support children from the day of birth and beyond.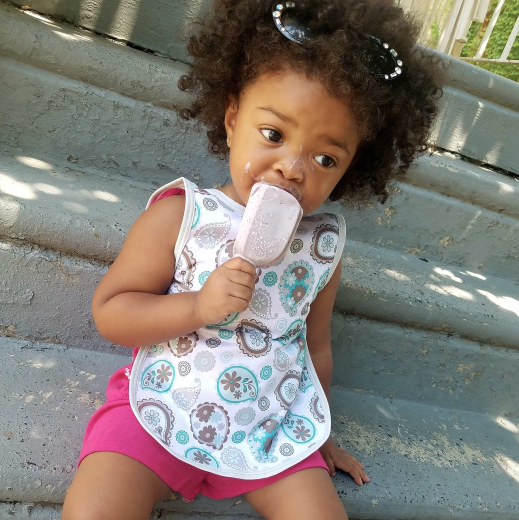 Head over to BapronBaby to check out their unique and adorable Baprons; a bib-apron hybrid. They are a durable, soft, full-coverage bib/smock. Baprons are made for children 6 months to age 3. These beautiful, stylish Baprons are the perfect choice to protect little one's clothing from messes from meals, arts and crafts projects, sensory activities and more. They are made of a quick-drying waterproof fabric that is stain resistant, and machine washable.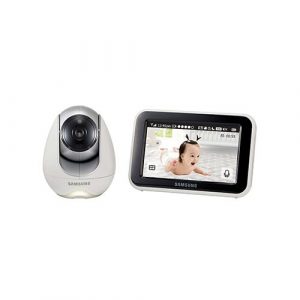 Ensuring your baby you are close by is one of the best gifts you can give your little one. With Wisenet Baby View from Samsung you can keep an eye on your little one even in the darkest of nights with night vision infrared LEDs. Live streaming with the Baby View or any smart phone is perfect for checking in for any reason. 4 preprogrammed lullabies are sure to gently lull your restless baby back to sleep at any time of night.
Buy It: www.wisenetlife.com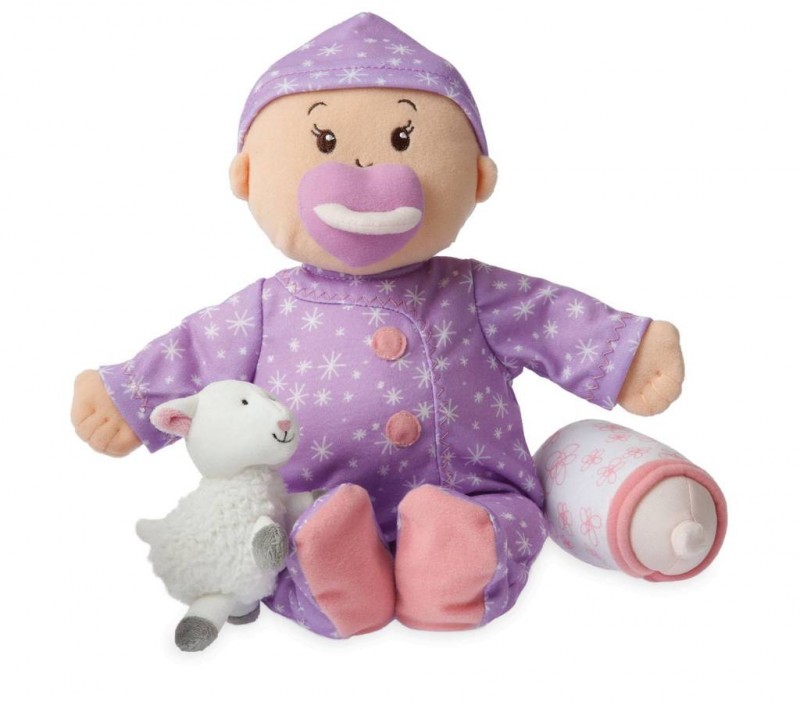 Baby Stella Sweet Dreams Doll is for little ones 12 months and older. She has a soothing lavender scent and comes with a bottle, pacifier and stuffed lamb. Her bottle and pacifier are magnetic and so is her mouth to aid in letting your little one feel like she's using them! Her outfit and diaper are removable. Her whole body is soft and plush so she is great for cozying up with.
Buy it: Manhattan Toy or Amazon.com.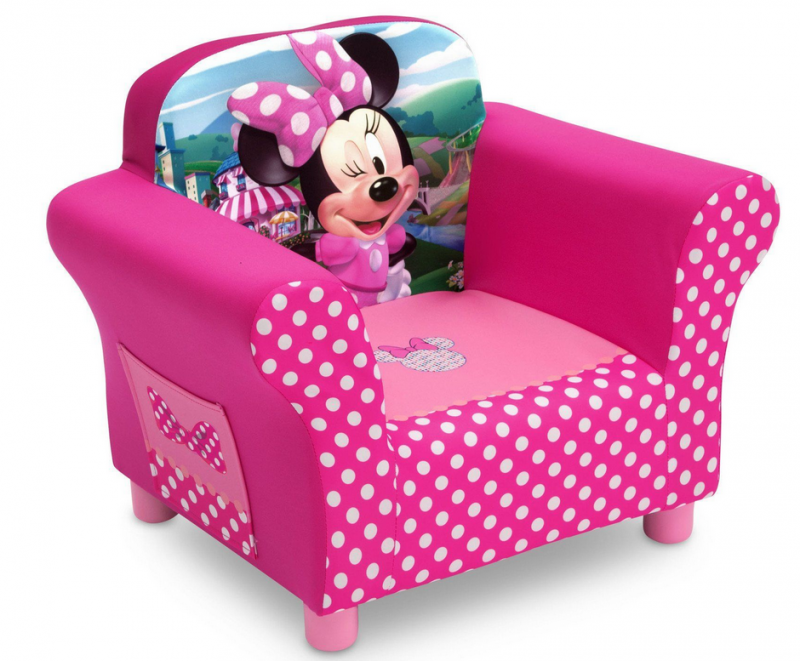 Young children go crazy for furniture that's just their size and this gorgeous Delta Children Minnie Mouse Upholstered Chair will be a huge hit this Christmas!  Lightweight and easy to move around, this chair is fit for any Minnie Mouse fan!  It's bold and bright pink print with Minnie on the back is eye-catching and fun.  Kids also love the small side pocket, perfect for their little treasures.  Perfectly designed for children ages 3-6 and holds up to 100 pounds, every young child that sees these chairs insists and checking them out!

JJ Rabbit makes mealtime fun with modern, stylish products for children. They are eco-conscious and create products that are safe, sustainable, and environmentally responsible. From CUPPIES that have an animal hiding at the bottom of the child's cup to brightly colored ergonomic utensils, to siliMATs that protect little ones from germs, dirt, and cleaning chemicals – at home or on the go. These are just a few of the contemporary JJ Rabbit products to help children enjoy eating.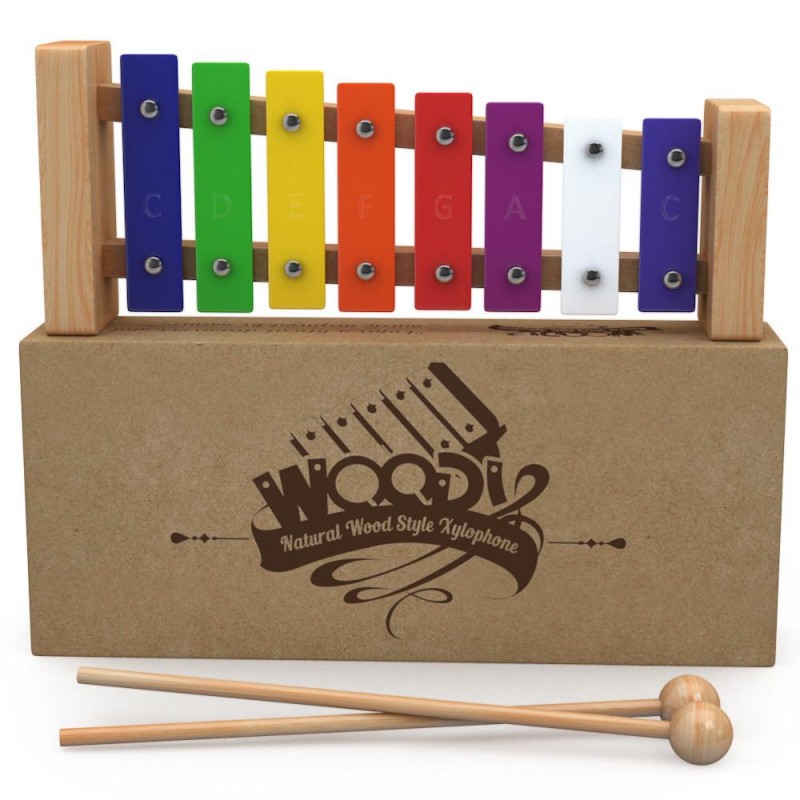 For tots 18 months and up, the wooden xylophone is a great, classic option. Toddlers love cause and effect, so being able to create music really captures their attention. It is accurately tuned to create.  pleasant sounds. It includes to mallets. In my house, the musical toys capture the attention of kids across different ages. This is likely a toy that will grow with your little one!
Buy it: AGreatLifeBrand or Amazon.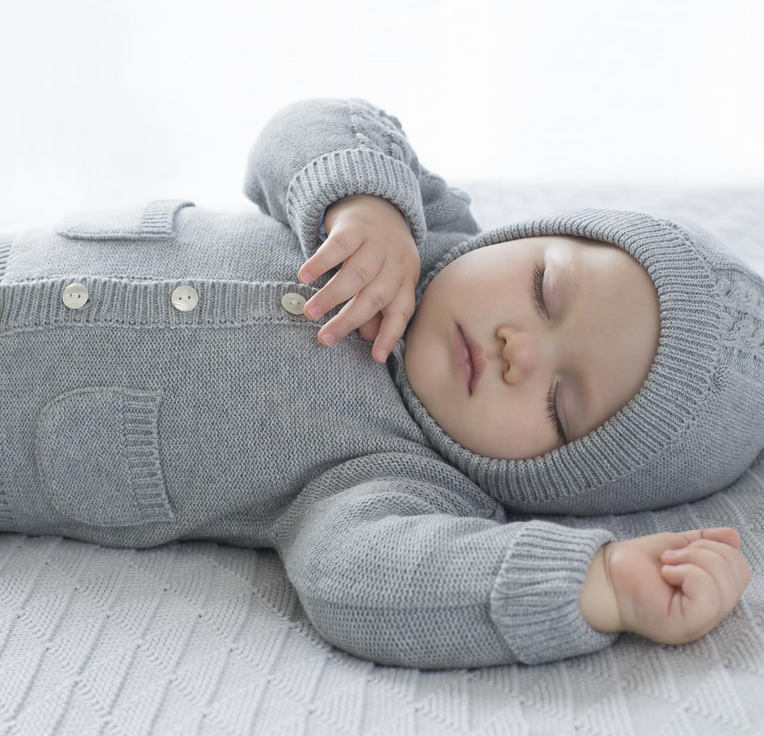 The Feltman Brothers Hooded Button Down Knit Cable Cardigan is a soft and sweet choice to place under the tree for the special little one in your life.  Featuring attention to the fine details, this sweater has a matching design down both sleeves and the hood.  The darling front pockets and adorable button down front are both charming and classic.  Available in blue, grey, or pink colors, it's offered in sizes three months all the way up to 4t.  It's the perfect accessory for a cool day as well as dapper enough for photos.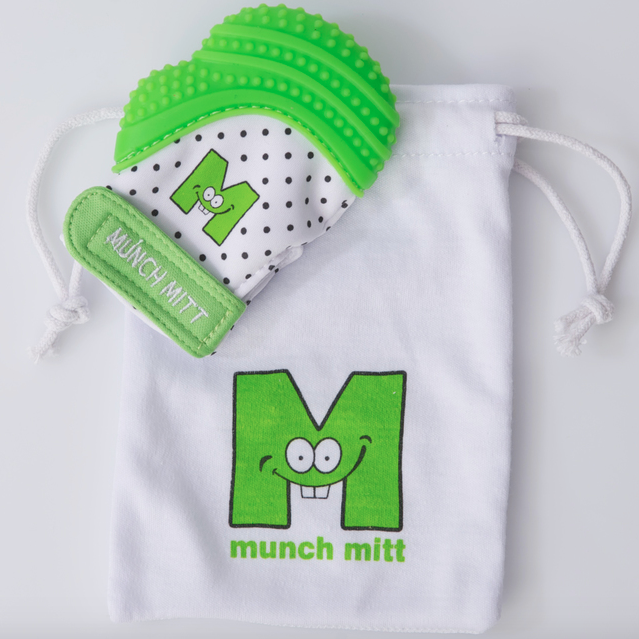 If you have little one who is teething on your holiday shopping list, a Munch Mitt is the perfect choice! The Munch Mitt Teether is a "handy" teething solution. It solves the problem of a little one constantly dropping their teething toys on the ground and out of reach. The Munch Mitt provides easy access pain relief for teething babies and protects their little hands from becoming irritated from chewing. They also come in a variety of fun colors.
Buy It: munchmitt.com or Amazon.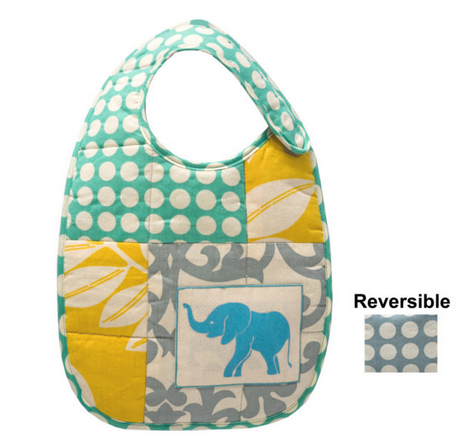 Giving a gift that gives back has never been easier than with the World Vision Gift Catalog.  This Reversible Hand Made Baby Bib is just one of the great choices available when a donation is made to the "Where Most Needed" fun as a memento of your gift.  And then your gift can remind you daily that you took part in giving a gift to help where most needed that will address specific, urgent needs that might otherwise go unmet for children, families, and communities.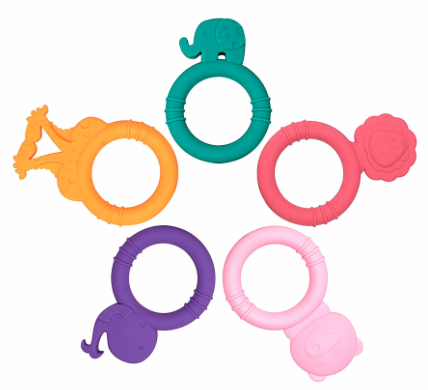 These adorable animal-themed teethers from Marcus & Marcus are a perfect stocking stuffer for baby. The cute brightly colored teethers are molded from BPA-free, PVC-free and phthalate-free food grade silicone rubber, so you can feel safe about what your little one is putting in their mouth to soothe their gums. They are available in Lola the Giraffe, Ollie the Elephant, Marcus the Lion, Pokey the Pig, or Willo the Whale.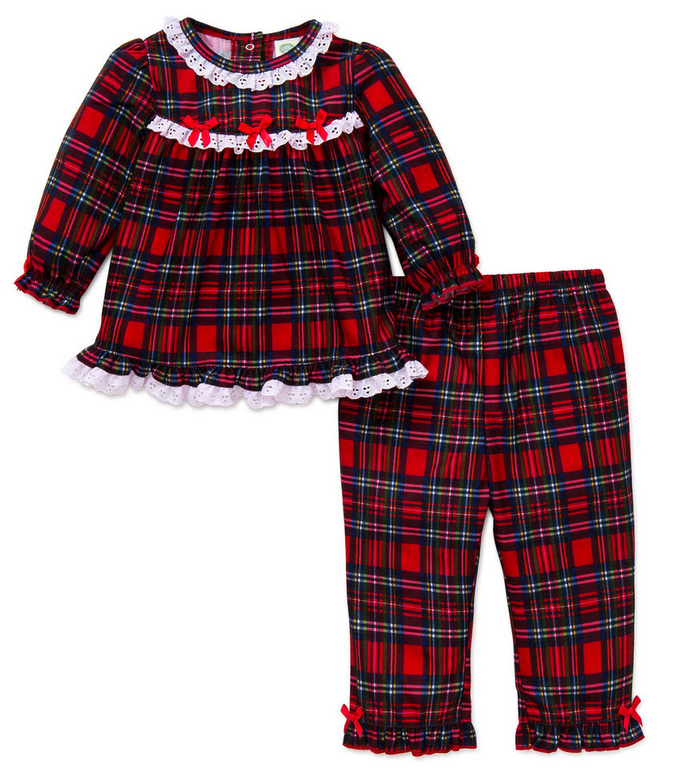 Traditions come alive with this Little Me Holiday Girls Plaid Pajama Set.  Featuring the traditional style of teensy ruffles, adorable red bows, and red plaid.  Simply adorable and perfect for those lively Christmas morning photos.  Super soft to the touch, as Little Me is known for, this set is made from 100% polyester.  These pajamas are cozy, warm, and simply adorable with attention to deatils like the ruffle sleeves and leg cuffs.  Truly delightful in every way!

If you are looking for a gift that is both useful and fun, SoapSox fit the bill. SoapSox are a line of plush 2-in-1 friends that kids can take from playtime to bath time! After cuddling and playing all day, your little one can take their soft SoapSox friend into the tub with them. A patented soap pocket transforms SoapSox into sudsy wash cloth – just add soap and scrub. Once done in the tub, you can hang SoapSox up to dry or pop them in the dryer.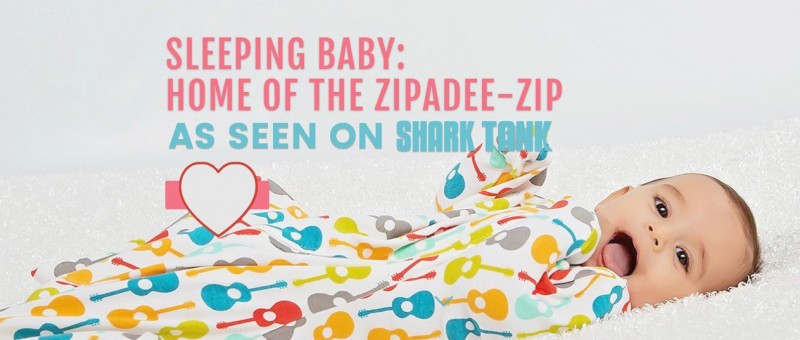 Give the next best thing to the gift of sleep with the Sleeping Baby Zipadee-Zip Swaddle Transition.  Featuring a unique star shaped design that really works, I've had personal success with my kids sleeping better in a Zippy!  This swaddle transition allows for enough resistance to help prevent the startle reflex but offers freedom as well.  Kids can roll, crawl, walk, and play in these and are available in size 3-6 months all the way up to toddler/preschool.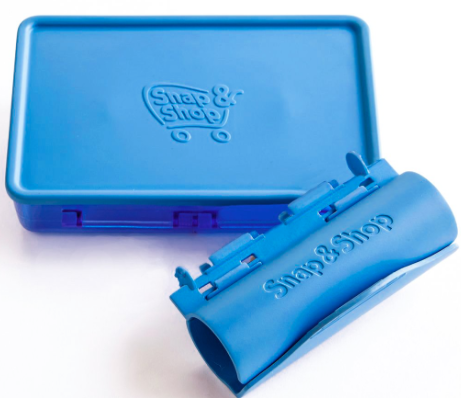 The Snap & Shop provides a portable, clean surface to feed little ones their favorite snacks on the go. It is small enough to fit in your bag and is easy to clean. The Snap & Shop has a patented handle grip and flexible arm, so it will stay secured to the shopping cart handle, and keep your little one snacking happily while you shop. It has two snack compartments that you can fill with their favorite snacks. It is easy to refill and is also compatible with shopping cart covers.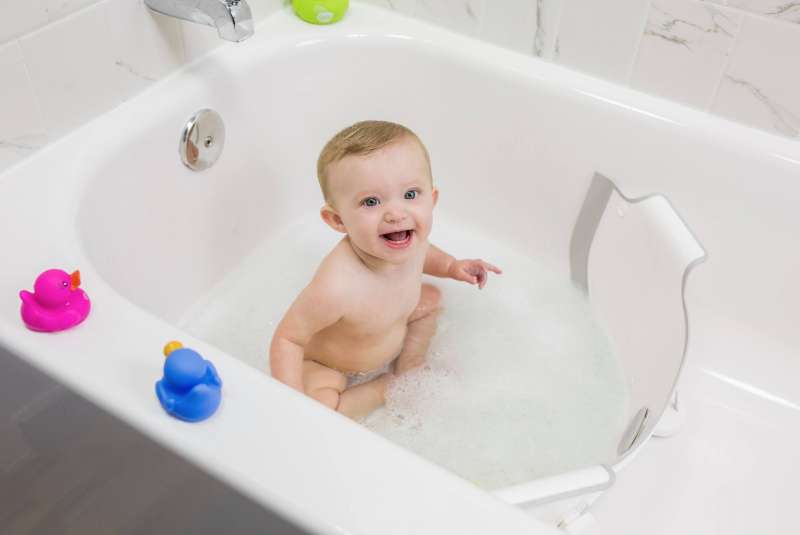 Bath time with babies is a breeze with the Baby Dam Bathtub Divider.  Created to easily section off a smaller space in your bathtub, now parents can have a a safer, more comfortable bathing space for your little one!  Plus this divider makes it easy to save water, saves energy, save time, and save space which means that you also save money!  Created to fit standard size tubs with smooth bottoms and locks into place with ease.  So give a gift that both children and parents will love with the Baby Dam.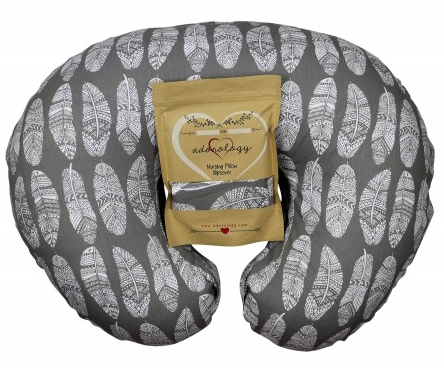 For a fun and functional gift for the tiniest ones on your list, how about an Adorology Nursing Pillow Slipcover? It is made of 100% cotton fabric. The cover zips on and off easily, and zips at the back instead of the top like many other nursing pillow covers. It is machine washable and is sized to allow for shrinkage to fit perfectly on 20×16 inch nursing pillows. This beautiful grey feather design is gender neutral and stylish. Visit the website to see the other pretty colors and designs that are available.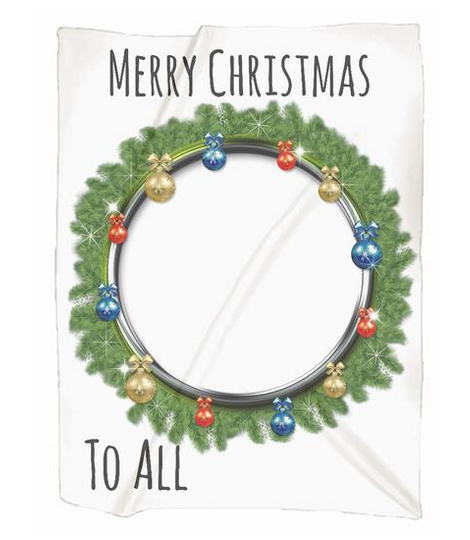 The Merry Christmas Photo Wreath is a unique and festive way to share your latest photos of your kiddos.  Measuring in at 30″ x 40″ and made of 100% jersey cotton, it's a soft background that can be used year after year.  Plus, they offer a large variety of other milestone blankts as well we fun chevrons and other patterns and designs to fit every preference.  This is also a gift that can be used to snuggle with and wrap kiddos in on chilly winter days!
Lilly's Love "Bath 'n Tidy" is a bath toy organizer. It features strong suction cups to hold strongly on the bathtub wall, and big pockets that children find easy to use as well. This 13 by 18 inche mesh pocket bath bag has four pockets and comes with a set of 26 brightly colored foam letters and nine numbers that are BPA free and non-toxic. The Bath 'n Tidy is made with durable nylon that is mold resistant. A fun, useful toy that is educational as well!
Buy It: lillys.love or Amazon.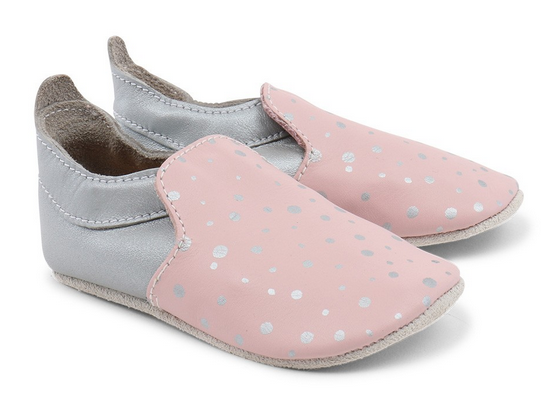 Give baby a pair of shoes that will offer comfort, keep those socks on, and make her one stylish baby with the Bobux Pink/Silver Splash Loafer.  Featuring soft soles that bend and flex to provide healthy foot development, they are made from a high quality breathable leather.  The ankle elastic closure makes on and off easy but keeps the shoes secure while wearing.  An overall great indoor shoe for infants and toddlers.  And they also offer a great variety of styles for both boys and girls.
Learn More: Head over to my Bobux Review to learn more. — Coming Soon
Buy It: BobuxUSA.com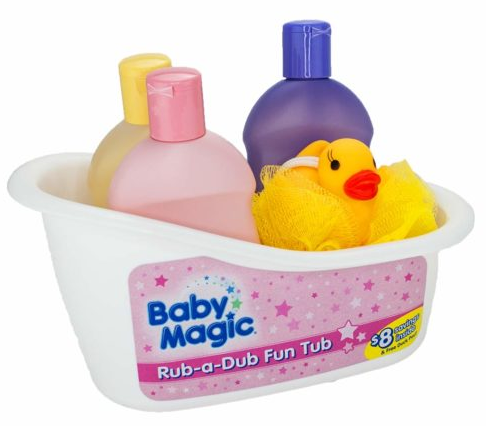 Little ones will love Baby Magic's Rub A Dub Fun Tub baby bath set! Parents can gently cleanse baby's sweet, soft skin with the vitamin enhanced Gentle Hair & Body Wash, or help relax baby at bedtime with the Calming Baby Bath infused with pure lavender extract. After bath, finish up by moisturizing baby's skin with the Gentle Baby Lotion enriched with aloe. The included duck poof is a fun bonus to this bath set.
Buy it: Baby Magic.
Baby Jack & Company makes sensory toys and blankets for children. Kids love to play with, chew on and rub the ribbons of the Baby Jack Loveys. Sensory play is instrumental in children's development and playing with Baby Jack & Company Learning Loveys help little ones develop cognitively, socially and emotionally. Baby Jack & Company also loves to give back through their Kindness Project: donating Loveys to hospitals and law enforcement agencies to help children who are sick or injured.
If you are looking for fun and unique outfits and accessories for a little princess, head over to Princess Bowtique. They provide handmade headbands, hair clips, bows, tutus, rompers, tutus dresses, tops, leggings, and other beautiful boutique clothing and stunning accessories. Perfect for photo ops or every day, Princess Bowtique has items to fully outfit the littlest girls in your life. Personalized options are also available.
Buy It: princessbowtique.com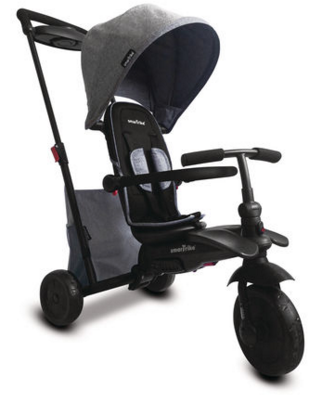 The 7 in 1 smarTrike Folding Trike provides a smooth and easy ride and effortless maneuverability. The enhanced steering system allows the trike to grow with the child. When the baby is 9 months old, the trike will be in "parent mode": the parent controls the steering much like a stroller. As the little one grows and develops, then they can learn how to steer and pedal. As they grow more comfortable, it is easy to switch from "parent mode" to "child mode" where the child can control the steering and pedals on their own.

Hi there! I am Emily Evert, the owner of Emily Reviews. I am 28 and live in a small town in Michigan with my boyfriend Ryan and our two pugs. I have a large family and I adore my nieces and nephews. I love reading memoirs, and learning about child development and psychology. I love watching The Game of Thrones, Teen Mom, Sister Wives and Veep. I like listening to Jason Isbell, John Prine, and other alt-country or Americana music. I created Emily Reviews as a creative outlet to share my life and the products that I love with others.
This post currently has 8 responses.