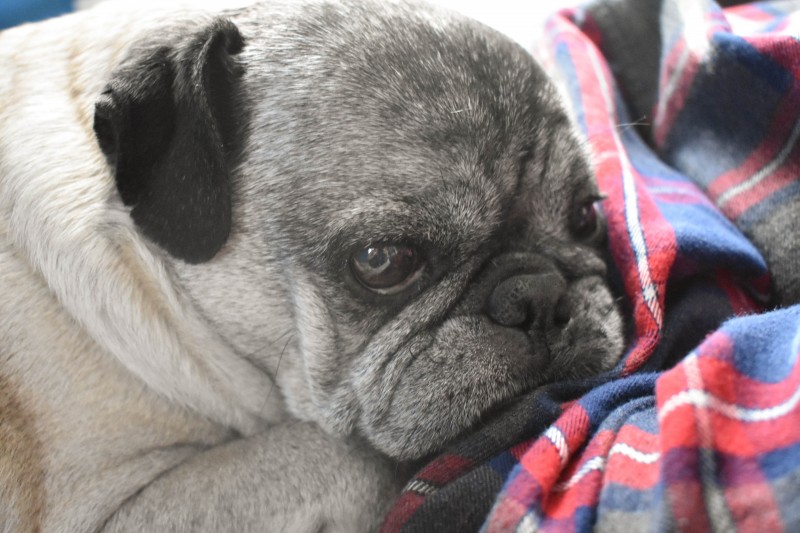 There are affiliate links in this post. I was paid for one link in this post.
I've had my pugs Frank and Beans for almost five years now. There are a few products that have really come in handy. Items that once we purchased them, we knew we were never going back to our old ways. I thought I would share our top 5 'must have' items, or top 5 product recommendations for pug owners.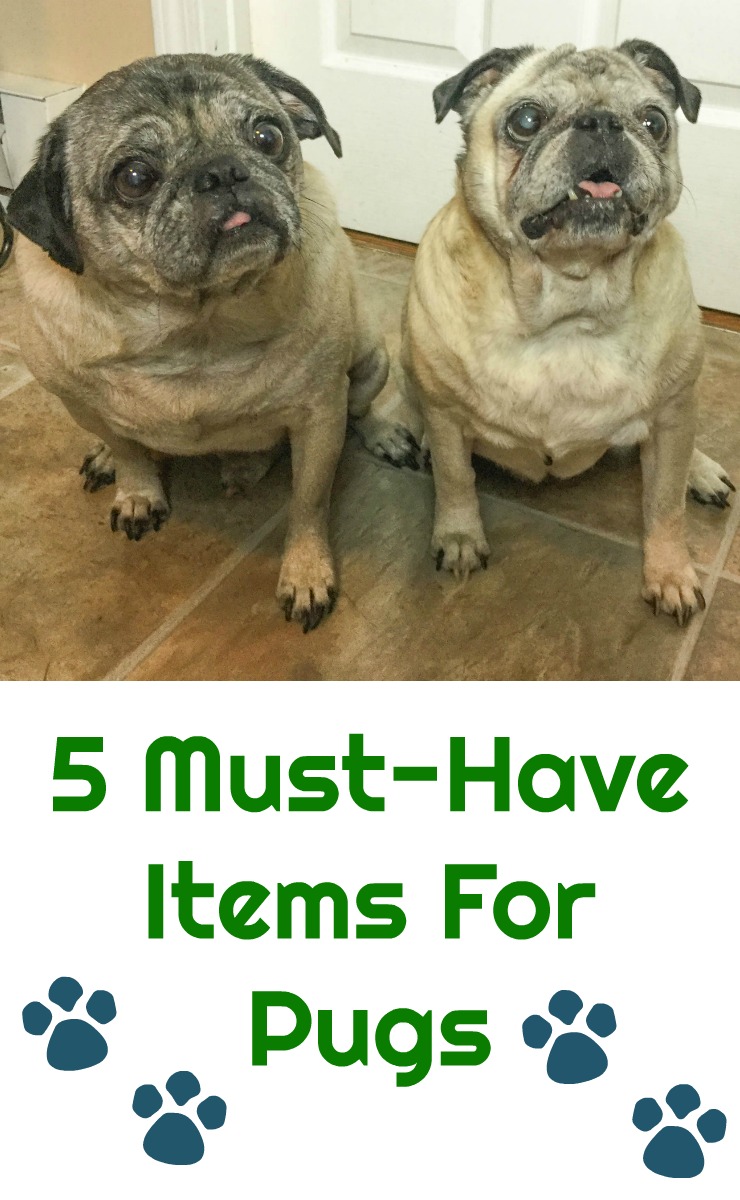 Richell Pet Stuff Organizer. This is a tall, fairly skinny stand that we leave just inside our front door. We leave a dog treat container on the top, so we can easily treat them for going potty once they are back inside.
The drawers are fully removable so you can clean them, meaning you can use the lower one for food storage if you wish. I love having a place designated for storing everything our dogs own or need. We use it for everything from flea medication, to leashes, harnesses, dog toys, nail clippers and more.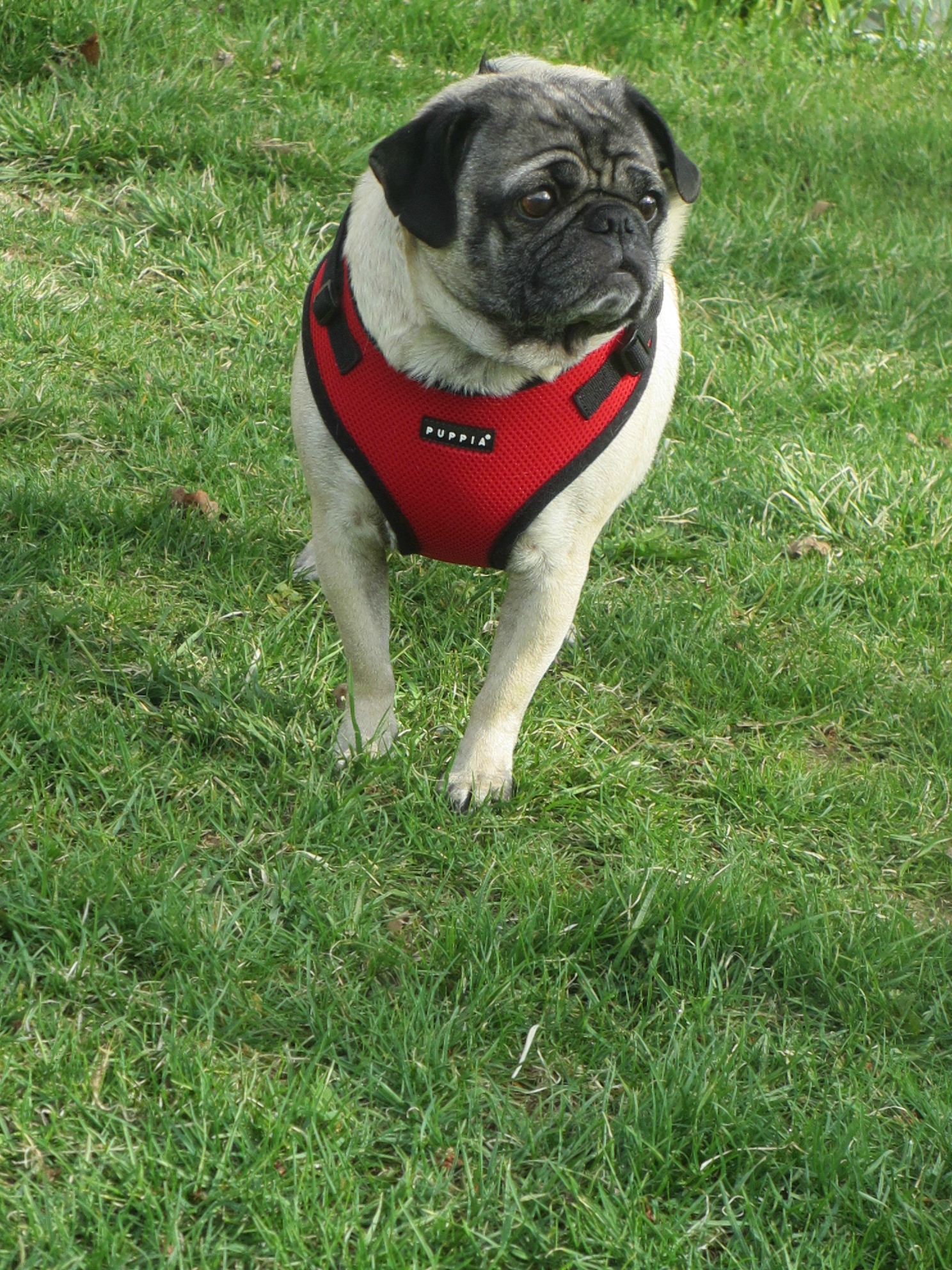 Puppia harnesses. Pugs shouldn't wear collars because they are prone to tracheal collapse, and because their necks are often thicker/wider than their heads so they pop off easily when used on a leash.
However, many strappy harnesses will rub pugs' chest or "armpit" area because they are barrel-chested. We have one puppia superior and one Puppia Ritefit, but I prefer the Ritefit as it leaves fabric surrounding the entire neck of the dog, so there is less pressure. My dogs both fit a size Large in the Ritefit.
Slow feed stainles steel bowl. My pugs love food a little too much I've heard this is common with pugs in general. We measure their food to ensure they do not over-eat, but this means the get extremely excited at meal times.
Beans tries to practically inhale the food, and will make herself choke. This slow-down bowl (we bought a size small) has worked exactly as it claims it would. It takes her at least twice as long to finish her food as it did before, and she doesn't choke.
Pet steps. We have these in the 3-step set (for our bed) and 2-step set (for our couch). We got them after our dogs were unable to jump up anymore, but they are a great item to purchase for small dogs even when they are young and healthy.
Before they lost mobility, they would occasionally jump down off the bed, or out of a vehicle and would land poorly and cause pain in a joint, we think, because they would favor one side for a while. I wish we would have gotten dog steps sooner. We tried other ones that were cheap, but they were flimsy and wobbly so our dogs wouldn't use these. They love the Mr Herzer's steps! They are truly furniture-grade.
Envision Home Microfiber Pet Bowl Mat. We tried a variety of plastic trays just to contain the water, and absorbent mats to absorb water, with not much luck at first. The plastic trays would get slimy and nasty if not washed every single day. Most of the mats we tried were somewhat absorbent, but they would slide across the floor if bumped, and if raised from the floor, we could see that the floor had not been left completely dry.
The envision home mat stays in place because it has little 'grippers' on the bottom of the mat. It is thin, but somehow is absorbent enough that I never see condensation or any water left behind when I lift the mat from the floor. It is machine washable so I just toss it in with our clothing to get it clean.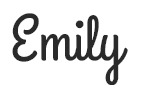 Hi there! I am Emily Evert, the owner of Emily Reviews. I am 28 and live in a small town in Michigan with my boyfriend Ryan and our two pugs. I have a large family and I adore my nieces and nephews. I love reading memoirs, and learning about child development and psychology. I love watching The Game of Thrones, Teen Mom, Sister Wives and Veep. I like listening to Jason Isbell, John Prine, and other alt-country or Americana music. I created Emily Reviews as a creative outlet to share my life and the products that I love with others.
This post currently has 12 responses.