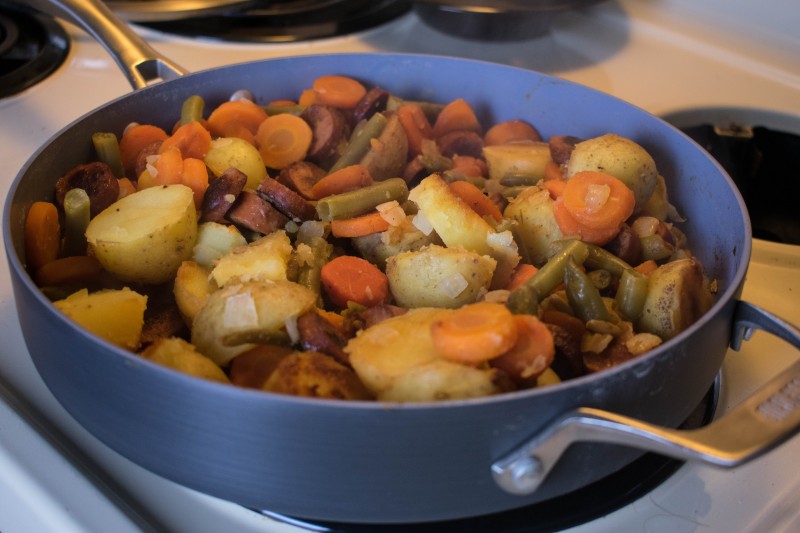 I was sent a Bialtti pan in exchange for this review. All opinions are my own.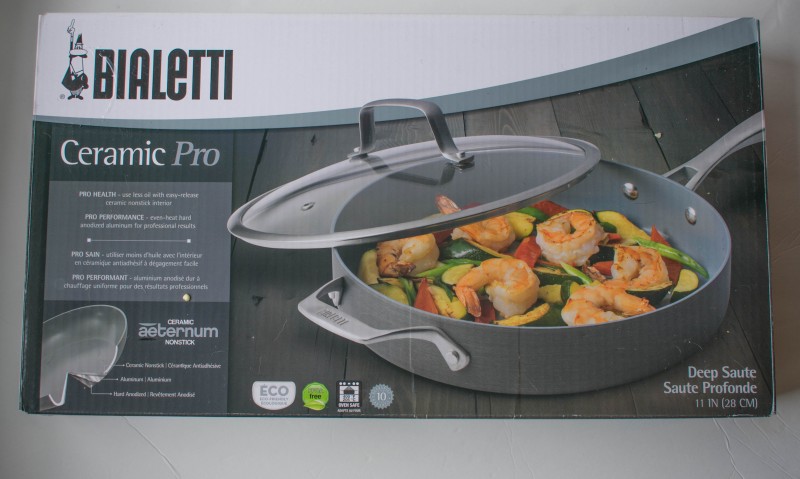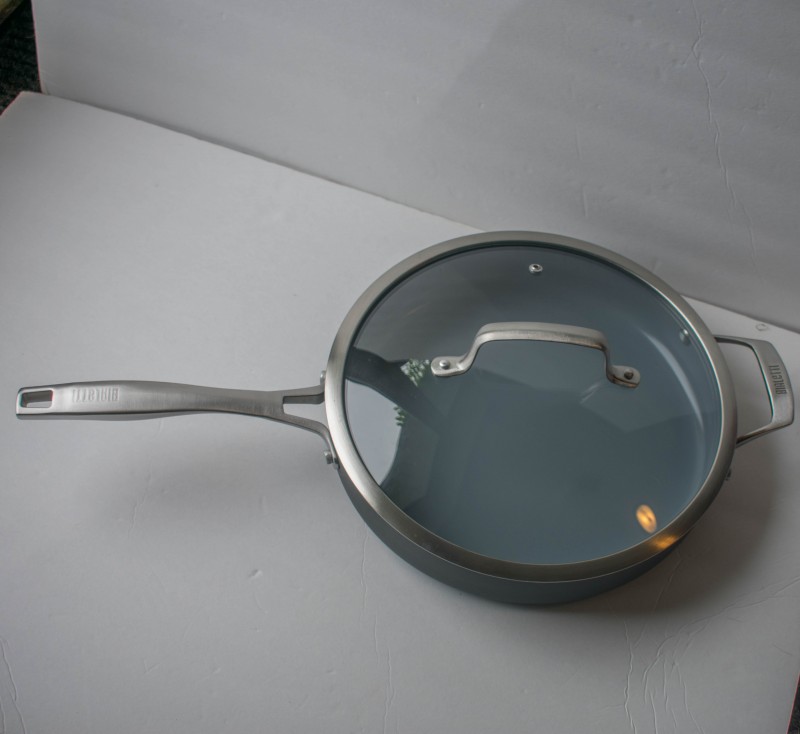 We have a few meals that I regularly make, which tend to spill over our regular frying pans. Bialetti's Covered Deep Saute pan has come to the rescue, so to speak! I've found it to be a really nice, versatile pan. It's from The Bialetti Ceramic Pro line. The bag-worthy features listed on the Bialetti site:
ceramic, nonstick eco friendly cookware
Durable hard anodized exterior for added strength.
Thick, even heat aluminum construction for superior heat distribution.
Easy-clean ceramic coating cooks beautifully.
Cast stainless steel handle goes from stovetop to oven. Riveted for security.
Oven safe to 400°F
This is an 11-inch pan making it larger than most frying pans, and of course, it has thicker sides meaning it can hold quite a lot of food at once. It is heavy, but it has a grip on the opposite side of the handle so you can use two hands when carrying it. I've used this for making fajitas, jambalaya and this turkey sausage and veggies dish that I'll share below. All of these were meals that I struggled to stir without spilling over in a typical frying pan so it's been so much more convenient to have this larger sized pan, with a lid. It does have a small vent in the lid so steam can release a bit, but the cover does a great job of keeping foods like rice as moist as they need to be to soften.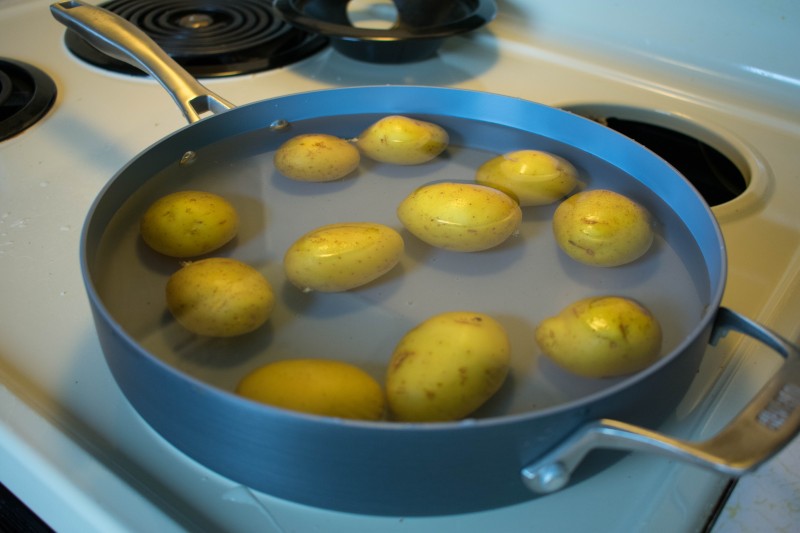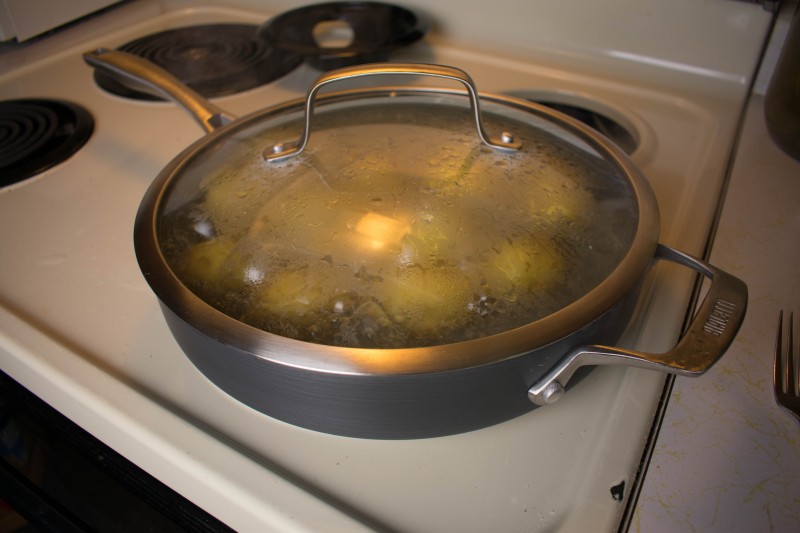 For this turkey sausage & veggie one pan meal, I started by boiling petite yukon gold potatoes in the dish. The pan is just big enough to boil these small potatoes! I boiled them for about 15 minutes until they were very soft when poked with a fork. Then I transferred the potatoes into a bowl. I cut up a regular 12oz pack of turkey smoked sausage into bite-size pieces and lined the pan with them. I let these cook for quite a while until well-browned, as my household likes well-done meat but you can cook to your preference. I flip them every 5-10 minutes or so to ensure that both sides are done evenly. Once the turkey sausage is done, cut the potatoes into bite-size pieces and add them to the pan with the sausage. I also added in green beans (1 can), carrots (1 can) and onion (1 small) at this stage. You can use other veggies if you prefer. My carrots were canned, so they were already soft. If you want to use fresh carrots you would add them in at the beginning with the potatoes so they can soften as they boil.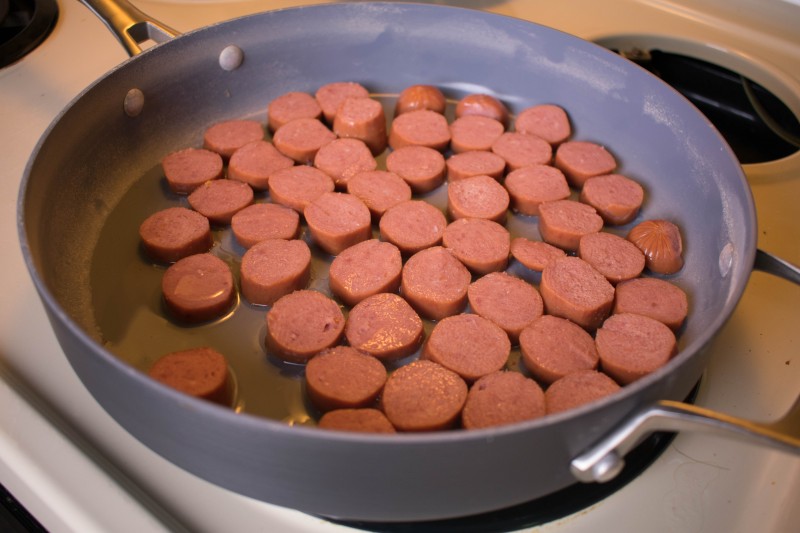 There are only two downsides to this pain in my opinion. One is, it is not dishwasher safe. It needs to be hand-washed. We don't own a dishwasher so this isn't a factor for me at all. The other is, you always want to add oil to your pan when cooking in this pan, and you should never let food dry out/burn on the pan as it may cause discoloration and be hard to get off without damaging the coating. It's recommended that you only use high heat in this pan if using it to boil because it does conduct heat so well.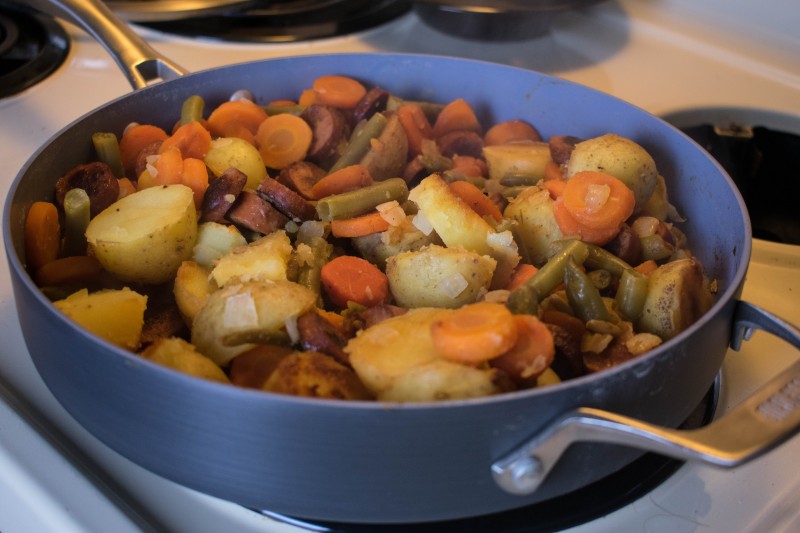 Turkey Sausage & Veggie One Pan Meal
Prep time:
Cook time:
Total time:
Easy one pan meal using turkey sausage and veggies.
Ingredients
2 tbsp vegetable oil
10-12 petite yukon gold potatoes
12oz turkey smoked sausage
1 can carrots
1 can green beans
1 onion
Instructions
Boil potatoes in water with lid on for about 15 minutes until soft when poked with a fork.
Set potatoes aside and empty pan.
Add about 2 tbsp oil to pan.
Cut turkey smoked sausage into bite sizes pieces and line the pan with them.
Heat over medium with lid on until brown or done to your liking.
Cut potatoes into bite-sized pieces and add them to the sausage pan.
Add in veggies.
Let cook with lid on until onion is soft.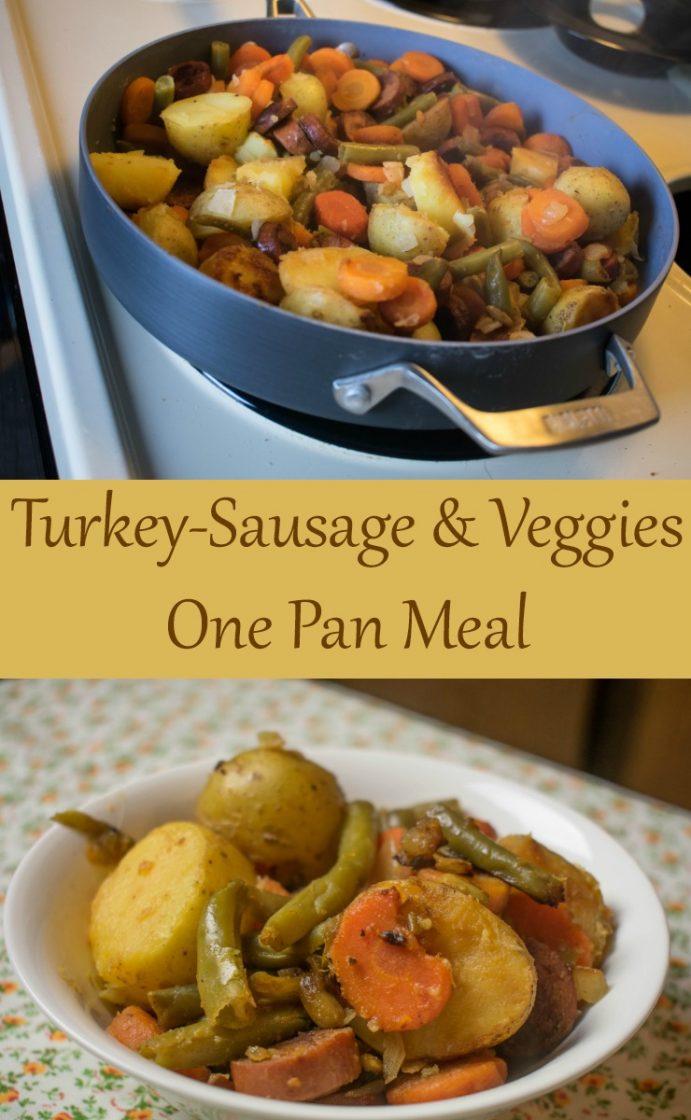 Win it: A covered deep pan saute (11 inch pan). $54.99 value. This giveaway is open to the US and will end 6/25/2018.
Hi there! I am Emily Evert, the owner of Emily Reviews. I am 25 and live in a small town in Michigan with my boyfriend Ryan and our two pugs. I have a large family and I adore my nieces and nephews. I am a calorie counter who loves soda. I budget to save money so I can spend it on my dogs. I love reading memoirs, and learning about child development and psychology. I love watching The Game of Thrones, Teen Mom, Sister Wives and Veep. I like listening to Jason Isbell, John Prine, Kris Kristofferson and Blue October. I created Emily Reviews as a creative outlet to share my life and the products that I love with others.
This post currently has 9 responses.