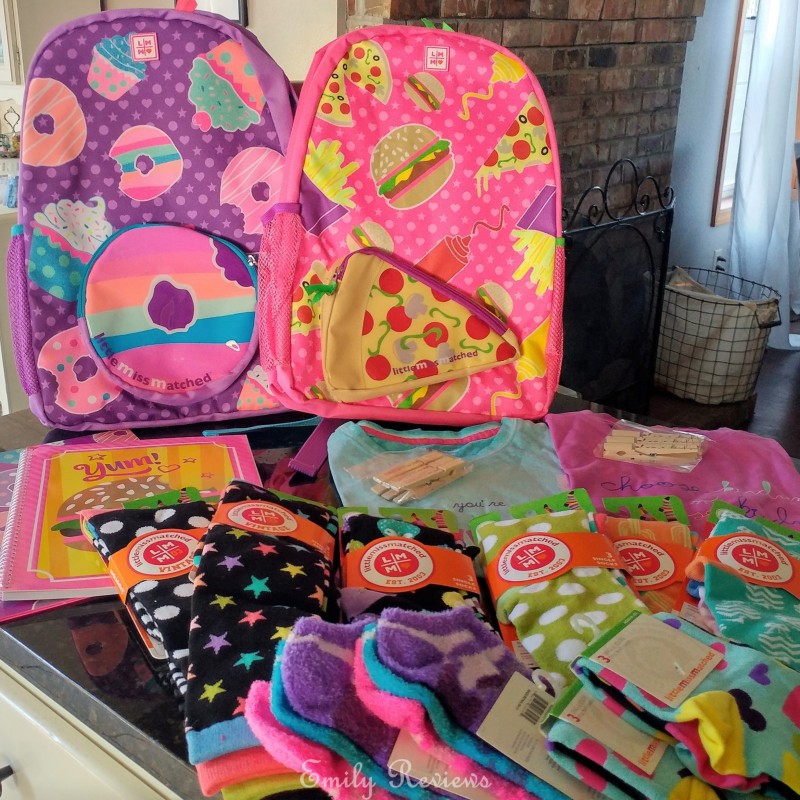 Thank you to LittleMissMatched for providing me with products to facilitate my blog review. All opinions are 100% my own.
LittleMissMatched is a brand full of excitement! Their products are colorful, meaningful, and always have playful designs. When LittleMissMatched develops new products they always focus on creating items that encourage kids to express their unique personalities. LittleMissMatched wants kids to know that they are free to be themselves.
For my review, I received an assortment of LittleMissMatched goodies including backpacks, notebooks, folders, t-shirts, and socks.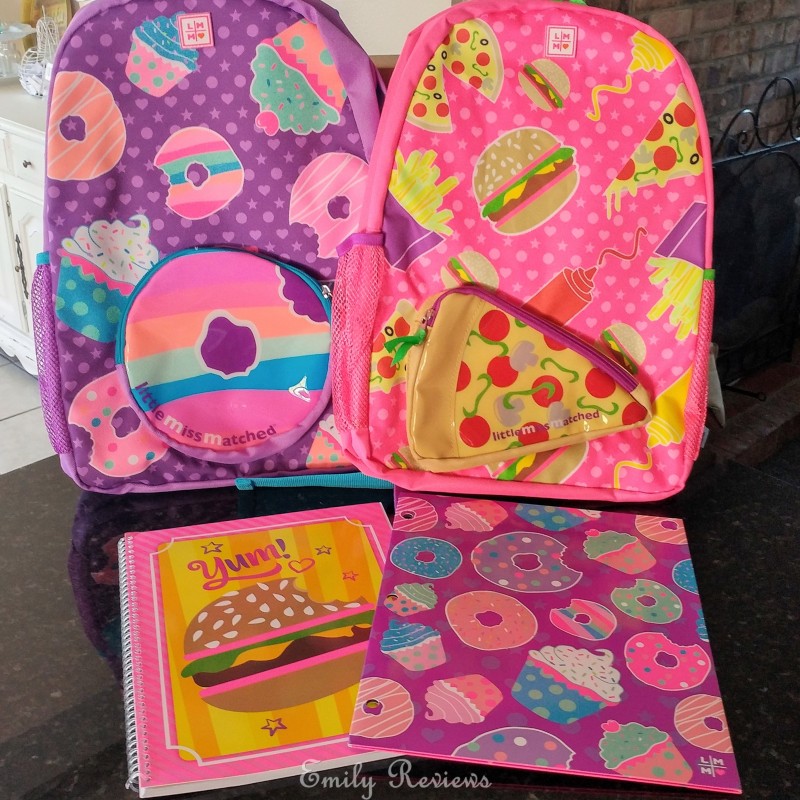 LittleMissMatched Foodie Fun Backpack and Sweet Treats Backpacks are a fun and yummy way to carry all of your school gear. These backpacks have one large compartment, two side elastic pockets, and a smaller front zippered compartment. In addition to backpacks, LittleMissMatched also offers coordinating lunch boxes, notebooks, and folders. When you carry your school gear in LittleMissMatched you are sure to make a statement!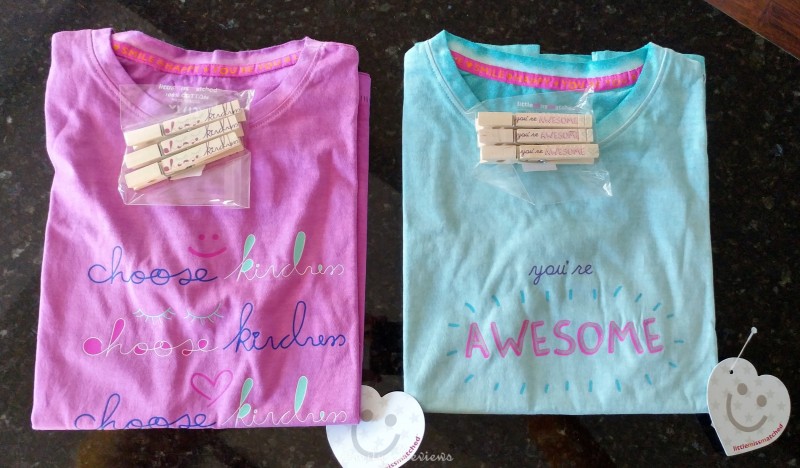 One way kids can express their distinctive personality is through their clothing. The LittleMissMatched Choose Kindness and You're Awesome t-shirts have inspirational messages on them. They also come with three free kindness pins that have the same message printed on them. These pins are great for sharing with others as a way to brighten their day.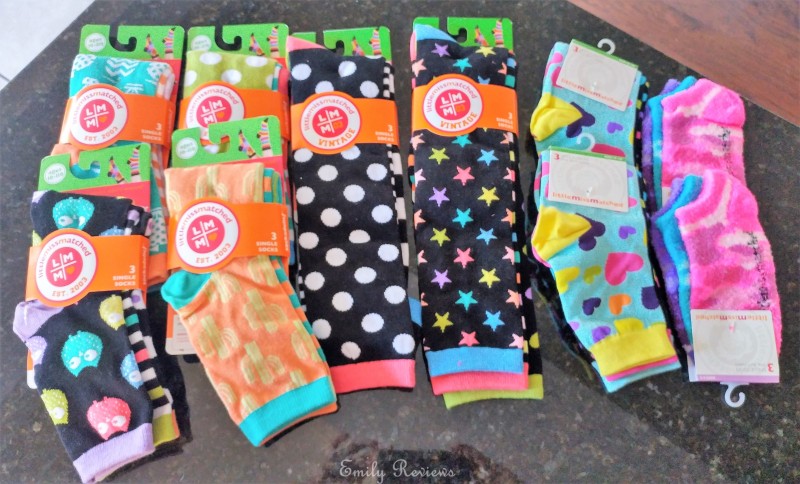 LittleMissMatched socks are also distinct in that they come in sets of three. Each of the three socks is different, yet coordinating. This gives kids the freedom to mix and match based on their mood that day. LittleMissMatched socks are not only fun to wear, but also cozy! LittleMissMatched socks come in dozens of designs and several styles.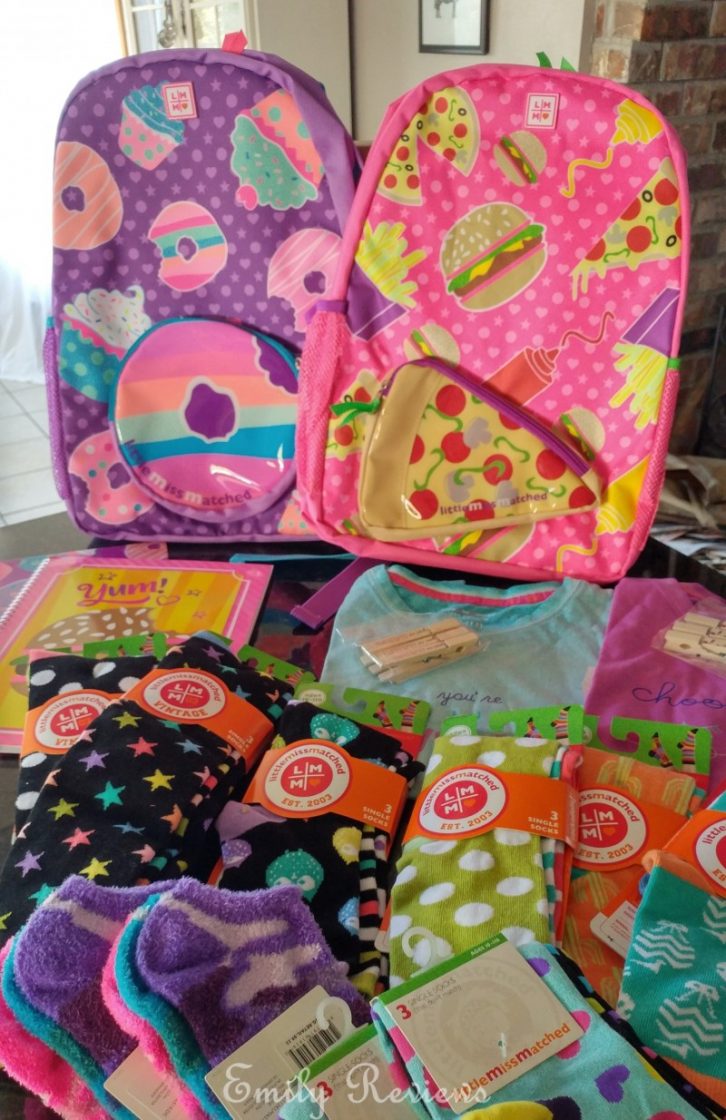 Discount: LittleMissMatched is generously offering Emily Reviews readers 15% OFF their entire order. To receive your discount, please use discount code "AF15OFF" at checkout. This discount is valid until 12/31/18. Happy shopping!
Buy It: Please visit the LittleMissMatched website to see the great selection of products they offer and convenient shopping locations.
Connect: Don't forget to follow LittleMissMatched on Facebook, Twitter, and Pinterest for the latest product announcements and special offers.


Hello, my name is Laurie. My family and I live near the Oregon coast. When we aren't at work, in school, or on the volleyball court, we enjoy traveling, cheering for our favorite sports teams, playing outdoors, and checking off items on our bucket list. We are lucky in that both sets of our parents, as well as our siblings and their families, live within an hour of us. We get together often to help one another out, celebrate milestones, and go on adventures together.
This post currently has one response.