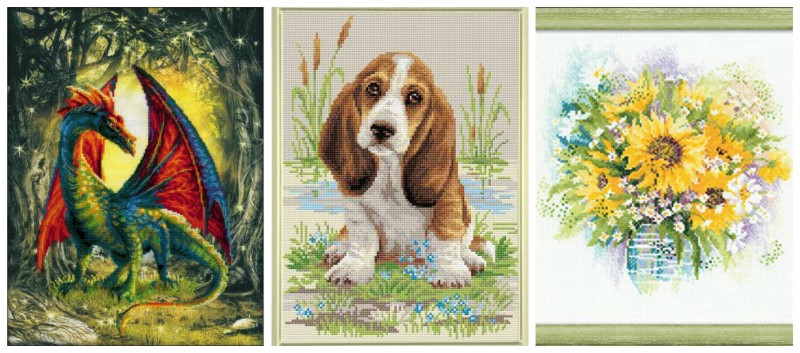 Thank you RIOLIS for sending products for my gift guide. All opinions are my own.
Sometime over the summer I started noticing that several people who I follow online had taken to cross stitch. Since then, I feel like I've been noticing it all over the place. I think it's currently a trendy hobby. Back in August I decided to give it a try. I found it enjoyable but also calming or stress relieving. I enjoy a variety of crafts, but I can't draw to save my life. Part of why I enjoy cross stitch is, there is no drawing-like skills required.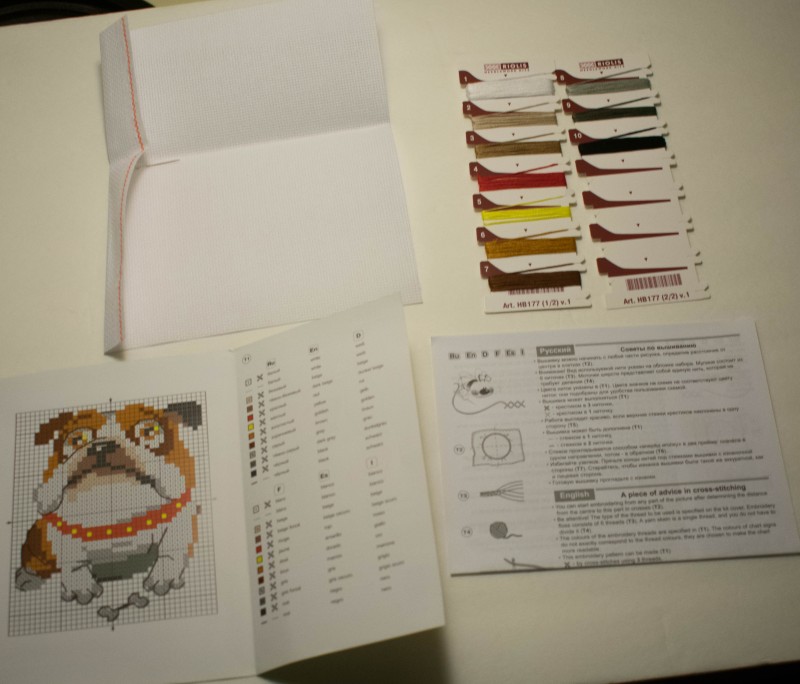 Here is what comes in each RIOLIS cross stitch kit. Instructions, the pattern guide, AIDA fabric to stitch on, and thread divided by color. Each kit contains one needle but I'd recommend buying your own cross stitch needles. I find it far easier to have several needles, so I can keep multiple thread colors threaded at the same time, allowing me to quickly switch between colors.
RIOLIS even offers small kits that work well for beginners, whether the newbie is a child or an adult. I did their HB177 English Bulldog kit in my spare time over two weekends. The finished piece is just 5″ by 5″. This was my fifth ever cross stitch project, and only my second-time doing backstitching, yet my completed piece turned out well I think. My biggest fear with using a pre-made kit was running out of thread. They send you a set amount per color. On occasion, I may get a knot and have to cut off some excess thread. That happened two or three times while I was working on this kit, but I still had plenty of leftover for each color. RIOLIS was generous with sending plenty, so no need to worry about running out.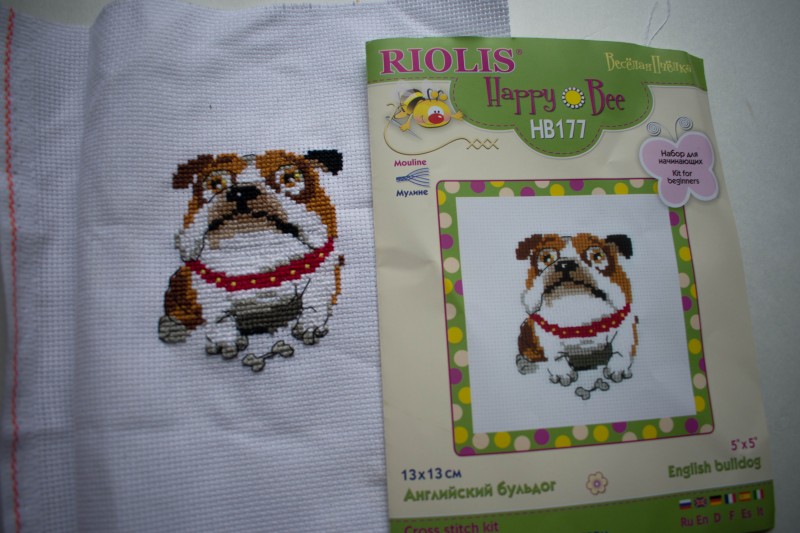 My finished piece on the left.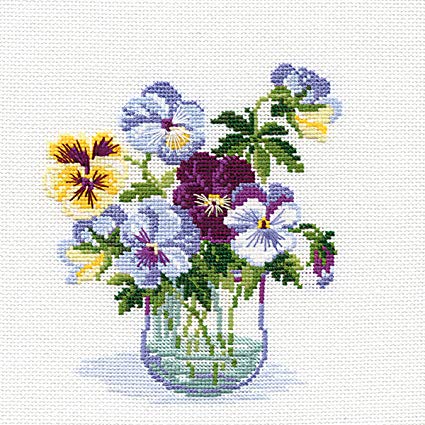 Just this past weekend I started a second RIOLIS cross stitch kit, though I haven't gotten very far. The 825 Panties cross stitch kit is bigger yet still on the smaller side, at 7 3/4 by 7 3/4″. This kit calls for two strands for most of the kit. Typically, cross stitch floss has to be unrolled to reveal 6 smaller strands that make up the larger group of threads. Most patterns recommend using either two or three strands when completing most of the cross stitches, but using just one thread for backstitching. This kit is a 2-strand kit, and I was surprised to find that it sends the thread already grouped as 2-strand, no unrolling or separating required. So far, I'm really liking this kit as well.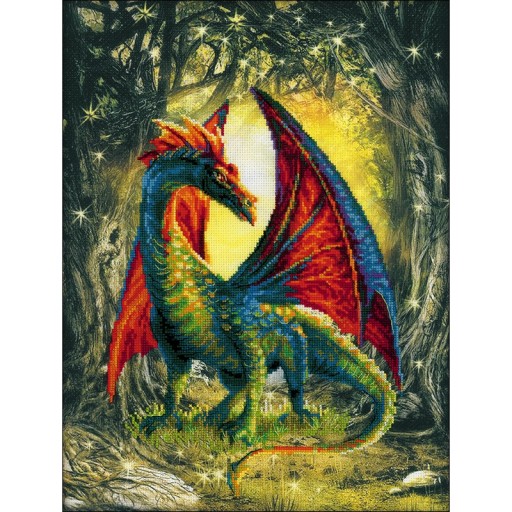 RIOLIS offers cross stitch kits for every skill level. They offer some pre-printed background kits like their 0057 PT Forest Dragon kit. This has a finished size of 11 3/4 by 15 3/4, making it quite a bit bigger than the other two kits I've discussed so far. However, the background is all pre-printed, while the dragon itself is the portion that is cross-stitched. This is a neat way to complete a bigger piece without doing as much work.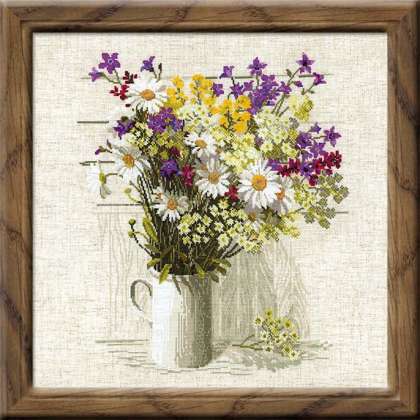 Or if someone on your list enjoys big projects, 924 Wildflowers is a 17 3/4 X 17 3/4 kit without a pre-printed background, so this whole look is made by you. I want to get more practice before starting this kit, but I like how it has flaxen aida cloth instead of white aida cloth for the background, I think it really adds to the somewhat rustic feel of the design.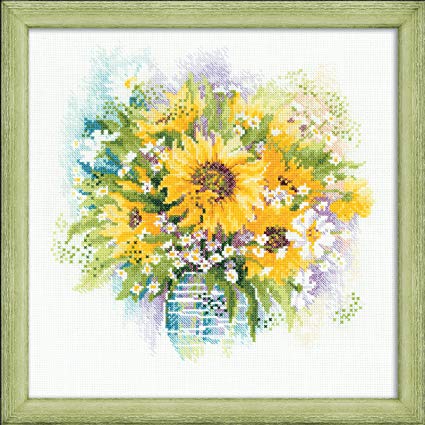 RIOLIS also offers premium cross stitch kits. These are more expensive kits because they include higher-end aida fabric and higher-end floss. I was sent the 100/007 SunFlowers kit which is a premium one. I haven't opened this up yet to see the difference in the materials but when I do I'll post about it on my Instagram so follow me there if you want updates as I finish all of these kits.
If you went through these photos and thought there are too many flowers, please know that is just my own style. RIOLIS offers cross stitch kits in all sorts of themes and designs. From adorable animals, to nature scenes, to still-life, to fantasy and more. You'll definitely find some kits that suit your personal style!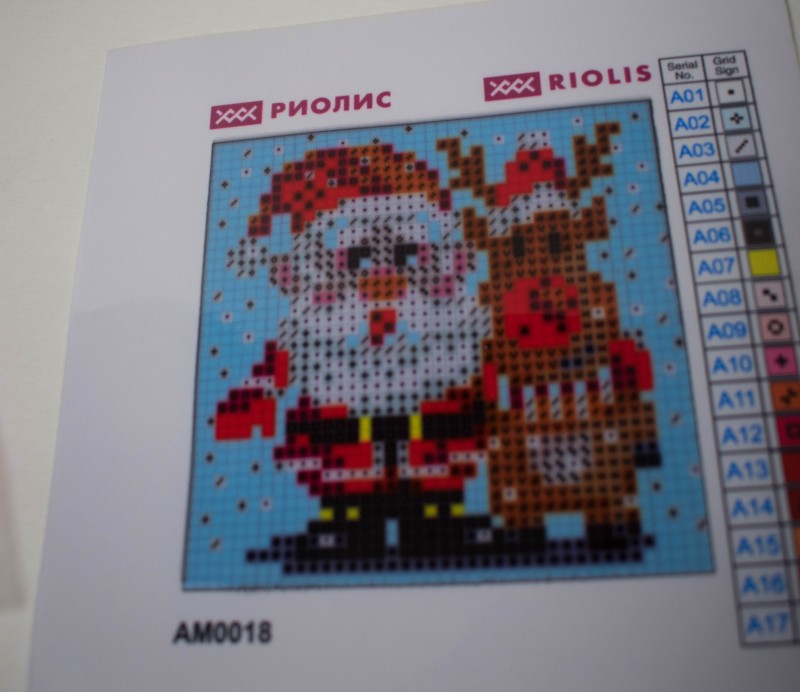 The diamond mosaic kit before I got started. (Above). Below is after I added diamonds to everything except the blue spots.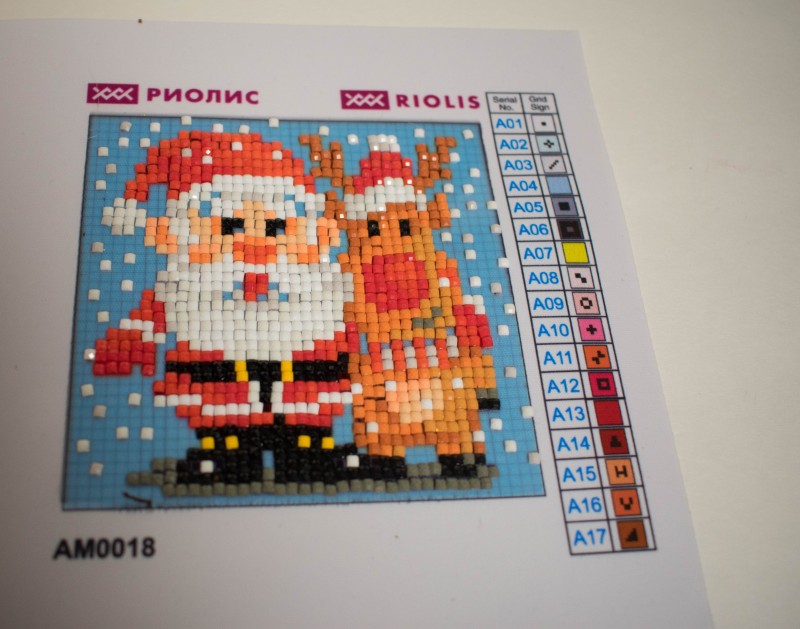 I follow the cross stitching subreddit and I saw that a lot of people who enjoy cross stitching also enjoy a craft often referred to as diamond painting. RIOLIS offers Diamond Mosaic kits in all sorts of designs. These kits include small "diamonds" in many colors. They do seem a little bit similar to cross-stitch patterns, in that they are a grid-based design. In these diamond mosaic kits, each piece in the grid is the exact size of a diamond. The pattern photo comes with a protective sheet over it, and the top of the photo is adhesive. The kit includes tweezers (Far larger than the ones you may use on your eyebrows) to help grasp diamonds and place them precisely where they belong on the grid. The adhesive is pretty strong, but if you accidentally drop a diamond incorrectly, you can still pull it back up if you have to. More often, I would get close, but the diamond wouldn't be perfectly within the intended cell of the grid so I would just nudge it from one side or the other with the tweezers. At least, I used the tweezers. The kit also comes with something that looks like a pen but is missing the writing piece, and some wax. If you prefer, you can use that tool to dab the wax to make the utensil sticky, and then grab diamonds and place them that way. I found the tweezers easy to use, so I left the wax and another utensil unused. I opted not to fill in the background which is quite a lot of the overall design, but this kit took me somewhere around 2.5 hours for this Santa Claus mosaic which is 4×4. For every color that I used, I had plenty of leftover diamonds in each which is a relief because these diamonds are quite small so they are easy to lose. This kit was a good way to try out diamond mosaics, but it would work great for a kid if they are into crafts and mature enough to enjoy sitting for gaps of time focusing on a single project. I think I would have enjoyed this by the time I was in middle school or so.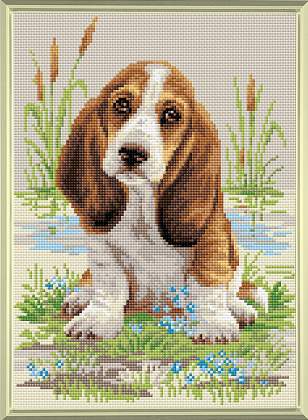 RIOLIS also offers much larger diamond mosaic kits. This Basset Hound Puppy Diamond Mosaic Kit is 10 3/4X 15, making it a great piece to make and then frame to hang on the wall. Like their cross stitch kits, their diamond mosaic kits come in a wide range of designs so you're sure to find an image that you like the looks of.
RIOLIS sells products worldwide. Here in the US, RIOLIS products can be found in Hobby Lobby stores.
Win it: RIOLIS is offering a giveaway for any one cross stitch kit. Whoever wins will get to select their favorite kit from their current catalog! This giveaway is open worldwide and will end at 11:59pm EST on 12/27.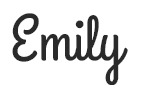 Hi there! I am Emily Evert, the owner of Emily Reviews. I am 28 and live in a small town in Michigan with my boyfriend Ryan and our two pugs. I have a large family and I adore my nieces and nephews. I love reading memoirs, and learning about child development and psychology. I love watching The Game of Thrones, Teen Mom, Sister Wives and Veep. I like listening to Jason Isbell, John Prine, and other alt-country or Americana music. I created Emily Reviews as a creative outlet to share my life and the products that I love with others.
This post currently has 11 responses.