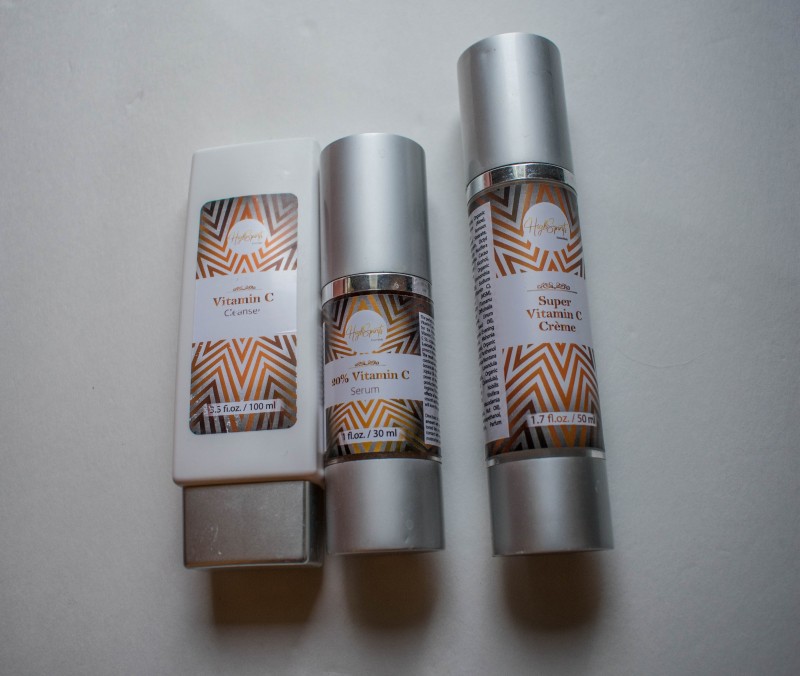 I was sent the HighSpirits 3 piece vitamin c skincare kit for review. All opinions are my own.
One of my goals for 2019 is to finally learn makeup. I kinda missed the boat on exploring cosmetics in middle and high school. My youngest sister is currently 15 and she has way more makeup skills than I do even though I am 27! I'm not someone who wants to wear a full face of makeup all the time, but I wish I knew how t do a full face of makeup well for special occasions and had nice everyday casual looks too.
One of my biggest struggles with makeup is foundation and I came to realize a big part of getting foundation to look nice is having nice skin. My skin, particularly my forehead, was rather dry and that makes foundation look rough. So learning a basic skincare routine got added to my list.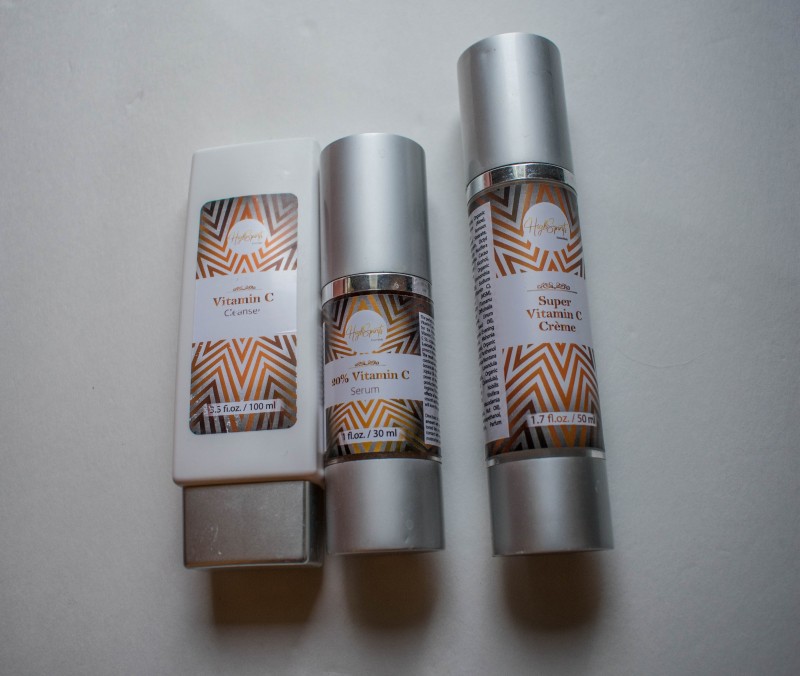 During that time of the month I sometimes get a pimple or two, which wouldn't be a big deal except for how the area can stay red for weeks or even months after a blemish. I have sensitive skin that is prone to discoloration. I had tried some low-cost facial moisturizers a couple of years ago but they gave a burning sensation to my skin despite saying they were formulated for sensitive skin. I was eager to try something higher-end (you get what you pay for!) and more natural so I turned to HighSpirits.
The HighSpirits Essentials 3 piece skincare essentials set is formulated with organic ingredients, vitamin C and sunflower oil. It is recommended for all skin types and aims to promote an even skin tone and to help decrease fine lines. The set includes a cleanser, a serum and a cream. The cleanser has a squeezable bottle but it comes out slowly to help remind you that you don't need much. I use about a pea size amount each time I wash my face. It comes out clear but when you rub it between your hands it turns white and foams up just a tiny bit. I have no burning or tingling sensations from this cleanser, it just cleans without feeling like it's doing anything crazy to my skin.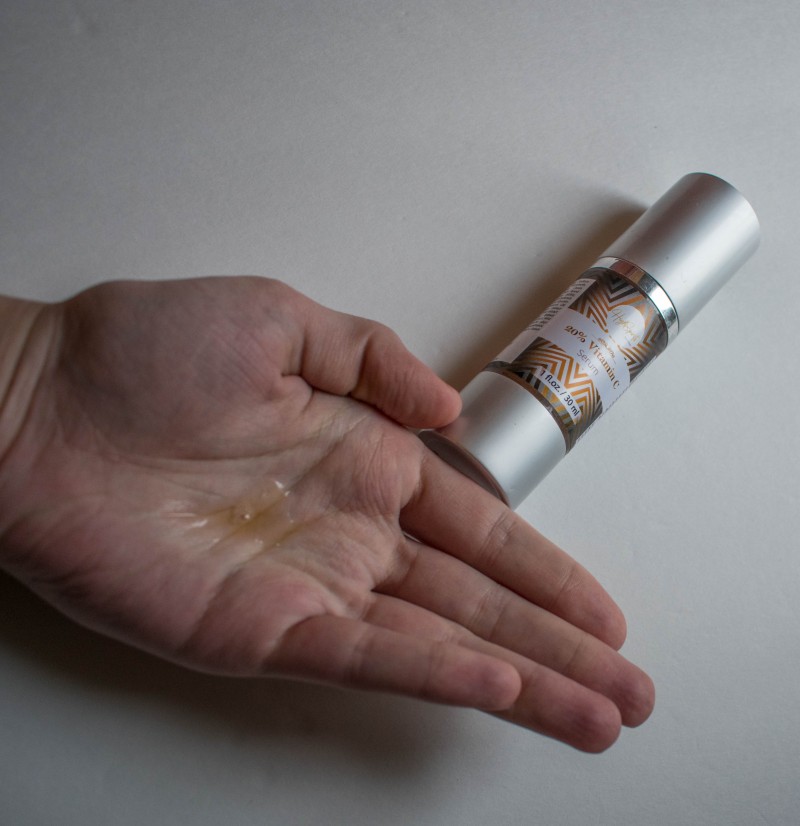 Next up is the serum. This comes in a pump dispenser that squirts out just a teeny tiny bit of liquid. This is a very thin serum, it has the consistency of water. It should be applied in a circular motion and you should be careful to avoid your eyes. The bottle says to be careful of your eyes but I got too close one day and my eyes got a little irritated. So be sure to listen to the bottle!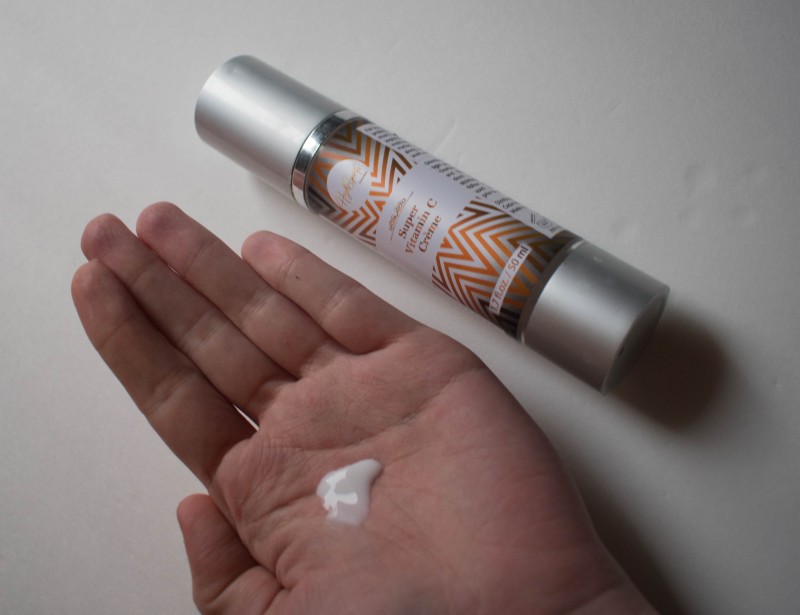 The creme is white and quite thin but not as much as the serum. This also comes with a pump to help you get the right amount out, and it goes on in a circular motion.
I've found all of these products simple to use and none of them irritate my skin. It's too early to know if they are helping with discoloration or not, but I can definitely tell that my skin is more moisturized. I had gotten so used to my skin being dry that I wasn't conscious of it for hte most part. I knew my forehead was a little dry, but I thought the rest of my face was pretty normal. Now I can tell that my whole face was dry, and my forehead was extremely dry. My skin just feels so much better. I haven't had any issues with acne so far either. So, I have only positive things to say about this skincare routine!
Check out HighSpirits for these skincare products, other skincare products and cosmetics!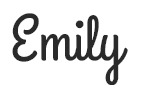 Hi there! I am Emily Evert, the owner of Emily Reviews. I am 28 and live in a small town in Michigan with my boyfriend Ryan and our two pugs. I have a large family and I adore my nieces and nephews. I love reading memoirs, and learning about child development and psychology. I love watching The Game of Thrones, Teen Mom, Sister Wives and Veep. I like listening to Jason Isbell, John Prine, and other alt-country or Americana music. I created Emily Reviews as a creative outlet to share my life and the products that I love with others.
This post currently has 9 responses.