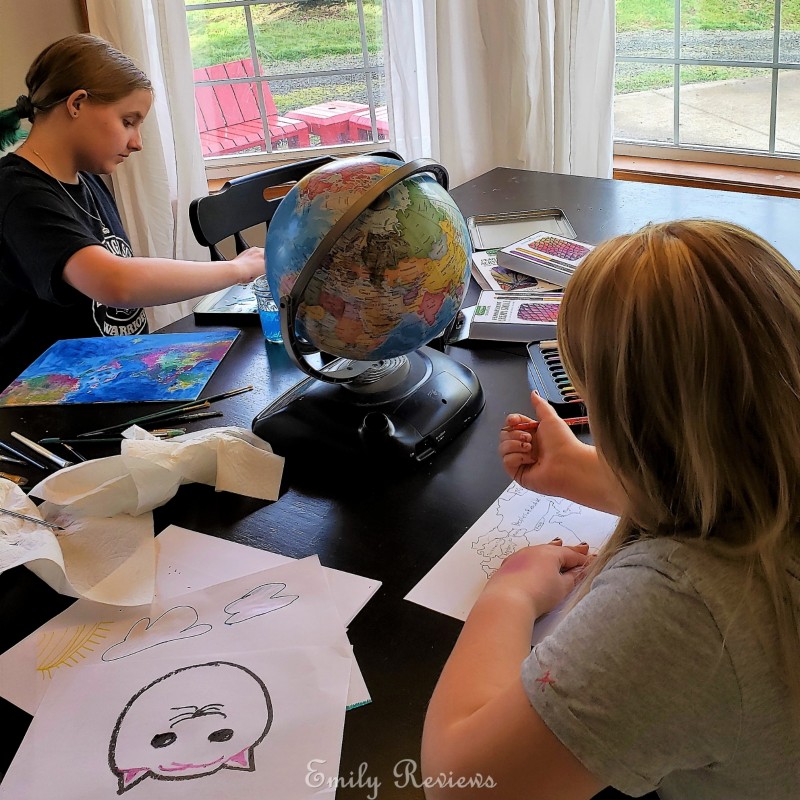 Thank you to Crayola for providing me with products to facilitate my blog review. All opinions are 100% my own.
Crayola recently released a new line of premium art products in their Signature Series. The products in this series were designed to allow artists to produce detailed artwork.  With the products in this series, artists can easily color blend, shade, and create layers of colors. The Signature Series includes four fun kits- Signature Pearlescent Acrylic Paint, Signature Pearlescent Cream Sticks, Signature Pearlescent Paint Markers and Signature DIY Gallery Designers.
My daughters and I received the Signature Pearlescent Acrylic Paint, Signature Pearlescent Cream Sticks, and Signature Pearlescent Paint Markers for review.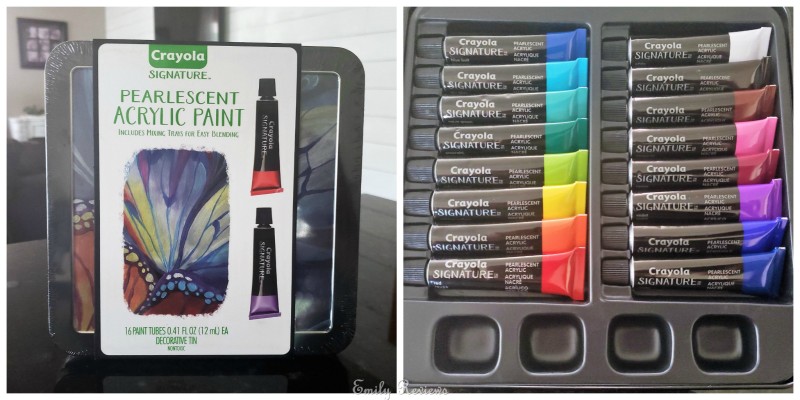 The Signature Pearlescent Acrylic Paints contain multidimensional pigments. They are vibrant colors with a fun shimmer. The Acrylic Paints set comes with 16 rich paints and a paint mixing tray.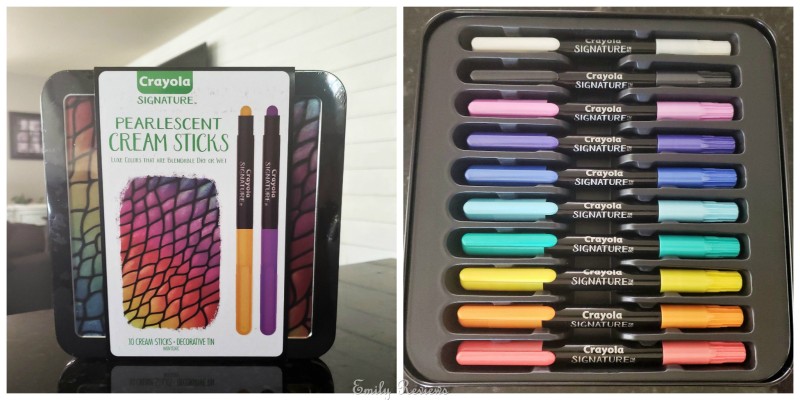 Signature Pearlescent Cream Sticks come in 10 pearlescent colors. They have a-pen style casing with a twist up core. As you use the Cream Sticks, simply twist to expose more product. The casing keeps the stick color from rubbing onto your hands.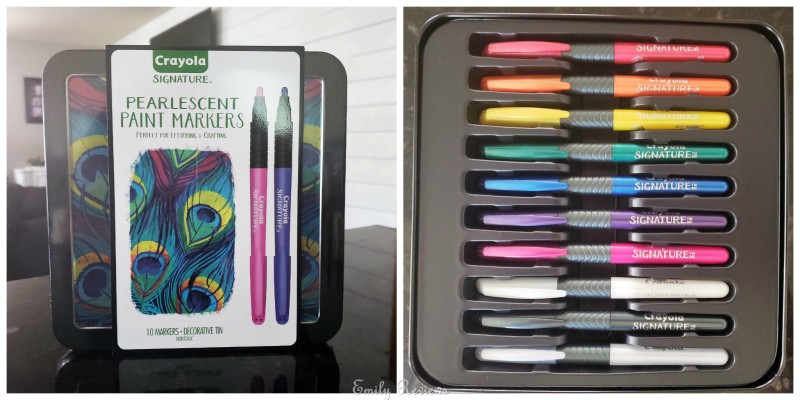 Signature Pearlescent Paint Markers allow you to paint without the mess. The Paint Marker set comes with nine pearlescent permanent markers and an iridescent marker. The Paint Markers can be used on a variety of surfaces and dry quickly.
We had a rare Saturday without plans. The girls gathered the Crayola Signature Series kits, paint brushes, paper, canvases, and a world globe. They set up shop at our dining room table and had fun playing with everything. Judging by the sounds coming from the dining room, they were really enjoying the products.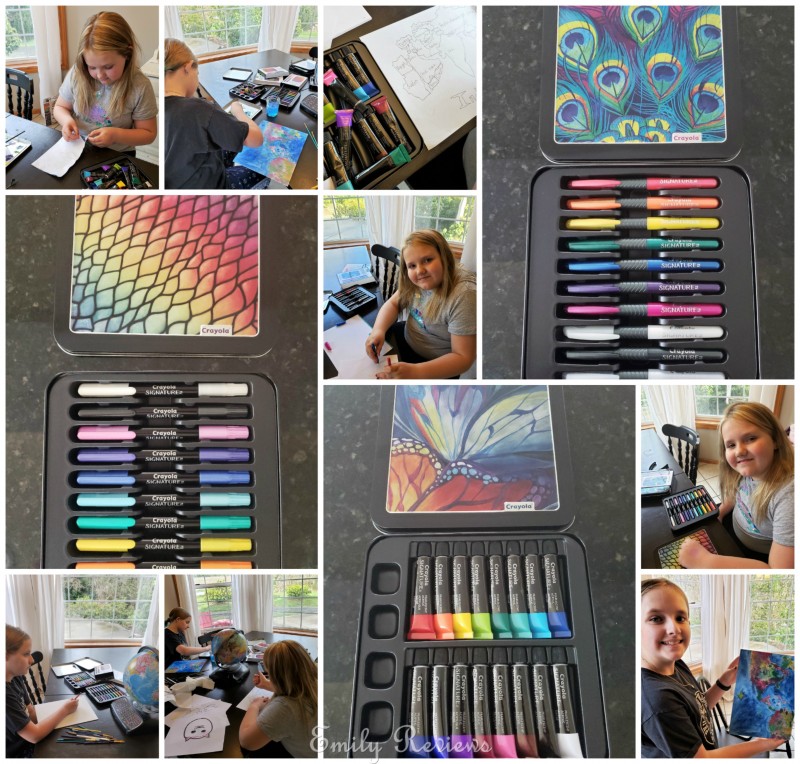 Here is what they had to say about the Crayola Signature Series kits.
"Colored pencils, markers, and crayons are fun to draw with, but Cream Sticks and Paint Markers make your artwork come alive. The Paint Markers took a bit of time to prime them, but they worked really well and gave out a lot of colors. The Cream Sticks are really good when you want to blend colors. I love using these because they are different from other coloring tools." Cheyenne, 10 yrs old
"The Crayola Cream sticks and Acrylic Paints disperse very vibrant colors to plain paper. Cream Sticks, hence the name, are almost like a melted crayon. They simply glide across the paper and leave a shimmery iridescent trail. Similar to the Cream Sticks, the acrylic paints blend nicely together for abstract art pieces. Crayola Definitely lets your creativity run wild." Savannah, 12 yrs old
Each of the Signature Series kits come in a beautiful tin case. The case is perfect for storing your supplies as well as transporting them.
Buy It: Please visit the Crayola website to see the great selection of products they offer and convenient shopping locations.
Connect: Don't forget to follow Crayola on Facebook, Twitter, and Pinterest for the latest product announcements and special offers.


Hello, my name is Laurie. I have been married to my husband for 14 years. We have two young daughters, ages 11 and 13 years old. My family and I live in Oregon so that means we are just minutes from the beach, mountains, and desert.  We love it here and try to spend as much time outdoors playing as we can. When we aren't outside playing, I enjoy reading, gardening, refinishing furniture, and other crafts.
This post currently has 7 responses.