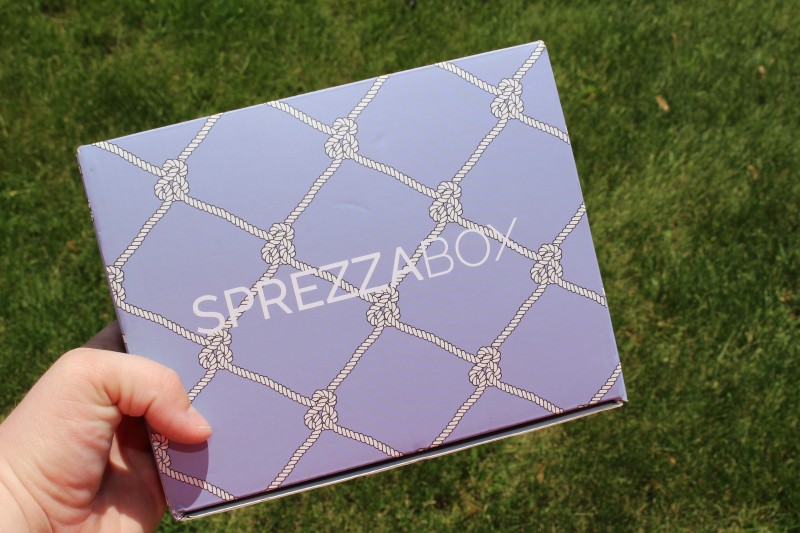 Thank you to SprezzaBox for sending product for review in exchange for my honest opinion.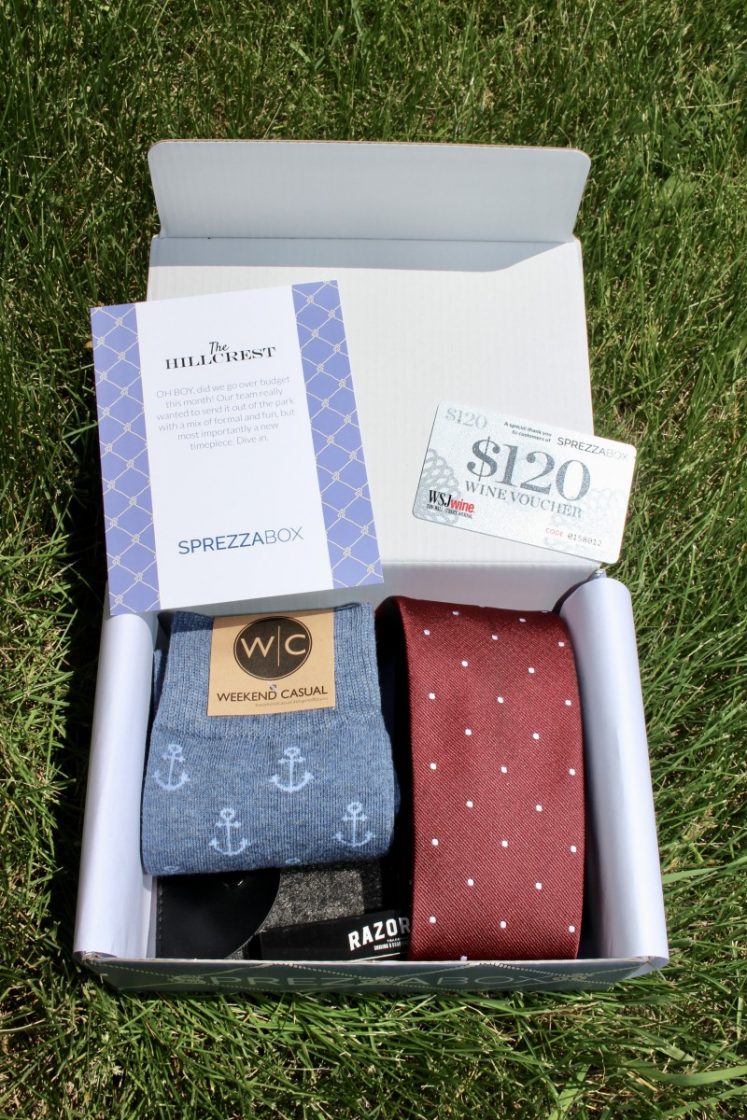 My husband has had a SprezzaBox subscription for over six months now. At this point, what does he think?  He likes that the boxes generally have a theme and the items are cohesive. Some of the themes haven't been his style, but he has tried some of the items that were out of his comfort zone and has been pleased with them. Other items he has gifted to his brothers who are more 'hip' than he is.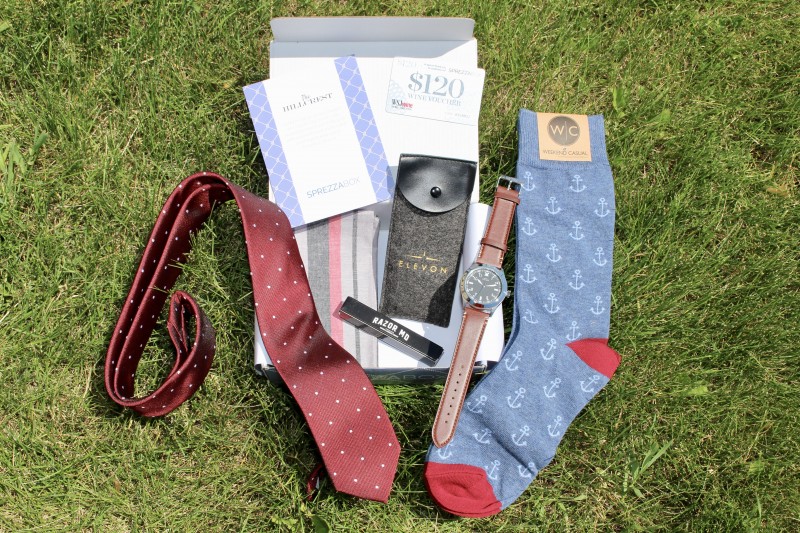 This month he was very pleased with the items in his SprezzaBox. It was called the Hillcrest and it included:
~ Tie from SPREZZA. This burgundy dotted tie will compliment any shade of gray, a blue or black suit. This color is very 'in' right now as I have seen it used in many weddings lately. Retail is $25.
~ Socks from Weekend Casual. These fun anchor socks will make any guy the captain for the day! Retail is $10.
~ Pocket Square from Ainsley & Troupe. This bold piece is made of a thicker material, perfect for a classic fold. Retail is $22.
~ Tweezers from Razor MD. Good tweezers are definitely a necessity and my husband (although he would never admit it) is known to steal mine! Perfect for splinters, grey hairs or stray hairs, these will keep him well-kempt.  Retail is $19.99.
~ Watch from Elevon. This watch is high quality for the price. It is water resistant and comes with a one-year warranty. It is really stylish and my husband's favorite item this month. Retail is $105 (this item alone made this month's box worth it!)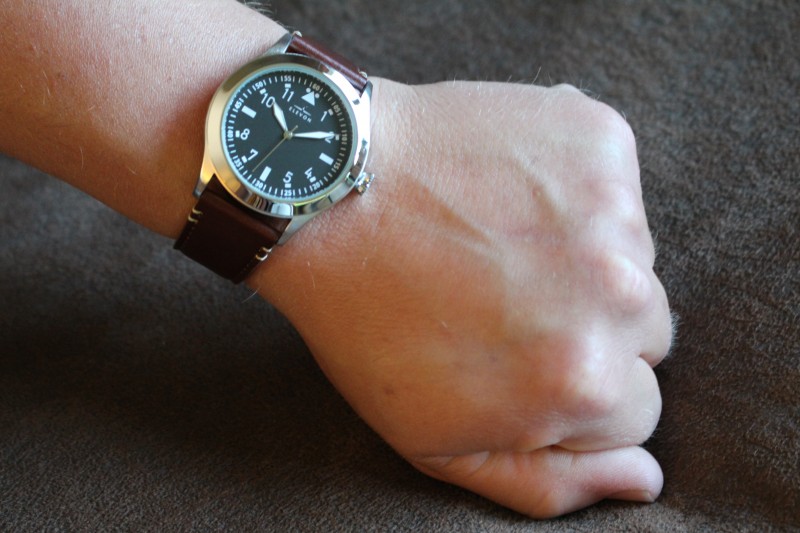 This was the highest value SprezzaBox we received to date. Retail value for all products was $181.99. SprezzaBox promises a value of at least $100 per box for just $28 a month. This month was truly a great value!
If you do subscribe to SprezzaBox and receive something that's just not for you be sure to check out subswap.com to trade products from your subscription boxes with others!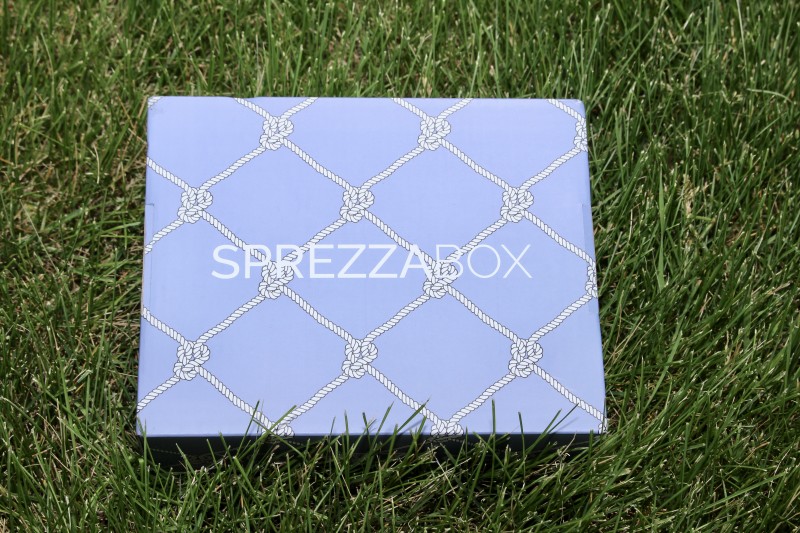 Tell me in the comments – have you tried SprezzaBox yet?
Buy It: Head over to SprezzaBox to see for yourself the great selection of products they offer.
Connect: Don't forget to like them on Facebook, follow them on Twitter, Pinterest, and Instagram for all the latest news and promotions.


Hi, my name is Asha. I am 31-years-old and am a nurse by profession. My husband and I have been married for over five years and together we have a sweet four-year-old daughter, a one-year-old son, and a lovable bunny named Caramel. I enjoy spending time with family, taking photographs, scrapbooking, hunting, fishing, cooking and gardening.
This post currently has 2 responses.