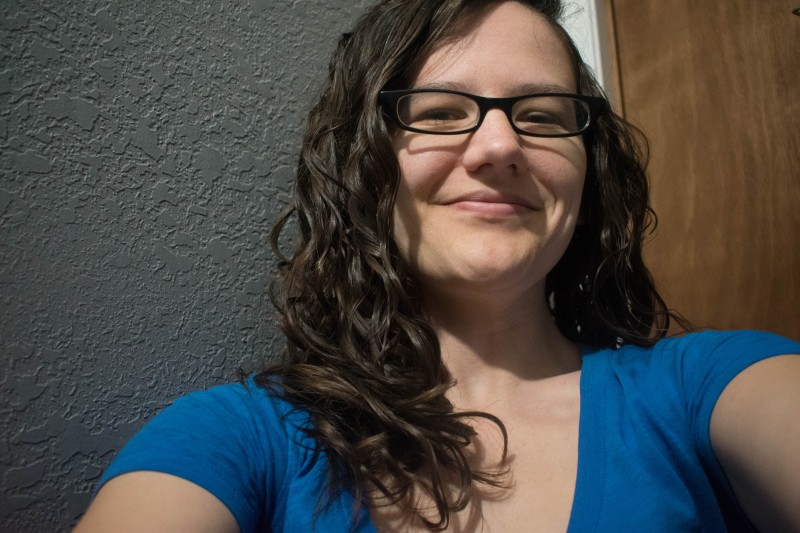 There are affiliate links in this post.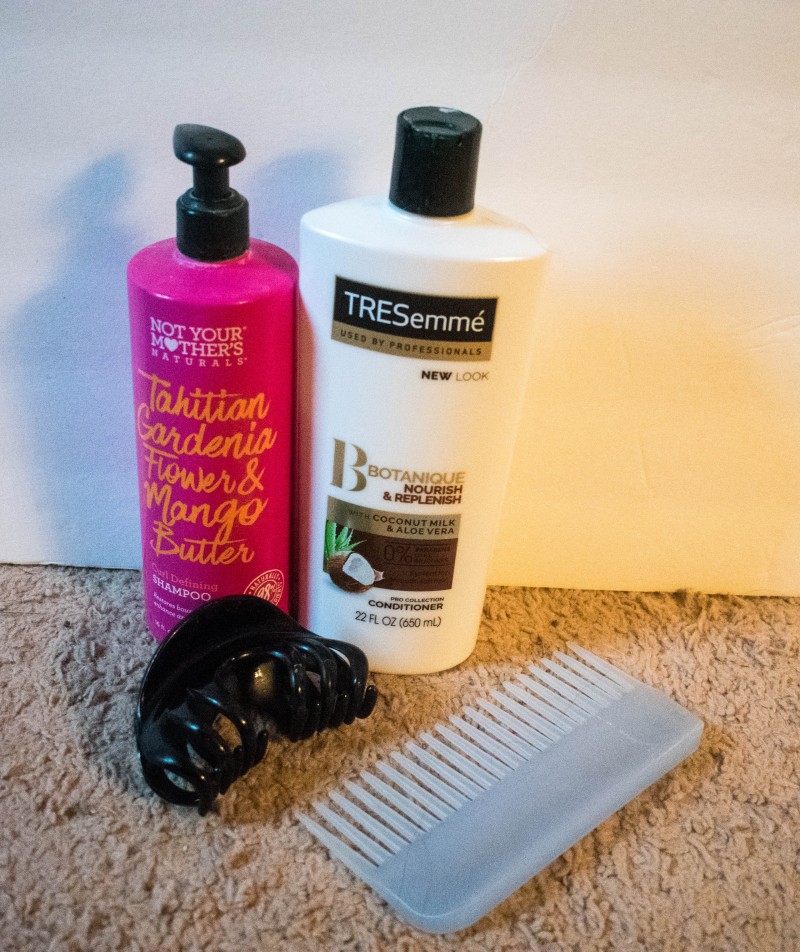 When you start looking up the curly girl method it can seem to get complicated fast. Some people who follow the curly girl method use a LOT of products on their hair every day. I've always preferred as simple routine so I've tried to keep my curly girl method routine simple as well. I've tried to keep it affordable as well. I'm happy to pay for higher quality products if I see benefits from them, but if I can get the same benefits from a lower end product I'm going to save the money.
I've been following the curly girl method about 18 months now and here is what my 2b/2c/3a Wavy Curly Hair Routine looks like!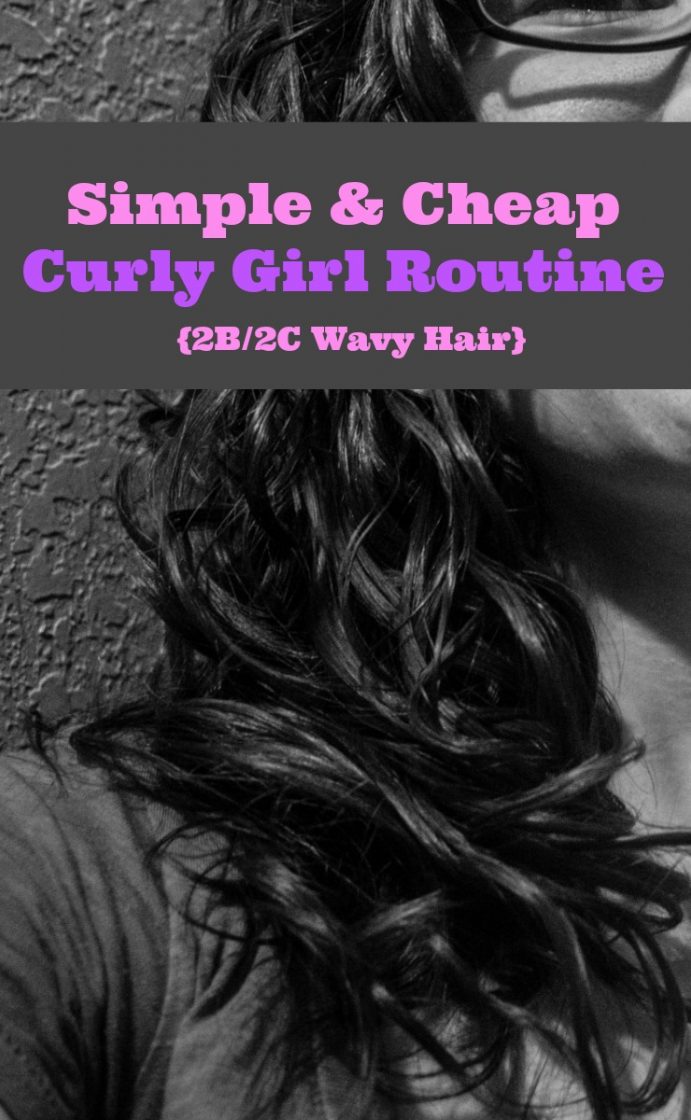 In the shower I use Not Your Mother's Naturals tahitian gardenia flower mango butter curl defining shampoo. This is about $8 a bottle and lasts me a few months. I use it every wash day (roughly every 3 days). I use about four pumps. I focus it on my scalp and use the pads of my fingers to massage my scalp. I also do the 'squish to condish' motion a little bit at this stage. I like this shampoo because it is a shampoo (I did not feel like my hair got sufficiently clean using cowashes), it seems to be more moisturizing than other shampoos and it makes my hair pretty manageable at this early stage. With other co-washes, my hair would not be easily detangled at this step which I didn't like.
For my conditioner, right now I am using Tresemme Botanique Nourish and Replenish Conditioner. This is about $6 for a BIG bottle. This is actually my second-favorite conditioner. I prefer GVP Conditioning Balm but I don't live very close to a Sally's so I use this as my backup and it's a nice conditioner. I use two big palmfuls at minimum sometimes a third depending on how coated my hair feels. It gives me good slip. I finger detangle first then use a wide-tooth comb to brush through my hair. Then I squish to condish for a while and use a huge clip to pin all my hair on top of my head after working the conditioner in. I leave the conditioner in my hair while I clean my body, shave, etc. Then I rinse it out completely. Then I do the squish to condish motion again and leave the shower.
I do not use a leave-in conditioner. I tried a couple but I never felt any improvement from them so I thought it was not worth the money.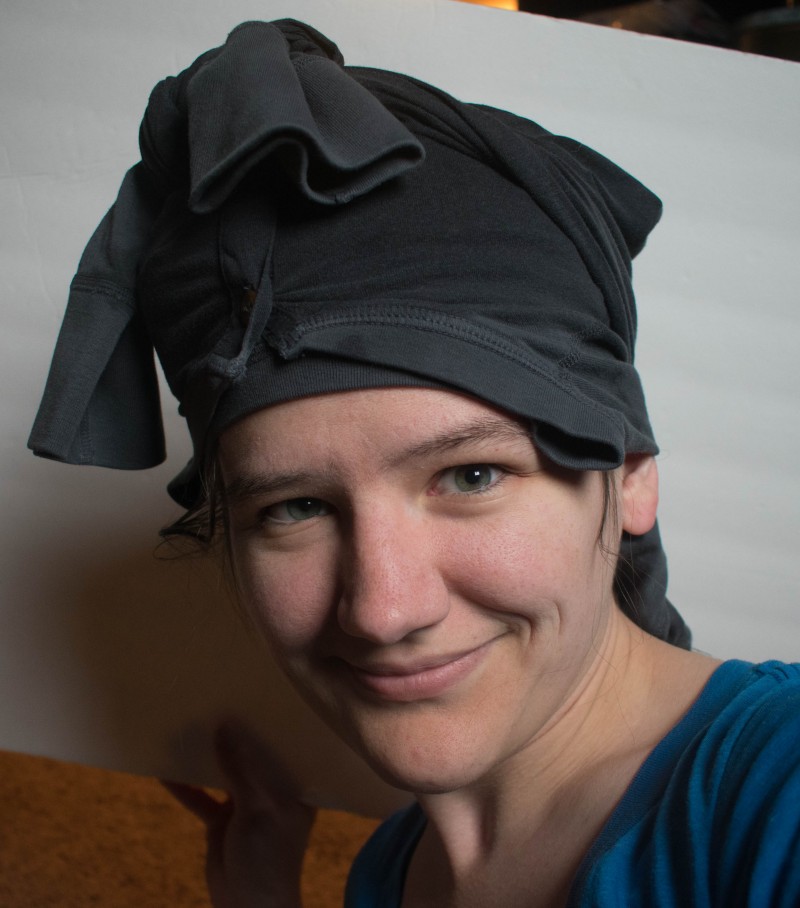 Out of the shower I wrap my head in a plop. I just do this to keep my hair contained while I get dressed, really.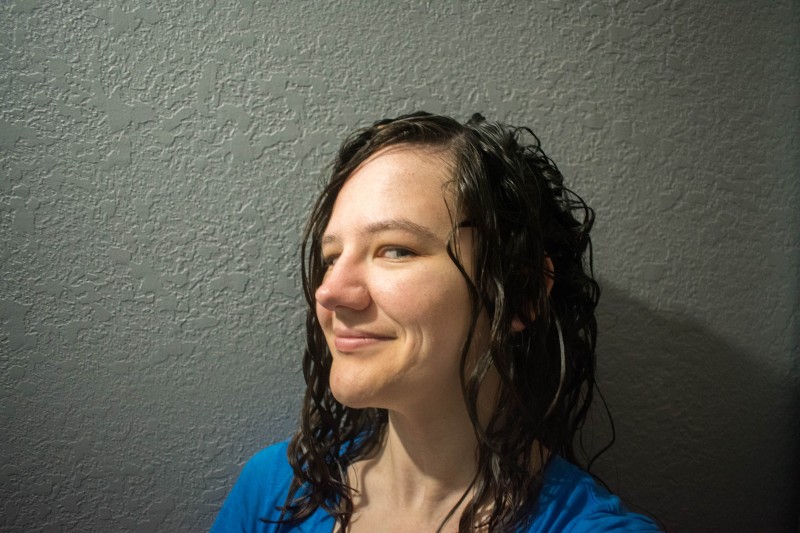 The above photo is my hair after taking off the 'plop'.
Then I add gel to my hair. Most people add gel in the shower, but in the shower my hair is SO wet that the gel runs right back out of my hair. I use very cheap gel (LA looks $2 a HUGE bottle) but I just didn't see any benefit. Some say they get more frizz if thy apply gel after leaving the shower but I am fine with the level of frizz I get when adding gel after getting out of the shower.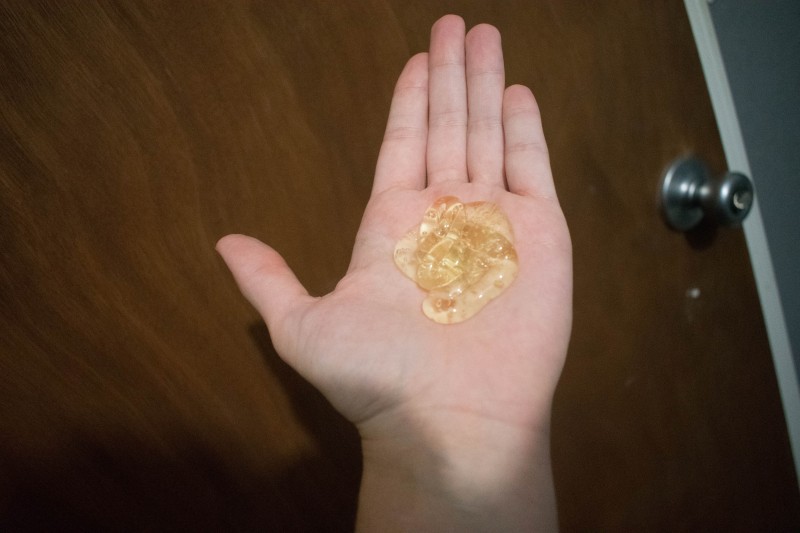 I get a palmful of gel and lightly brush it against the front and back of my hair on one side then squish it in. I get another big handful and repeat on the other side of my head. Then I get a third and do the back of my hair. Then I wash the gel off my hands and lightly squish various parts of my hair to get a feel for how much gel is there. If there are any spots that don't feel like they have gel I'll use a bit more in that area. Yes, that's a LOT of gel. A lot of people talk about using a quarter-sized amount for their entire head? That would t give me a cast. I have a lot of hair ad have experimented with amounts, this is how much I need to get a cast.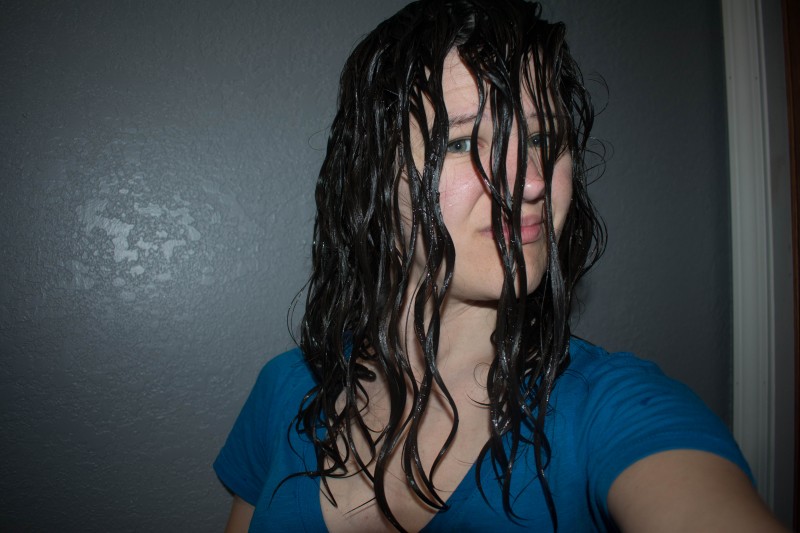 Sorry for the weird expression, I just snapped one photo at this step so I didn't have more 'normal' ones to pick from. This is my hair after putting gel in. See how my hair texture got stretched out?
Although I try to lightly add the gel, my hair seems very easily weighed down, adding the gel will have caused my curls to flatten a bit. So I grab a t-shirt and squish my hair with the towel in part to get more moisture out and in part to re-squish my curls.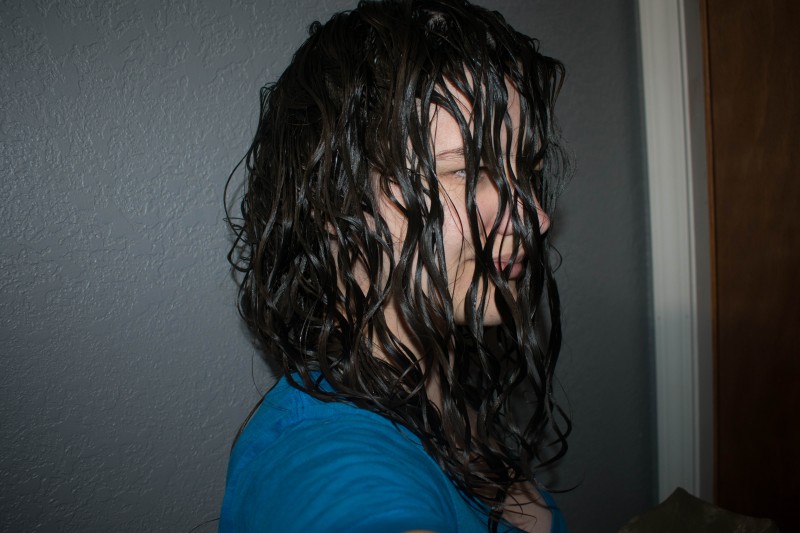 After scrunching with a t-shirt I got a bit more texture back.
Finally, I diffuse. I have a BIG diffuser attachment (The XTAVA one) which can hold all of my hair at once. I use medium speed and medium heat. I wish I had the patience to use low heat and low speed but my hair is very thick and I just can't bring myself to give my hair that much of my time! So I start by adding all of my hair and diffusing right on top of my head for about 10 minutes to get all sections of my hair slightly more dry. Then I will go around my had in four main sections (front and back of left side, front and back of right side) diffusing for about 10 minutes per section. Yes that's roughly 50 minutes of total diffusing. From here, my hair will usually be about 80% dry. If I have a lot of work to do or am too bored to stand it any more, I'll let it air dry the rest of the way. If I have more time or patience, I'll go around my head focusing on the cold spots to finish drying fully.
Even if I think I am diffused to 100% dry I always leave the gel cast on my hair for at least a couple of hours just to be certain.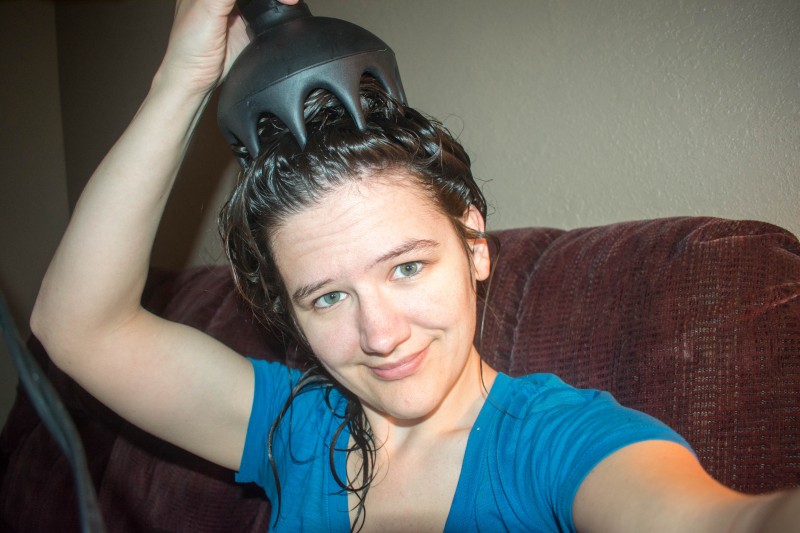 Then I do the squishing motion to break the cast.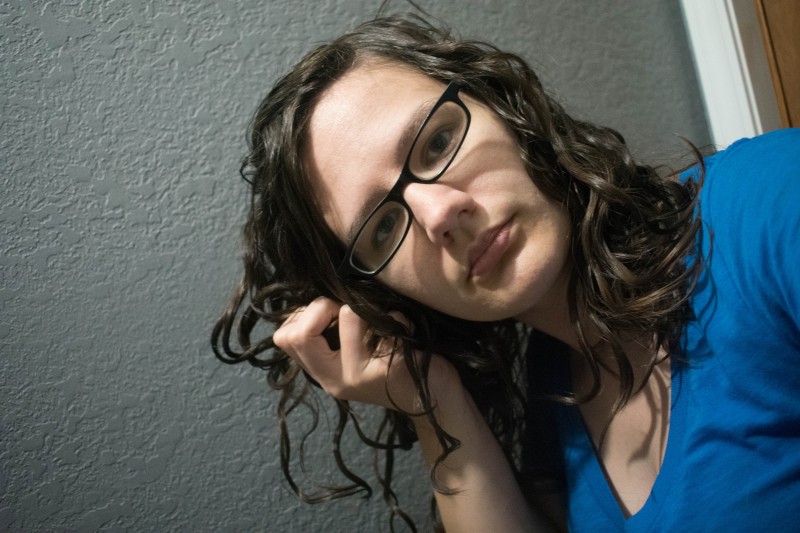 I usually do this 2-3 times a week, roughly every third day. At least once a month, I do a protein treatment (I've been using Dessert Essence anti-breakage hair mask. I recently shared how adding in protein helped my curls. Most of the time, that is the extent of my routine. If I get a lot of build-up, I will do a clarifying wash backed with a deep conditioning treatment. I usually don't both to refresh my hair as it looks good enough for my standards on day 2 and 3 usually. However, sometimes if I don't use enough gel on wash day then I will have really poor definition in later days so I will refresh with Dessert Essence soft curls hair cream.
Here were my final results after breaking my cast. Of course, having naturally wavy (with the occaisonal 'true curl') hair means the results are never the same twice, but you get a rough idea at least!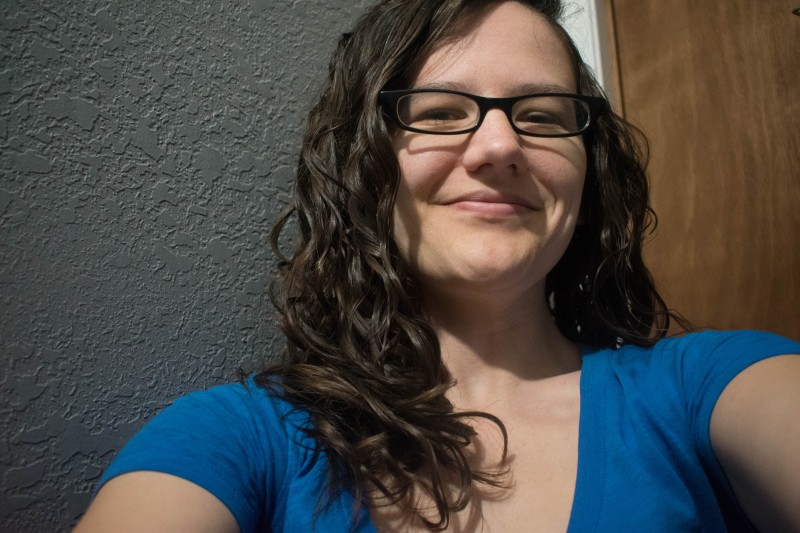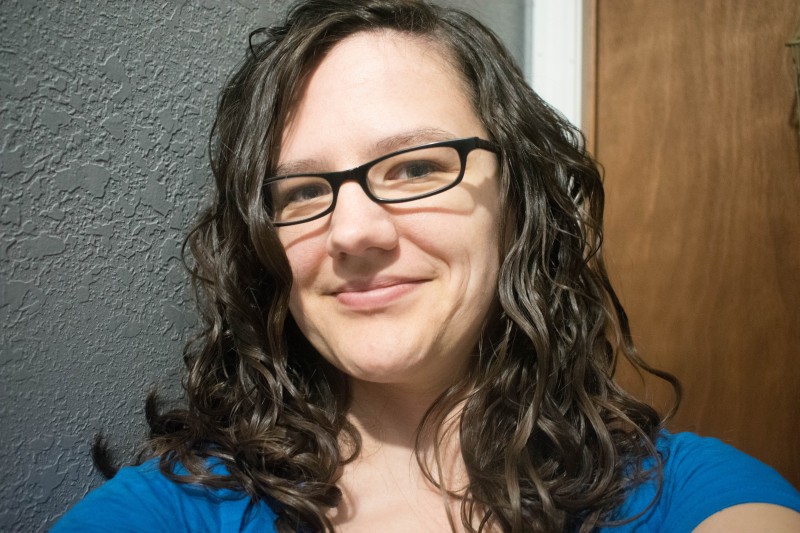 By far the most high-maintenance part of my routine is diffusing my hair, but my hair takes over 10 hours to air dry so that isn't practical. My hair seems to be on the extreme end regarding how long it takes to dry, so most could do  this routine in a much more timely manner.
Do you have a simplified routine for wavy or curly hair on the curly girl method? I'd love to hear your favorite products or your best tips and tricks!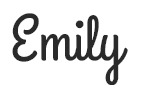 Hi there! I am Emily Evert, the owner of Emily Reviews. I am 28 and live in a small town in Michigan with my boyfriend Ryan and our two pugs. I have a large family and I adore my nieces and nephews. I love reading memoirs, and learning about child development and psychology. I love watching The Game of Thrones, Teen Mom, Sister Wives and Veep. I like listening to Jason Isbell, John Prine, and other alt-country or Americana music. I created Emily Reviews as a creative outlet to share my life and the products that I love with others.
This post currently has 8 responses.